We use affiliate links. If you buy something through the links on this page, we may earn a commission at no cost to you. Learn more.

Hornettek's Vader aluminum case is third in a string of iPhone 4 case reviews that I am in the process of doing. After a near catastrophic mishap my iPhone had a few months ago, I decided it was time to raise the bar on protecting my smartphone. Before that close call, I had been using my iPhone sans any sort of case/protection (other than a Zagg invisibleSHIELD screen protector). The Vader by Hornettek is a finely machined, aluminum case form fitted for all variants of the iPhone 4 and worth a look.
Package Contents: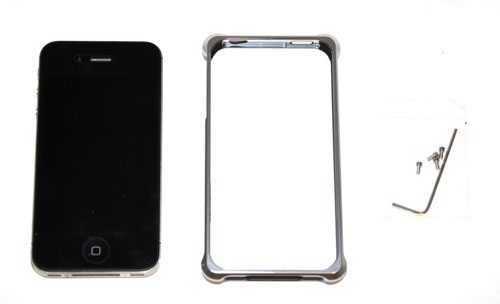 Vader case
Vader Tool Kit: (Hexagon Screws x 4;  Hexagon Screw Driver x 1)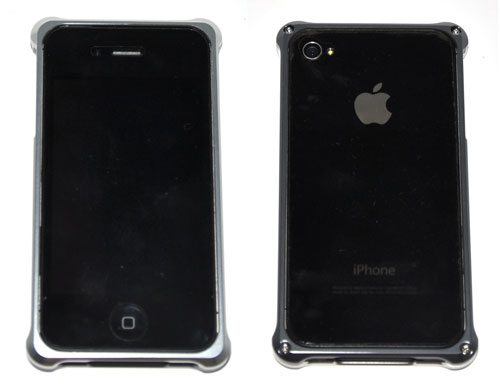 The Vader has an interesting and somewhat unusual shape. While the sides run tight to the side of the iPhone, the edges bulge out a fair amount to give more grip-ability and strength to the case. Which is good due to the aircraft aluminum the Vader is made of is just as slick as the iPhone itself.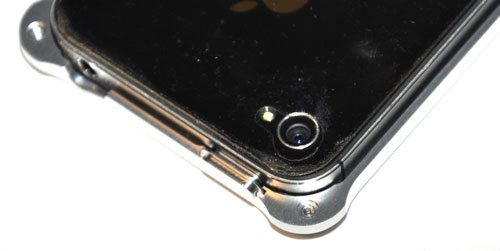 As you can see, the Vader case is very form fitted to the iPhone 4. It is built from a single piece of solid aircraft grade aluminum alloy with an accuracy of 1/2000 inch.

Compared to many other aluminum cases, Hornettek is very minimalistic in their use of padding. In my use of the Vader that design choice did not seem to be an issue. That padding is there to keep the iPhone from being marred by the case itself and it accomplishes its designed function.
Specifications:
| | | |
| --- | --- | --- |
| Height: | 122.7mm |     (4.83 inches) |
| Width: | 66.1mm |     (2.60 inches) |
| Depth: | 10.3mm |     (0.41 inches) |
| Weight: | 19 grams |     (0.67 ounce) |
Compatibility:
Fits all iPhone 4 models for both AT&T and Verizon.
Colors: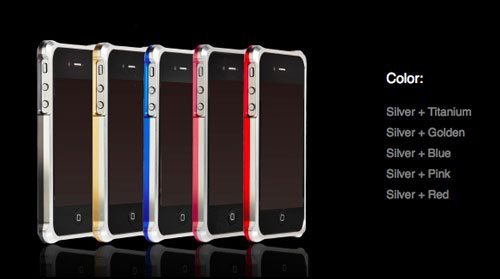 I like the silver and titanium color scheme I received. The two colors look very nice together. Although, it would nice to have the option to order the Vader in solid colors or even mix and match colors as well.

The top of the Vader has a push through button to actuate the power button and cutout for the earphone plug. The thickness of the case does prevent many of my high-end earphones from working. The L-shaped plugs of my Etymotic Research ER•4PT, Ultimate Ears 7 Pros, and JHAudio JH|5 Pros, cannot be inserted far enough to work properly. Earbuds that have a straight and narrow plug work just fine. Like the Case-Mate Jett Metal iPhone case I reviewed last, this design choice is definitely a design/engineering negative for me. In addition, the Vader does not allow my iPhone to work with any of my dock-enabled stereo systems either.

The left side has cutouts for the volume buttons and mute switch. Because of the enhanced/strengthened corners, the Vader does a great job of protecting the iPhone's sides and edges.

The bottom of the case has a cutout for the iPhone's speakers and sync/dock port.

The right side of the case has nothing to note. Although, you can see how precisely machined the case is; how perfectly the two sides come together.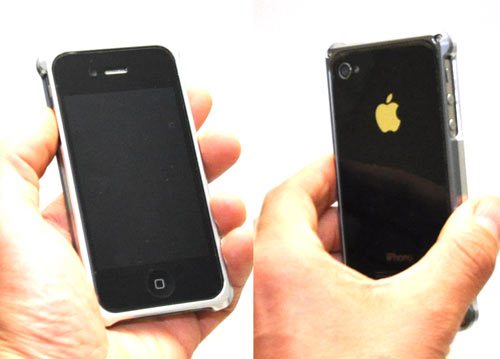 The Hornettek Vader iPhone case has a nice feel, adding little bulk or weight to the iPhone 4. As I said earlier, even though the aircraft aluminum it's constructed of is as slick as the iPhone itself; it has decent grip-ability because of the pronounced corners.
Another, and yet very significant, issue I have with this case, is the degradation of cell reception it causes. I have a half dozen locations I test iPhone cases I am reviewing to have a semi-objective and systematic way to see how much the case impacts reception. In downtown Seattle and other places with a strong signal, my iPhone looses a bar or two but continues to send and receive calls and data with little impact to quality or speed. However, in locations that have marginal signal strength, my ability to send and receive calls goes to zero; all incoming calls get kick to voicemail and I am unable to call out or hit the internet. This is definitely a deal killer for me.
Being priced at $80 does not help the Hornettek Vader case either. In an overcrowded market, that price tag seems too high considering its competition and bang for the buck…. The Vader is a nicely made/constructed aluminum case, but it has too many negatives working against it for me to recommend it to anyone. They are many alternatives that provide just as much protection and better reception for less money.
Product Information
Price:
$79.99
Manufacturer:
Hornettek
Requirements:
Pros:

- Well made
- Quality construction and materials
- Perfectly fitted for the iPhone 4
- Good protection

Cons:

- Degrades cellular reception
- Does not work with L-shaped plugs
- Not compatible with many (if any) iPod docks
- Can not mix and match colors
- Expensive