We use affiliate links. If you buy something through the links on this page, we may earn a commission at no cost to you. Learn more.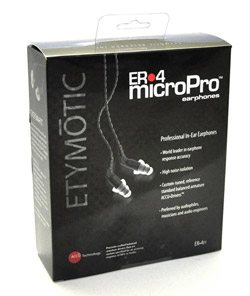 Several years ago, I reviewed Etymotic Research hf5 High-Fidelity earphones. Although being a writer at The Gadgeteer enables me to try/review many earphones per year, I continue to enjoy and regularly use the hf5's to this day. Their size and performance are ideal for me. So, I was excited when Etymotic Research agreed to not only send me a pair of their latest ER•4PT MicroPro Earphones to review but have a set of their CUSTOM•FIT Eartips created for me as well.

The ER•4 MicroPros are Etymotic Research's flagship earphones. According to Etymotic Research, the ER•4 provide 'unsurpassed frequency response accuracy and sound quality — 86%+ response accuracy from 20 Hz – 16 kHz'. The engineers at Etymotic Research mate each set of earbuds to better compliment each other, but more about that later. As I stated earlier, the size of both the hf5's and ER•4's are ideal from not only a portability standpoint but a style point of view as well.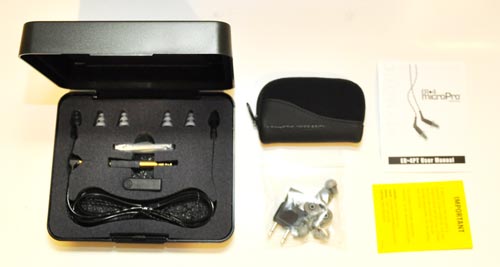 The 'T' in the ER•4PT name means 'for travelers'; they include a few additional accessories like the airline adapter for those who want to plug into aircraft audio system.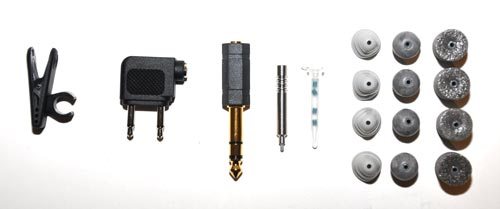 Included Accessories:
ER•4PT earphones
5 ft cord with 3.5 mm stereo plug
1⁄4″ stereo phone adapter plug
Assortment of ACCU•Fit eartips
Filter changing tool and replacement ACCU•Filter wax filters
Shirt clip
Airline adapter
Travel pouch
Storage box
Channel-matching compliance graph
Technical Specifications:

Types of ER•4 microPro earphones:

ER•4PT earphones are intended for sound engineers and audiophiles in constant motion. This model combines all of the acoustic characteristics and features of ER•4P earphones, and comes equipped with extra mobile adapters and accessories for traveling professionals. Included with every pair of ER•4PT earphones is an industry-exclusive channel-matching compliance graph, signed by the Etymotic engineer who precision matched and custom tuned the balanced-armature drivers.
ER•4P earphones can be used with portable devices without an additional amplifier. Compared to the ER•4S, the ER•4P has 10 dB greater output at high frequencies and 13 dB greater output at low frequencies. The higher sensitivity and enhanced bass of the ER•4P have made it the most popular earphone in the series.
ER•4S earphones were designed to compensate for the high frequency emphasis in all CD recordings, in order to provide accurate sound reproduction. Performing musicians often use them as in-ear monitors because the response of the ER•4S matches the response of most typical monitor loudspeakers. The high accuracy and exceptional sound isolation of the ER•4S have made these earphones popular with musicians, recording engineers and audiophiles. ER•4S earphones can be used with a headphone amplifier when using low power portable devices.
ER•4B earphones are for the binaural recording enthusiast. The ER•4B is an ideal earphone for use with material that has not been equalized for loudspeaker playback. It was developed from the ER-1 earphone that is referenced to a flat diffuse field and used primarily for speech reception research, where the goal is to produce the same frequency response at the eardrum as would be produced in the live situation.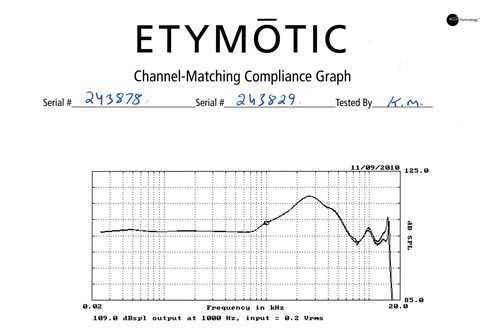 Here is the graph Etymotic Research included with my ER•4PT earphones showing how accurately the right and left earbuds match each other. To track this, each earbud is stamped with its own serial number.

This picture is to demonstrate the relative size of the ER•4 series to other high-end earbuds (from left to right; JHAudio's JH|5 Pros, Ultimate Ears TripleFi 10, Etymotic Research hf5's, and the ER•4PT earphones). The ER•4PT earphones are the smallest of them all (although the er6i are the smallest)….amazing how much sound they can pack into these small earbuds.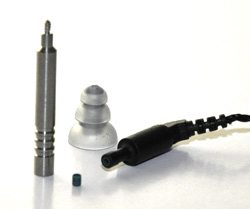 Like the ER6i and hf5's I have used in the past, the ER•4 series has user-replaceable filters (ACCU•Filter) to protect the balanced-armature drivers from earwax. Because, let's face it folks….we all have earwax and these types of in-the-ear-canal (isolation) earphones are wax magnets. These filters are critical in protecting the delicate, finely balanced inner workings of the earbuds.

The one suggestion I have is finding an earwax cleaning tool (this one came with a different pair of earbuds) to get the wax out of the eartips before it gets to the filters. I have found this extends the life of the filters quite a bit. Considering all the included accessories that comes with the ER•4PT, it seems like a minor and logical item for Etymotic Research to include.

The cabling on the ER•4 series is a step up from the hf5's and JH|5 Pros, similar in quality to the UE TripleFi 10's. The main cable is thick and does not tangle easily. The braided cabling to the earbuds is good quality, but seems a bit fragile and potentially breakable.
Comfort and fit:
I regularly travel back and forth across the county for my day job and have used the hf5's during many of these trips. The stock hf5's and ER•4's are very similar in form, fit and comfort. Both are comfortable for the first few hours but they start to become uncomfortable after hour two or three.

This is where Etymotic Research's CUSTOM•FIT eartips come into play. Etymotic Research partners with ACS Custom to create Custom Fit Earphone Sleeves to replace the ER stock tips. Just like having a set of monitors created, you will need to visit an audiologist for them to make you a set of molds. This involves pink goo being squirted deep within your ear canal, sitting still while the goo hardens, etc. The audiologist then ships your molds to ACS and about three weeks later you receive your silicone sleeves.

Specification:
| | |
| --- | --- |
| Build Material | 40 Shore Silicone with SteriTouch |
| Mold Type | Canal Mold |
| Standard Color | Clear |
| Standard Cable Exit | As per your earphones |
| Noise Isolation | 26dB |
| Items Included | Carry pouch, wax pick, care and usage instructions, comfort cream |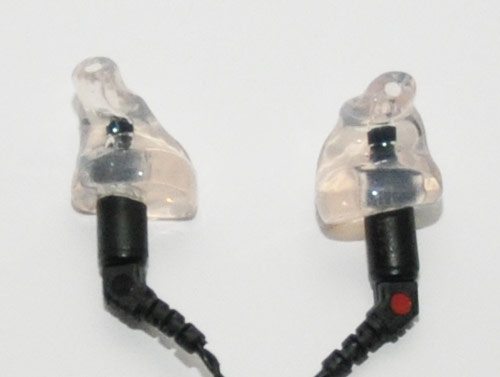 The silicone earphone sleeves easily slip onto both of my hf5's and ER•4's.
Certain CUSTOM•FIT molds are interchangeable with each other: 
Custom molds for mc5 and mc3 are the same.
Custom molds for hf2, hf3, hf5 and ER•4 are the same.
Custom molds for the etyBLU and etyBLU2 headsets are the same.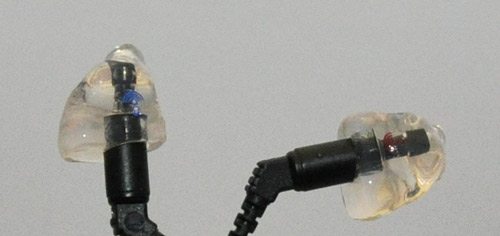 The sleeves are color coded to make it easier to determine which goes into each of your ears. The blue goes into your left ear and the red goes into your right.

The sleeves themselves are available in clear, black, yellow, blue, red, purple, and white.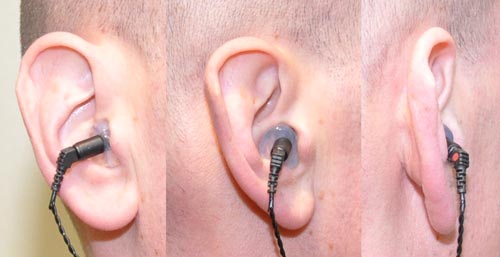 The fit and comfort of the silicone sleeves is perfect. ACS did a great job creating my custom fitted eartips. These sleeve are even more comfortable than the custom fit monitors I have previously reviewed. While those monitors fit extremely well, they are made of hard acrylic plastic. The silicone, the ACS sleeves are made of, is much softer than the acrylic, making them more comfortable than my monitors.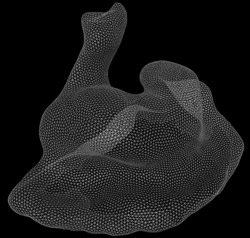 ACS creates a digital copy of your mold and keeps this electronic record of your ear impression in their database. They keep your scan on file for up to four years in case you want additional sleeves or monitors created. I am actually considering ordering another set of custom sleeves for my hf5s.
Sound Quality and Music Experience:
The sound quality of the ER•4PT are excellent. They provide a nicely balanced, very detailed listening experience. According to Etymotic, the ER•4 are 'in a class by itself' producing 'unsurpassed frequency response accuracy and sound quality', are 'the only earphones with Accu•Driver balanced-armature, precision-matched, custom-tuned drivers' and provide '98% (35 dB – 42 dB) noise isolation —highest of any earphones or headsets on the market today'. To be honest, I do not have the test equipment to confirm ER's claims….all I know is that they sound as good as any of the other monitors I have reviewed previously.
Bottom line:
In some peoples opinion, the ER•4's with CUSTOM•FIT eartips may not look as cool as a set of monitors, but they are extremely comfortable and sound great. The ER•4PT cost $299 (can be found for less on the usual online stores) and the CUSTOM•FIT eartips cost $100. So, for under $400 you can have a 'monitor like' experience at a fraction the cost. Or if you have or decide to purchase a set of the hf2, hf3, or hf5, your cost is even less. With their smaller form-factor and great sound, the ER•4's with CUSTOM•FIT eartips are current my earbuds of choice.
Product Information
Price:
$299 ($100 extra for CUSTOM•FIT Eartips)
Manufacturer:
Etymotic Research, Inc
Pros:

- Excellent sound experience
- Great size and form-factor
- Quality construction and materials
- Little cable noise
- CUSTOM•FIT Eartips are perfectly fitted and extremely comfortable
- 2 year warranty

Cons: