We use affiliate links. If you buy something through the links on this page, we may earn a commission at no cost to you. Learn more.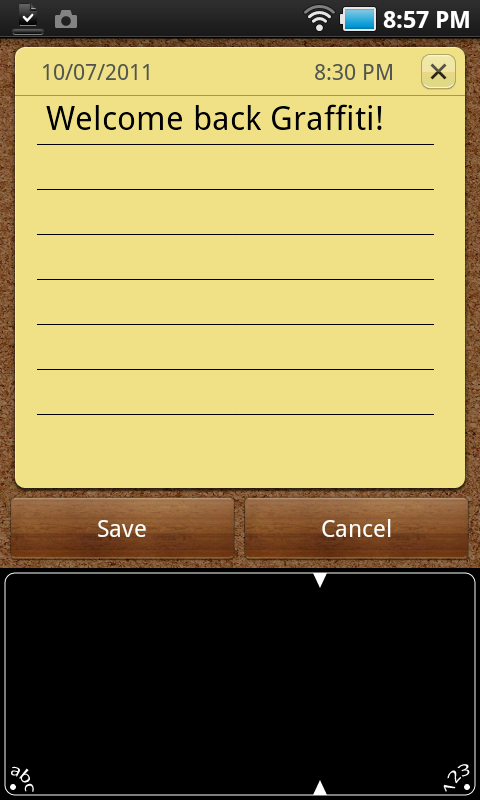 The other day I was perusing the Amazon App Store and noticed that Graffiti Pro for Android was available. I immediately downloaded (it's free) and installed it on three Android devices. I've been mostly pleased with the results.
To those of you that are not familiar with Graffiti, it's a character recognition system that utilizes a "uni-stroke" form of handwriting. Basically, you use a stylus or your finger to write characters in a box at the bottom of the screen. The characters are very close to just printing upper case letters. Graffiti has been used in a number of devices, but was made popular by Palm's devices and phones.
Palm co-founder Jeff Hawkins originally created the system when he saw early PDAs fail because of poor handwriting character recognition (most notably the Apple Newton). But, the system's roots go back to a place that Apple Macintosh historians are quite familiar with, Xerox and its Palo Alto Research Center. There was some patent litigation and in the end it's probably most accurate to say the current incarnation of Graffiti is the product of Mr. Hawkins, David Goldberg of Xerox-PARC with an assist from Communication Intelligence Corporation that created a similar system called "Jot" and licensed it to Palm to create Graffiti 2.
Palm later split its hardware and software development into two companies with the software side being sold to ACCESS Systems. ACCESS Systems Americas develops a line of smartphone apps  that include "NetFront Life Documents" (Office document viewer), "NetFront Life Connect" (media sharing), as well as Graffiti Pro.
Graffiti was originally designed to be used with a stylus at a time when touch screens were resistive (react to pressure) rather than today's more common capacitive (react to conductive items like your finger). Fortunately, while writing with your finger isn't quite as easy as using a stylus, it's not all that bad either.
I installed Graffiti Pro on my T-Mobile G2 Phone, Samsung Galaxy S WiFi 5.0 Mini Tablet and my Asus Transformer. It worked well on all three devices, but after some use I decided to disable it on my phone and keep it on the mini-tablet and Transformer.
While I like using Graffiti it requires two hands…one to hold the device and the other to "write" the characters. I tend to use my phone with one hand and only use it for very short text or numeric input. Android allows you to set a default input method for the device. So, while I find Graffiti superior for sending text messages and short emails. I still like to have a standard on-screen numeric keypad for entering data into apps like my mileage log or GasBuddy (fuel price sharing). The smaller size of my G2's screen also makes using Graffiti a little tight for my fingers (A stylus would work though) After going back and forth I decided to stick with "SwiftKey X" as my default and Graffiti as a backup.
The Samsung mini-tablet and Asus Transformer were a different story. While I can't say that Graffiti is much faster than an on-screen keyboard because you have to write each character rather than just hitting a specific key it is a more comfortable experience for a touch typist. After about a half hour of use you become so adept at writing with Graffiti it no longer becomes necessary to look at the input area. So rather than hunting and pecking (or thumbing) keys you can look at the actual text you're creating.

This worked well for me on the Samsung (5-inch screen) as I use it for taking notes, quick Google searches and, of course, reading and
commenting on the The Gadgeteer. Where it really surprised me was on the Transformer where as anyone with an iPad or larger knows…typing can be a thumb stretching experience. The graffiti input area is the entire width of the screen (like any on-screen keyboard), which is a b
it of overkill, but I find it faster and more accurate when
compared to the best of the tablet keyboard solutions (currently Thumb Keyboard or SwiftKey for Tablets). I still wouldn't want to write an article with any of the above, but a normal email isn't bad at all.
It's really a shame that Apple has elected to not allow users to utilize alternative keyboards (without jailbreaking), as I could see Graffiti making text input on iOS devices a lot more pleasant.
Like most on-screen keyboards, Graffiti includes suggestions for words as you input the letters. If you're unsure of spelling or writing out a longer word this can save some time.
After doing some research I have learned that Graffiti has been available for Android devices for several months. In my never-ending search for better text input methods I must have missed it when it first was released, including the announcement and review here by Mark Adkins. I guess the internet really is good for connecting with old friends…even if that friend is a piece of software.