We use affiliate links. If you buy something through the links on this page, we may earn a commission at no cost to you. Learn more.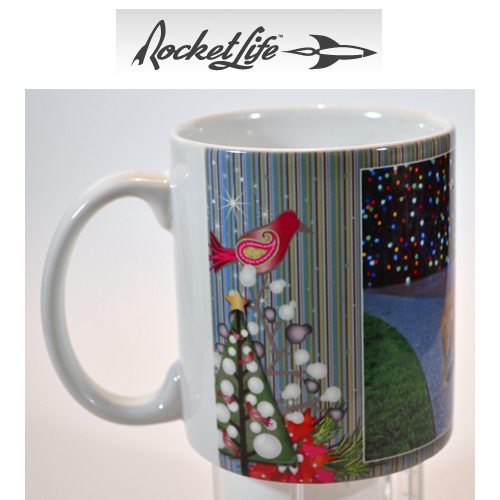 RocketLife online printing service allows you to create photobooks, mugs, calendars, mousepads, cards, and a variety of other prints and keepsake photo gifts.  I was happy to give their service a try when they offered The Gadgeteer the opportunity to customize one of their photo mugs.  Read on to learn how my mug turned out and to learn how you can get your own mug at a special discount for readers of The Gadgeteer.
Many of the photos in this review can be clicked for a larger view.
I had a bit of trouble getting started with the process.  You can install a plug-in to your browser or download a program to access the RocketLife design options.   I'd prefer being able to design my projects on their website without downloading anything, but I decided I'd try the plug-in.  It seemed the plug-in installation worked, but when I clicked to start a project from the Quick Start window that popped up after the install, it only opened up a new copy of Safari with the exact same Quick Start window.  I have a Mac, and the RocketLife website says the plug-in works for Windows and Mac computer.  I tried several things to get this to work before giving up and downloading the program to my Mac.  I had a few problems with that, too, but I finally contacted RocketLife for help.  Apparently there is a problem with using the plug-in with Safari 5.1.  Anyway, I was finally successful downloading the stand-alone RocketLife program.
As a note, RocketLife says it uses the plug-in approach "because it allows us to offer our unmatched speed and high-end blending effects in a Web browser. The RocketLife plug-in is only 1MB, much smaller and faster than the Flash or Java plug-ins other sites use."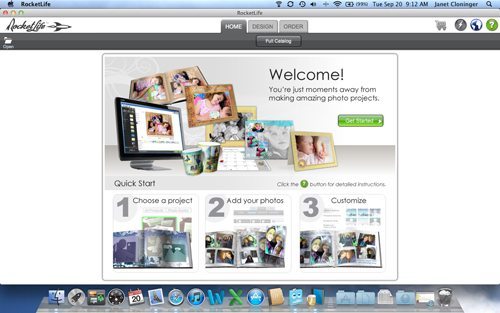 Once I installed the RocketLife program, the welcome screen started me with instructions to pick a project.  There are a variety of photobooks of various shapes, sizes, and of standard or premium quality; posters, prints, and enlargements; calendars, folding note cards, and photo cards; and various collage gifts like t-shirts, puzzles, coaster, mouse pads, magnets, and luggage and key tags.  The mugs also fall into the collage category.  I selected the mug and continued.
Mug pricing starts at $14.95.  Standard photo books start as low as about $12, some premium lay-flat photo books start at over $100, normal prints start at $0.17, and keychains start at about $7.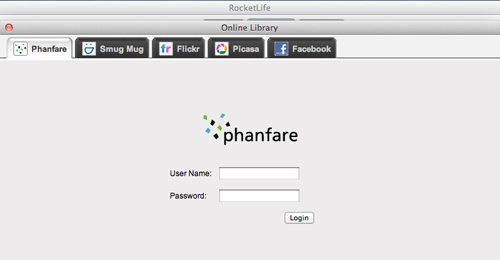 The next step is to choose photos.  You can select photos on your computer or from the online services shown in the image.  I had seen on the RocketLife website that you could create seasonal-themed items, so I decided I'd create a Christmas mug for my husband with one of my favorite pictures of "the kids" from a past Christmas.  I chose the "My Computer" option and selected the picture I had in mind.  As I mentioned earlier, the mug is a "collage" item, so I could select multiple photos for inclusion on the mug.  I could manually arrange them, or I could let the computer arrange them into a collage.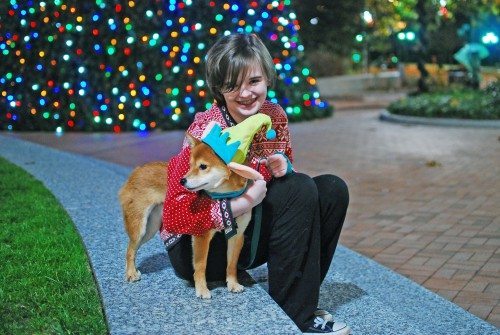 I wanted to have one single, large photo so I could best judge the printing quality.  This is the photo I used for the mug.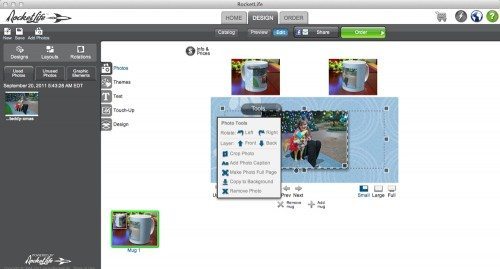 The design process is simple and intuitive.  A photo editor lets you do some simple edits – rotate, crop, resize, use as background, etc.  If you're doing a collage, the layout tool helps you create a pleasing arrangement, and you can add text to your design, too.  The screen capture shows a mottled, light blue background, but you can choose from a variety of themed designs for your background.  I mentioned that I wanted a Christmas mug, so I chose "The Days of Christmas" from the Holidays collection as my background.  Once you choose a design, you'll see that there are usually variations of that theme so you can choose exactly the look you want.  You see little thumbnails of your mug design as you work, but you can click Preview to see an enlarged version of your mug before ordering.
As I mentioned, I wanted to keep my mug simple and my photo as large as possible so I could see the printing quality.  I quickly had my mug design completed.  To save your project for later use, you click the "Save" button (looks like an old 3.5" floppy disk).  Click "Order" to proceed.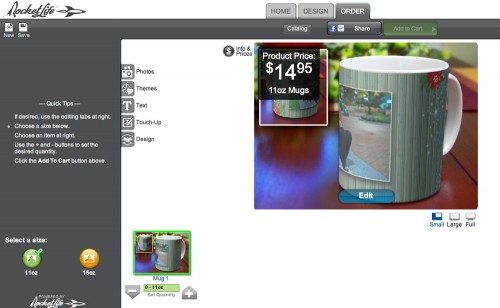 I choose the number of 11 oz mugs ($14.95 each) and the number of 15 oz mugs ($16.95 each) I wanted, then clicked "Add to Cart."   I finalized my order and waited to receive my mug.  It arrived in just a few days.
I've had custom-printed mugs done with pictures of my daughter in the past, and I found the print quality lacking.  Granted, those mugs were made from scanned wallet-sized photos, so some of the graininess probably came from a poor scan.  I used a high-resolution photo taken with my Nikon D80 as my source for the RocketLife mug, so I knew scan quality wouldn't be a factor here.  I was a bit concerned that I wasn't allowed to choose the resolution of the photo for the upload; I've used some photo printing online services that default to uploading a reduced resolution picture to save time.  I hoped that wouldn't be the case with RocketLife.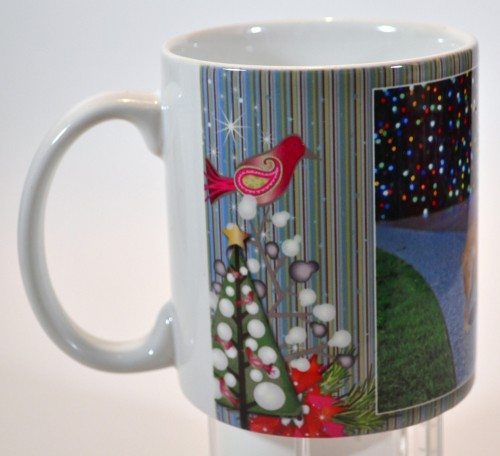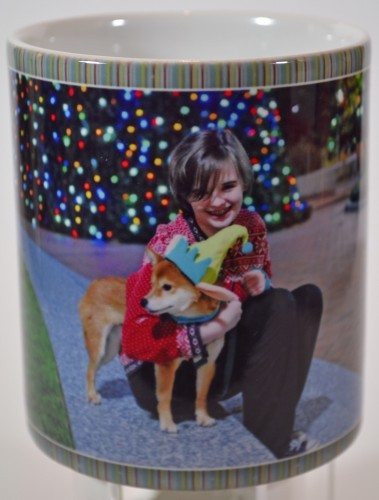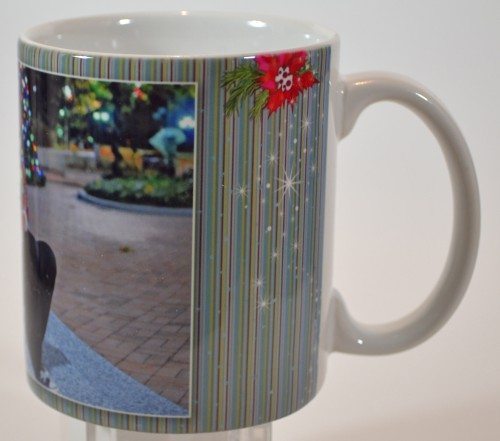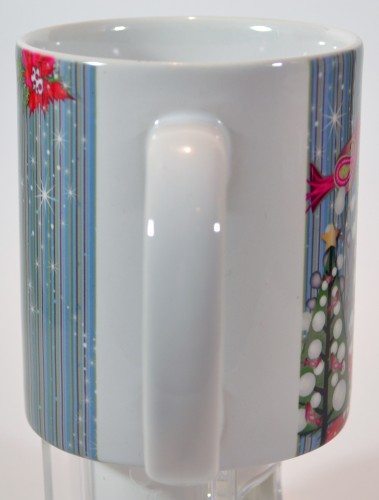 I was very pleased and impressed when I opened up my RocketLife mug.  The mug itself was a bright, white color; not the off-white, almost tan color that passes for white with some cheap mugs.  It's smooth, with no bumps or rough places.  The handle is large and comfortable to hold.  The colors are bright and clear, and the Christmas design covers the mug from lip to bottom and almost completely around the mug, leaving just enough room for the handle.  The photo of Rachel and Teddy is so sharp I can clearly see Rachel's braces and see some texture in Teddy's hair.  This is the best printed mug I personally have owned.
I think these mugs would make great holiday gifts.  If you think so too, you'll be happy to know that RocketLife has a special offer for readers of The Gadgeteer.  Enter the ROCKETLIFEMUG code at checkout to receive 25% off every mug in your order.  The coupon expires October 31.
Product Information
Price:
$14.95, as ordered
Manufacturer:
RocketLife
Retailer:
RocketLife
Requirements:

Downloaded plug-in or stand-alone program

Pros:

Sharp, clean, bright printing
Nice quality mug
Reasonable price

Cons:

Currently, the plug-in isn't working with Safari 5.1