We use affiliate links. If you buy something through the links on this page, we may earn a commission at no cost to you. Learn more.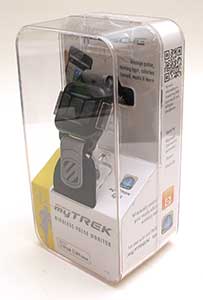 Exercising, working out, getting fit, whatever you want to call it, is a chore that a lot of us don't enjoy doing. Finding ways to make physical activity actually beneficial can increase the enjoyment. Because, let's face it, if your workouts aren't helping you lose weight or get fit, what's the point in doing them? Scosche wants to help your workouts count. The myTREK Wireless Pulse Monitor for your iPhone or iPod Touch keeps a close eye on your heart rate so that it knows when you're slacking and need a little kick in the pants to burn off that morning donut.
Note: Click the images in this review to see a larger view.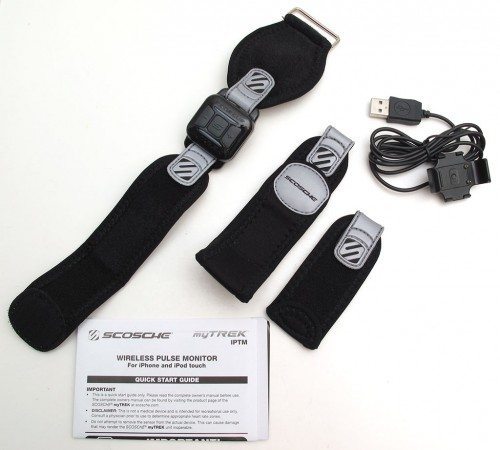 Package Contents
myTREK monitor
3 arm straps
USB charger dock
Quick start guide
You might be wondering how a heart rate monitor can help make sure your workouts count. Did you know that getting your heart rate super high doesn't mean that you'll necessarily lose weight? Based on your health information, there are specific target zones (heart beats per minute) that you need to be in in order to lose weight or for cardio fitness. This monitor helps you stay in those zones.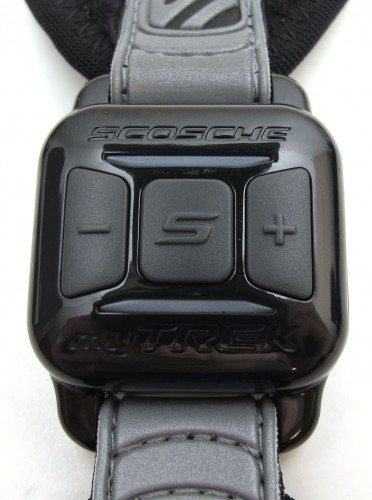 The monitor itself is a black plastic module with an elastic arm band. There are 2 LEDs and 3 buttons on the face of the monitor. The LEDs indicate charging, pairing and power. The buttons control music playback while you're working out. There are volume buttons and a multi-function center button that pauses/resumes playback and can also skip song tracks.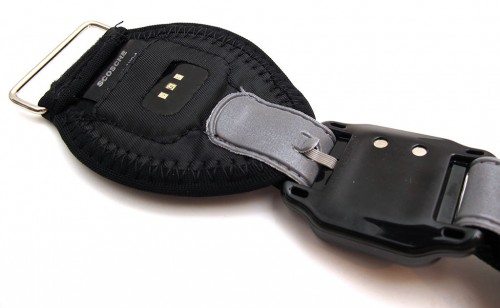 Attached to the monitor on one end is the sensor that has to touch your skin in order to detect your pulse. You'll also notice two contacts on the back of the monitor. These mate with the USB charger to charge the internal lithium ion battery.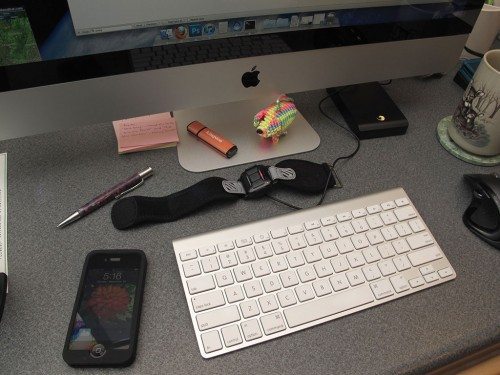 Never miss one of our posts again. Sent MON, WED, and FRI with the latest gadget reviews and news!
While the myTREK is charging, one of the status LEDs will blink Red.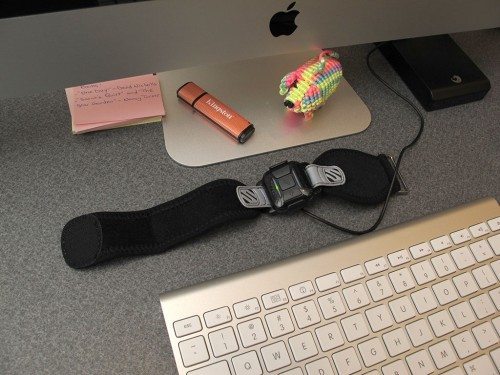 When charging is completed (this takes about 2hrs), the opposite LED will glow Green. You should get 5hrs of workout time in between charges.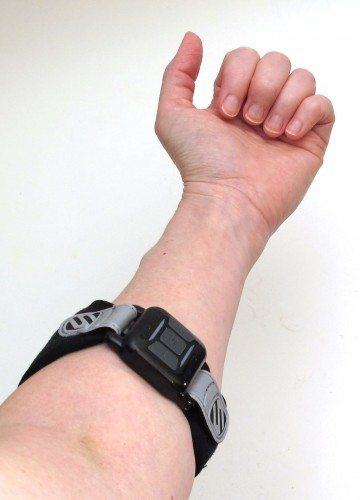 The monitor is worn on your forearm. It's a lot more comfortable than typical  heart rate monitors that use chest straps. The bands are stretchy and easy to adjust for a good fit. I didn't have any problem with the band slipping down my arm while walking briskly. Another benefit to an arm strap is that it won't get all icky from sweat as easily or quickly as a chest strap.
To use the myTREK, you first charge it via USB, then pair it with your iPhone or iPod via Bluetooth. Once paired, the device will prompt you to download the free myTREK app via the app store.
The application has an easy to use interface that will let you create workouts that can be based on various activities such as walking, running, biking, etc.
You can then choose which zone you want to use be in for the workout.
You can also decide if your workout is going to be based on time, calories burned or distance traveled. If you opt to use the distance traveled feature, you'll need an iPhone as it requires GPS to determine distance. This feature won't work well indoors either…
Once you have your workout created, you just press the play button to start the workout and you'll see a large real-time readout of your heart rate. I compared the pulse rate from the myTREK to the pulse rate via my treadmill's hand grip monitor and found that for the most part, the rates were within 5-6 beats up or down of each other.
Below the heart rate display is a colored bar that shows you which zone you're in. As you work out, a voice will periodically tell you to speed up or slow down. This voice can be set to either male or female. One problem I ran into was that the voice is very faint. Even with the voice volume set to max in the app settings, it's almost impossible to hear if you're also listening to music while working out. Hopefully this will be fixed with an app update. Luckily the visual cues allow you to easily see if you need to speed up or slow down to remain in the desired zone.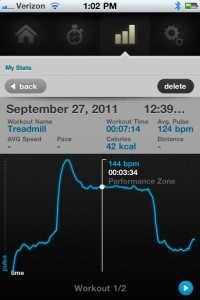 After your workout is over, you can take a look at the stats that provide info on your average pulse rate, calories burned etc. These workouts are saved on your phone so that you can reference them whenever you like.
The Scosche myTREK Wireless Pulse Monitor is an easy to use device / app that might help motivate you to workout more and make those workouts really count by keeping you in the right heart rate zone for the type of workout you're doing. Also, the price does not seem out of range of other feature rich wireless heart rate monitors currently on the market.
Product Information
Price:
$129.99
Manufacturer:
Scosche
Requirements:

iPhone 4, iPhone 3GS, iPod Touch (3rd, 4th gen)

Pros:

Easy to use
Ability to set different fitness thresholds
Ability to set different workouts
Wireless

Cons:

Can't hear voice prompts over music