We use affiliate links. If you buy something through the links on this page, we may earn a commission at no cost to you. Learn more.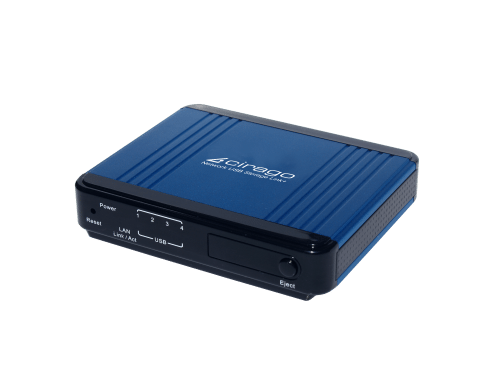 Having reviewed Network Storage Devices for the home and small office I was asked by Cirago, a relatively unknown designer and manufacturer of storage and network storage devices to review their Network USB Storage Link+, 2000, or NUS2000.  This is an updated version of the same product that was released a few years ago aptly named the Cirago Network USB Storage Link, 1000.  The purpose of the product is two-fold:
Create a shared storage device on your network from any standard USB storage device, and
Make your USB printer shareable by all of the computers on your network
The Cirago Network USB Storage Link+ 2000 is available on Amazon.com for $79.99
For more information from Cirago on the The CiragoLink+ NUS2000 please visit their product page.
I opened the box, which is tiny, at just over the size of two play cards stacked side by side, to find a nicely laid out package including the NUS2000 product, 5V AC Adapter, Ethernet Network Patch Cable, and an instruction manual.  The NUS2000 is small, and lite, just a bit bigger than a pack of cards, measuring 4.4″ W x 3.5″ L x 1.0″ H and weighs in at under a pound.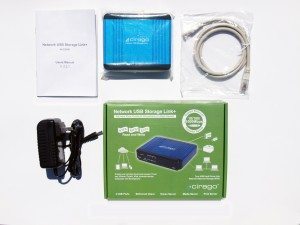 The front of the NUS2000 has a pin hole to rest the product, an eject button, and set of six (6) activity lights, including the following:
Power
LAN Activity
USB 1-4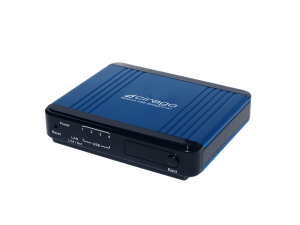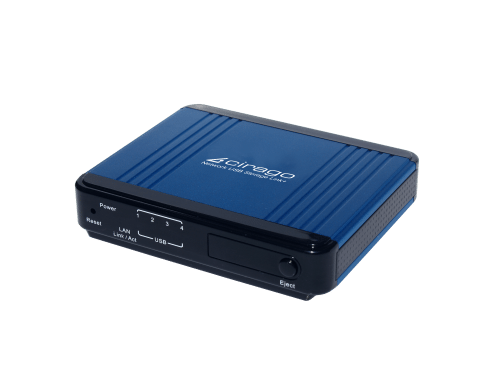 On the back of the NUS2000 is the following:
Power Connector (5V DC)
1000/100/10Mbps Ethernet Connector
four (4) USB 2.0 ports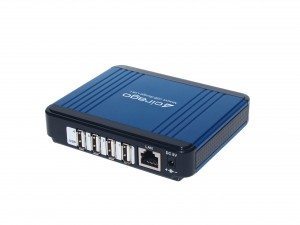 I quickly read through the six page instruction pamphlet and found the setup to be very simple.  I think Cirago could save a few trees and pennies by dropping the pamphlet style instruction manual and going with a single short index card that has three pictures on it showing the connection of power, network, and USB device, followed by a Web Browser with the URL for the device to access the management console.
By default the NUS2000 registers with DHCP and gets an IP address as well as registering the NUS2000 host name, which is the out of the box default host name.  You can easily change the host name from within the management console. Once connected, I logged into the NUS2000 and got to work setting up a new share for my trusty 500GB portable USB 2.0 Hard Disk Drive from Toshiba.  My 500GB disk drive is my travel drive that I keep a copy of all of my important data on and I have always wanted to be able to share it with all of the computers in my house.   I usually get back home from a trip and copy any new files that I have created while on the road to my NetGear ReadyNAS+ that I wrote about in the 13 Things to Consider Before Buying a Digital Media Storage System blog post earlier this year.
The NUS2000 supports a variety of protocols, including:
CIFS/SMB – for connecting Microsoft Windows and MAC computers to the shared storage
NFS – for connecting Linux and UNIX computers to the shared storage
iTunes Server – for sharing your music and videos with iTunes connected systems
BitTorrent, and – for receiving BitTorrent Content
UPnP – for sharing media to UPnP compliant devices such as game consoles and Blu Ray players
Additionally, the NUS2000 has a Cloud Storage offering, CiragoLink, that is very similar to the PogoPlug cloud offering that I reviewed as part of the Buffalo CloudStor offering.  CiragoLink creates a virtual private cloud by opening your network up through a secure connection to access your content on the NUS2000 remotely.  In my testing I would not recommend the CiragoLink+ as it was painfully slow to copy files or view media.  If you are looking to share files with friends I would strongly suggest looking at an online file sharing site that has agents for working with your local files.
The NUS2000 can support 32 user accounts, which is a good deal more than competing products in this space, each with its own unique userid and password.  Once a user is setup you can easily define a share from your USB connected storage devices.  I tried both a USB 2.0 Hard Disk Drive and a USB 2.0 8GB Memory Key and they both worked flawlessly, albeit a bit slow.  These kind of devices will never offer the performance or response times of devices that have more processing power, memory, and multiple disk drives combined together, but they do offer a quick and easy way to share content from USB storage devices.  I couldn't get an accurate speed test as I ran several copy jobs only to find some real inconsistencies with the performance of the NUS2000.  Not sure if it was my testing routine, or the hardware in the device.  I will need to get in touch with Cirago and ask some questions about the hardware and software platform embedded in the NUS2000 to find out more, but I expect that it is a Linux base with Open Source components for iTunes, BitTorrent, and UPnP support.
Streaming media to iTunes and my LG player with UPnP support worked well, but not great for High Definition content as the NUS2000 simply can't keep up with the demands of a 10-12Mb/s stream of data coming off a single USB 2.0 drive.  Even when I tried to put the video file on a USB memory key it still struggled with the HD content.  This kind of device is best used to share documents, such as those created in Microsoft Office or your other favorite desktop productivity tool.
The web based management console of the Cirago is an exercise is simplicity with it's streamlined approach to major configuration and management tasks.  The management console takes a page from Microsoft Explorer by providing expanding and collapsing icons that have common tasks grouped intelligently.  Also, there is context sensitive help at each step that is simple to understand.  Even with all of this help, the user still needs to understand how to create a share for remote network users to connect to the USB storage.  This is a bit of a challenge as the paradigm of creating shares is one known only to NAS proficient users and the regular population would much rather have a default set to share the entire drive when inserted as they will be controlling access at the physical network layer.  This additional feature would speed up the setup and avoid some missteps, but sacrifice some security.
Each USB port on the NUS2000 is treated as a separate entity so one can not stripe across them to increase performance and one needs to "eject" the USB device through the management console when finished using it.  In my experience with the device this is a simple and straightforward process and the LEDs on the front of the device are very helpful in avoiding any missteps.
I did not test the printer sharing capabilities of the NUS2000 as all of my printers are network shared already, but I would expect the NUS2000 to provide a good solution here as well as the print server functionality of the Linux stack is a proven solution that has been in the Open Source community for several years.
I did have an opportunity to call Cirago Technical Support on a Saturday only to have the phone unanswered and be told by an answering machine to send an email to a support site that was unrelated, by name, to Cirago.  For most home users, weekend support is a requirement because it is when they will be home and working on their content.  While I did not have any issues during my review, I would expect the Cirago team to provide RMAs versus trying to repair the issue remotely, it is where the world is going – disposable technology.  Regardless, I still would like to reach a human being and get assistance.  Finally, the website is void of support information and there are no user forums to share information.  The warranty for the device is one year, manufacturer's replacement by mail.
While I would not recommend the NUS2000 for anything but the most basic of content sharing tasks, it does make sharing your current USB storage devices simple and easy.  Unfortunately, where it misses is the performance and capabilities of some of the more well known products in the market, as well as the price.

Product Information
Price:
$79.99
Manufacturer:
Cirago
Pros:

Small form factor and quiet operation
Ability to share content already available on USB storage devices
Intuitive management interface
Simple to setup

Cons:

At $79 on Amazon.com the product is an expensive one given a NAS device that includes 1TB of Storage is now available for just over $100 including a print server and support for sharing USB devices. Adding a 1TB USB Storage device to the product increases the cost dramatically. With that said, most people already have a USB storage device and they are just looking to share it with other users in their own home or office.
No MAC support for Apple HFS formatted devices - requires MAC users to copy their data to another storage device and reformat their USB storage device to FAT32, NTFS, or EXT2 to use it as a shared device.