We use affiliate links. If you buy something through the links on this page, we may earn a commission at no cost to you. Learn more.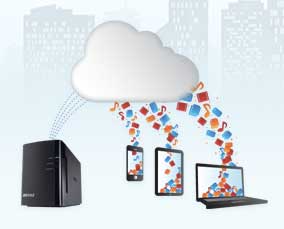 After posting the "13 Things to Consider Before Buying a Digital Media Storage System" article we sent out a request to a variety of home media server providers requesting support for a review of their offerings. Buffalo Technology responded by providing one of their latest home media servers, the Buffalo CloudStor.
I had the opportunity to attend a briefing with the Buffalo Team, including their Product Manager, and their Technical Lead for the product. They explained how their product offering differed from the rest of the products on the market in that they listened to the market and found a core requirement for sharing media amongst family and friends was missing from today's offerings. With this requirement and a good set of technology already in house, Buffalo partnered with PogoPlug to deliver the CloudStor product with the promise of making sharing media between friends and family as simple as point and click. In this review we will see if their promise is something that can believed, or is it marketing hype. Before we dig into the product review, let's take a look at the Buffalo CloudStor product in more detail.
What is the Buffalo Cloudstor?
From the Buffalo Technology Website at http://www.buffalotech.com/products/network-storage/cloud-accessible-storage/cloudstor-is-your-personal-cloud-storage-solution-learn-more/
"CloudStor from Buffalo Technology goes beyond simple home storage. CloudStor is a personal cloud storage solution designed with you in mind. It is your portal to freely access and share your data, photos, videos, music and much more with anyone, anywhere over the Internet. And because none of your data resides in the cloud, CloudStor is your secure solution to store and share digital assets easily and freely. Another way to access your personal cloud storage on the go is through apps for mobile devices. At all times, you'll only be seconds away from your content. Also, whether you're at home, the office or on the road, your CloudStor user experience remains the same. It looks and operates just like a hard drive on your PC or Mac. CloudStor can even integrate with Facebook and Twitter for easy sharing from your personal cloud storage to popular online services. CloudStor is that easy. Just plug it in, turn it on and create your free personal cloud storage account at myCloudStor.com.
• CloudStor Pro CS-WV/1D features a fast 1.6 GHz processor for enhanced performance, up to 2X faster!"
• Safely access and share all of your files with anyone, anywhere, over the Internet
• Easy setup – Plug it in, turn it on and register at myCloudStor.com
• No service or subscription fees
• Free mobile apps for your iPhone®, iPad® and Android™ Stream movies, music and slideshows from anywhere on your PC, Mac®, smartphone and tablet devices
Specifications:
Internal Hard Drives
Number of Drives 1
Number of Bays 2 (second drive can be added by the user)
Drive Interface SATA 3 Gb/s
Hard Drive Sizes 1.0 TB (CS-WX1.0/1D)
2.0 TB (CS-WX2.0/1D & CS-WV2.0/1D)
Supported RAID levels 1, JBOD (individual disks)
A second hard drive is required for RAID support
LAN Specifications
Standard Compliance IEEE802.3ab / IEEE802.3 / IEEE802.3u
Data Transfer Rates 10 / 100 / 1000 Mbps
Connector Type RJ-45
Number of Ports 1
USB Specifications
Standard Compliance USB 2.0
Connector Type A type
Number of Ports 1
Data Transfer Rates Max: 480 Mbps
Protocol Support
Networking TCP/IP
File Sharing CIFS/SMB, AFP, HTTP/HTTPS
Management HTTP
Time Synchronization NTP
Other
Dimensions (WxHxD in.) 8.1x 5.1 x 3.4
Weight (lbs) Average 5.1
Power Consumption (Watts) Average 26 W, Maximum 48 W, 0.7 W Standby
Power Supply AC 100-240V 50/60 Hz
OS Compatibility Mac OS® X 10.4 or later, Windows® 7 (32-bit/64-bit), Windows Vista® (32-bit/64-bit), Windows® XP, Windows Server® 2003/2008, Windows Server® 2003/2008 R2″
Now that we have an understanding of the Buffalo Cloudstor let's jump into the review.
Product Review
The team at Buffalo sent me the Pro version of the Buffalo CloudStor CS-WV/1D for my review.  With a single 2TB drive the Buffalo CloudStor Pro, like the regular version, has room for a second drive, which I did not try to add during the review. The Pro version also has a faster processor and a bit more memory in the system, then the regular version, which I appreciated in my review. For the review I followed the purchase criteria that I provided in the "13 things to consider when buying a home media server" blog posting on February 16, 2011. As a reminder, the 13 things are:
1. Who is going to, and how are they going to use the system?
2. Price
3. Physical size of system
4. Look and Feel
5. Environmentals (Airflow, thermals, sound, and more)
6. Capacity and Expandability
7.  Integration-Interconnection
8.  Backup – what is all of this I hear about backup?
9.  Sharing your media
10. Protocol Support
11.  Support & Warranty
12.  Hackability
13.  Simplicity-Complexity
1. Who is going to, and how are they going to use the system?
For my testing I wanted to share my media with my parents in New Jersey and a colleague in California. My parents are not very technology savvy, but they enjoy seeing pictures of their grandchildren and watching videos that I share. I usually use a private video site and a public photo sharing site to upload and share my content with family and friends, so I was intrigued to try the Buffalo CloudStor out as I thought it would cut down on me having to upload my content to another site where I may lose control of it. I should give you the reader a bit of background on my home network and internet connection so you understand that your mileage may vary. I recently upgraded to a Time Warner Docsys 3.0 Cable Modem and am using their "Wide" offering with 30Mb/s downstream and 5Mb/s upstream capacity. To connect my devices, I have a couple of networks, including a N wireless network and a physical Gigabit Ethernet between my devices when there is an Ethernet port handy. This gives me the best of both worlds for when I want to share files between devices. Not everyone is going to have the luxury of a fast network connection and this plays an important role in working with videos and other media as you will quickly find that uploading 100MB of home movies can take an hour or more if you are on a slower connection, or in this case sharing that bandwidth with your family, friends, and colleagues when you want to share a video or other media. One nice thing about the Buffalo CloudStor is that it will transcode media to other formats so those viewing your content remotely do not need to have the same device that you have in order to watch or listen to your content.
What is this transcoding thing of which you speak?
Transcoding is the act of converting one file format to another for the purpose of viewing the file on a variety of devices, or as Wikipedia (http://en.wikipedia.org/wiki/Transcoding) defines Transcoding as "the direct digital-to-digital data conversion of one encoding to another,[1] such as for movie data files or audio files. This is usually done in cases where a target device (or workflow) does not support the format or has limited storage capacity that mandates a reduced file size,[1] or to convert incompatible or obsolete data to a better-supported or modern format. Transcoding can be performed just while files are being searched, as well as for presentation. For example, Cineon and DPX files have been widely used as a common format for digital cinema, but the data size of a two-hour movie is about 8 terabytes (TB).[1] That large size can increase the cost and difficulty of handling movie files. However, trancoding into a JPEG2000 lossless format has better compression performance than other lossless coding technologies, and in many cases, JPEG2000 can compress images to half-size."
So what does all of the above mean to you and why should you care?
If you encode, or create, your video file on an Apple Mac using Final Cut Pro and you may have produced your project as QuickTime Movie (MOV), then only those with the QuickTime player could watch your video, but with the Transcoding capability of the Buffalo CloudStor those with other players can watch the video. Transcoding takes time and it is not a 1:1 conversion, in other words, a few minutes of video may take up to an hour to transcode, so don't expect any miracles here as the transcoding engine is using the same resources as the NAS and Media Sharing part of the product – in other words, you are using the same processor, memory, and disk to transcode that you are using to watch files and share them. With that said, the Buffalo CloudStor did a very good job of transcoding my videos and in the case of a one hour and 30 minute video it transcoded it in about eight hours, which is reasonable given the platform that it is running on. The transcoding process is a manual selection, and you also need to know that you will be consuming more capacity for each file that you transcode, so you are going to need to think about whether or not you want to transcode that birthday party of the kids, or not.
If you have used YouTube, or other video sharing site you are all too familiar with the transcoding that occurs when you upload your video to their site and they make it available in their proprietary format, it can take an hour or more depending on the load on the servers that is doing the transcoding.
2. Price
The Buffalo CloudStor ranges in price based on configuration and where it is purchased. Buffalo Technology puts the list price at $169.99 for the 1 TB CloudStor (CS-WX1.0TL) and $269.99 for the 2 TB CloudStor Pro (CS-WV2.0TL). The street pricing that I found when I searched the Internet ranged from $130-160 for the 1TB version and $160-$240 for the 2TB Pro version. The pricing includes one year of hardware and software maintenance with hardware replacement.
3. Physical size of system
The Buffalo Cloudstor is a svelte product measuring 8.1 x 5.1 x 3.4 inches, barely bigger than two standard 3.5" SATA Hard Disk Drives, leaving room for a small computing board with embedded processor, memory, port connectors, and a cooling fan, which runs very quietly.

The Buffalo Technology product design team was fortunate to be able to pull from the common parts bin to create the CloudStor version of their product as they had a great platform in the DriveStation Duo platform. One of the reasons that the Buffalo CloudStor is so svelte is that the design team moved the power supply out of the product and into a modular plug, much like your standard notebook/laptop computer. Accessing the hard drives is a bit of a challenge as they are not intended to be hot-swappable, but they are intended to be user replaceable, which is a bit of a catch 22, as with only one drive, one needs to be able to backup the drive, or have two drives in case of a single drive failure. This is where I would usually give you the reader my standard text on backing up your data on a regular basis, but this time, I am going to go even further as 2TBs of content is not your usual amount of content, we are talking about possibly 10's of thousands of pictures and 100's if not thousands of videos that are suspect to loss if the single drive in the system fails. So, dear reader, backup your data! How, you ask, through the USB port on the Buffalo Cloudstor by providing another drive, or by using a Cloud based backup service. In any case, these are your precious memories and deserve to be protected. Enough said, right?
The Buffalo CloudStor also offers a Kensington Cable Lock which goes through the plastic to the metal inside the casing to keep those that would make those that would steal the product think twice. On the back of the system there are the standard Ethernet, USB and Power Ports, as well as a switch for operating modes: on, off, and auto. I would suggest leaving the product turned on at all times as in auto, the product waits silently for a request before spinning up the hard drive and in my testing did not always respond before a timeout occurred from the request. The power utilization of the system was very low and I am thankful for that as the system is left on 24 x 7 x 365.
4. Look and Feel
As always, look and feel is a subjective category, but I believe that the Buffalo CloudStor will fit with in within any IT or home media setup as it has a flat black casing with a few status lights on the front. All of the edges are smooth, which means no cuts on your fingers when you access the hard disk bays, which is almost never as you don't need to replace the drive or add another drive regularly. I could do without the big "CloudStor powered by Pogoplug " branding sticker on the otherwise well designed casing. I understand the point of branding, but in a home theatre system or other environment the sticker looks cheap and redundant. I would much rather have seen the CloudStor name etched in the cover of the product like the Buffalo name, but I am guessing that the design team elected a cheaper "sticker" option over changing the physical casing that is shared within their product line.  I know why I bought the products inmy home and I find branding stickers and the like annoying.  I bought a 37″ LCD TV and when I turn it on the manufacturer's name lights up.  I put a piece of electrical tape over it, as I don't care to be reminded of the manufacturer when I am watching TV – I am watching TV and I am not being compensated by the manufacturer for their overt advertisement.  If I like a product that I purchase I will happily share my views and even send out information when requested.  It is up to the manufacturer to get me to like their product, not brand it for the world to see in my home, and for the Buffalo CloudStor you will have to read on to see if the product served my purpose and if I liked it.
5. Environmentals (Airflow, thermals, sound, and more)
The Buffalo Cloudstor is quiet and cool – we are talking whisper quiet.  The only sound that I heard was that of the drive being accessed at startup. From a heat perspective the system ran cold even under heavy load during testing. The fan provided more than adequate air movement to cool the system without being noisy. The Buffalo CloudStor team definitely knows how to design a system with good airflow.
6. Capacity and Expandability
The Buffalo CloudStor comes standard with either a single 1TB or 2TB SATA Hard Disk drive and can be easily expanded by adding another drive to the configuration. For a complete list of supported drives for expandability please visit http://www.buffalocloudstor.com/specs/hdd-list/
Drive Capacity                   
1TB
Number of pictures
285,700 six megapixel digital photos
Number of songs
250,000 MP3s encoded at a data rate of 128kb/s & 11:1 audio compression
Hours of video
Up to 76 hours of digital video encoded at encoded at a rate of 25Mb/s
2TB
Number of pictures 
571,400 six megapixel digital photos
Number of songs
500,000 MP3s encoded at a data of 128kb/s & 11:1 audio compression
Hours of video
Up to 152 hours of digital video a rate of 25Mb/s
The Buffalo CloudStor right-sized the 2TB drive to 1.848GB, or a bit under the 2TB delivered. I figured out why the difference in size from 2TB to 1.848GB, as the firmware/operating system is delivered on the drive itself, versus as in other devices this required software resides on a memory chip inside the device. Don't expect to reuse the drive inside the system somewhere else without effectively "bricking" the Buffalo CloudStor.
7. Integration-Interconnection
The Buffalo CloudStor does not come with a setup CD, nor is one needed. In fact, most of the NAS Home Media Servers that I have utilized do not come with any software on CD, rather relying on DHCP to detect and setup the device automatically on your network and downloadable software from the manufacturer's website.  Once connected to the network I had a hard time finding the device's IP address and the MAC address sticker for the device was located on the bottom of the product itself, instead of the logical place, on the front so one could easily tell what the address is. Once I located the MAC address and saw it was logged into the network, I could access the shared drive easily by the IP address, but the device asked me to setup a PogoPlug account to access the device using the built-in PogoPlug Server.
For those not familiar with PogoPlug, the product allows you to seamlessly share your content on the Internet, and this is where the Buffalo Technology team elected to leverage the PogoPlug technology to respond to the requirements of the market as they interpreted them. The interface for PogoPlug on the Buffalo CloudStor is web based and fairly responsive, but uploading content is very slow as it goes through a proxy to redirect the content back to the Buffalo CloudStor. I am guessing this is because the PogoPlug software tracks the content through a remote server, but in my testing the content upload was painfully slow. I elected to ignore the PogoPlug remote upload over the Internet and went with a direct network connection using CIFS/SMB from my Microsoft Windows 7 systems as well as AFP from my MacBook Pro. Both connections were very stable and provided performance in the area of 30Mb/s on my Gigabit Ethernet network. This is a pretty impressive write performance number considering that the Buffalo CloudStor is only using a single SATA drive. Also, the Buffalo CloudStor is integrated with Twitter, Facebook, and MySpace for posting content notifications on your social network of choice. I did not try this part of the product as I don't care to share my content with my social network.
The Buffalo CloudStor will also share a USB printer through its built-in USB port. This is handy for those home users that are looking to share their printers with everyone in the home. Many Wireless Routers already include this capability, so it may be redundant for your environment.
The PogoPlug software coupled with a good processor and a good bit of memory inside the Buffalo Cloudstor impressed when connected locally, but not through the remote Internet Connection. While the product is called a Cloud product, nothing is stored on the Cloud, rather the PogoPlug software makes a Cloud out of your Buffalo CloudStor hardware – making your files available over the Internet to those that you want to share your content with, effectively eliminating web service providers, such as YouTube and SnapFish for video and photo sharing. While the idea sounds good to start with the implementation leaves a good bit to be desired due to performance issues on the Internet as I mentioned before.  My sharing files with my colleague in California not being able to download video files that I posted was a major issue that I am still not able to correct. When testing the Buffalo CloudStor on my local network I was able to watch videos on multiple devices without any concern.
8. Backup – what is all of this I hear about backup?
The Buffalo CloudStor can be used to backup your computers, but lacks the standard backup software that most of the Home Media Servers deliver out-of-the-box. With this said, I can see why the Buffalo Technology team did not include backup software as that was not the purpose for the team in delivering the product, rather the device is meant to share digital media. With a Mac and Time Machine the Buffalo CloudStor can be used as a Time Machine Target for backing up your Mac over the network.  I would strongly suggest that the Buffalo Technology team add backup software to the offering as it would help many home users backup their content while adding value to the solution.
9. Sharing your media
The value in the Buffalo CloudStor is supposed to come from the ability to seamlessly share your media with anyone with an Internet connection and in my testing it worked well, most of the time, but for some of my colleagues they were unable to connect and download content.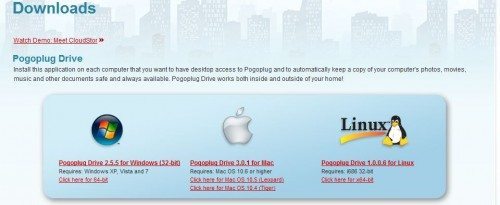 The Bufflao CloudStor has some simple and well executed utilities for Microsoft Windows 7 (32 & 64-bit) Mac, and Linux that enables the device to show up as a local drive on your computer.  I highly suggest using these utilities as they dramatically speed up copying files to the device from your computer over your local network.
The Buffalo CloudStor has a setting to enable automatically creating a 10 second preview of video files that can be downloaded by most devices, including a Buffalo provided iPhone, iPad, Palm, and Android App. The Apps can be downloaded from the Buffalo CloudStor website at http://www.buffalocloudstor.com/support/downloads/.

These Apps worked well, but had some herky-jerky playback which could have been the wireless network, the Buffalo Cloudstor, or a combination of the two. My iPad could easily play the files back on my Wifi Network in my home and when I went to the local café with wireless my content also played smoothly.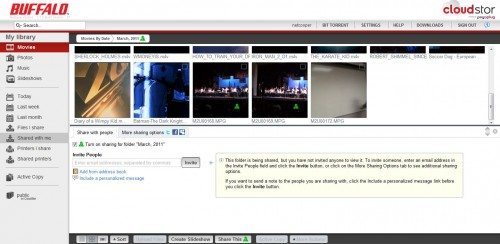 The Management Interface for the Buffalo CloudStor is web based and sharing is as simple as point, click, and add email address of those that you want to share your media with. You can also share an entire collection based on date, or other specified criteria. I do like the media management interface of the Buffalo CloudStor as it provides a 10 second preview of content as well as the ability to view a full file. The File Manager is reminiscent of the Explorer on a Windows System and is relatively intuitive. What is not intuitive is the setup of the system and I would tell lay users to stay clear of the settings without some experience tech support help. Once you share media with a friend, family member, or colleague, you can add their email address to your address book and the Buffalo CloudStor will remember them for the future, making repetitive sharing activities a snap. One can even include a personalized message to deliver with the content link for download, so you can tell your parents the video is their grandchild at their first concert, or whatever muse hits you provided it is under 1,000 characters.
For those that like to create slideshows, one neat feature of the Buffalo CloudStor Management Interface is the ability to generate slideshows from your videos, photos, and music and then share the slideshow just like another other content on the Buffalo CloudStor.
10. Protocol Support
The Buffalo CloudStor supports standard file sharing protocols including CIFS/SMB for Windows and Mac, AFP for Macs, as well as NFS for Linux systems, and finally HTTP/HTTP-S for web based sharing of content. I was unable to get iTunes working with the device as a server, but I could point the iTunes library at the network share and see the content on the Buffalo CloudStor, while not as simple as emulating an iTunes server as most NAS Home Media Devices do, this is sufficient for many single users. I would like to see iTunes support as a formal feature in a future upgrade to put the product on par with the rest of the products in this category.
The Buffalo CloudStor does support DLNA, as well as other Media Streaming protocols, so those wishing to stream media to other computers, a xBox 360, or other media streamer are in luck.
Also, the Buffalo CloudStor supports Network Time Protocol (NTP) and automatically set the time and date once I told the device where I was physically located.
11. Support & Warranty
The Buffalo CloudStor is covered by a one-year warranty and I called the support team to find out how they worked and was impressed with the team as well as their online support knowledgebase.  While not as extensive as some of the players in the market it offered simple and quick guidance to common issues as well as a forum for asking questions.  The support team at Buffalo Technology was very responsive and had been trained on how the Buffalo CloudStor worked and common setup challenges. I have not had the opportunity to perform an RMA so I can not give you a review on how one would work for the Buffalo CloudStor.
12. Hackability
The Buffalo CloudStor is not hackable at all – there are no APIs that I could find or other scripting tools to access the device. I know the device is running a Linux kernel, but I cannot find any information on how to hack it online. This is a bit of a challenge as I would like to be able to hack the system and add Open Source capabilities like an iTunes Server.
13. Simplicity-Complexity
The Buffalo CloudStor is relatively simple to utilize for moderate level technical users. I would not say it is so simple that my mother could use it on a daily basis, rather it is for a moderately tech savvy individual that wants to share content with his/her friends, family, and colleagues as well as a Digital Home Media Server. From a simplicity perspective the management interface earns high marks for making the common tasks available right from the content itself with a simple click, point, and click again with easy to understand icons.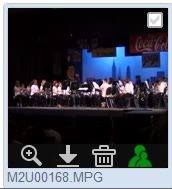 Icons for viewing, downloading, deleting, and sharing are easily available right from the content interface.
One can also "Search" through content using the search box that is ever present at the top left hand corner of the management interface. I found this useful as my content library started to grow beyond what was easy to see on the screen. Also, content is organized by months, so if you have an idea of when you added the content you can easily sort it based on date.
Overall Opinion
Overall, the Buffalo CloudStor does a good job for a basic Digital Home Media NAS Device with the added power of PogoPlug software for sharing content.  I would rate it a solid "B-" solution as the capabilities and integration are there for sharing media and storing your precious content, but at this price point there are some better products on the market that both backup your content and share it at the same time.
What the Buffalo CloudStor lacks in capabilities, such as included backup software for Microsoft Windows systems, it makes up for in simplicity for sharing media over the Internet with family, friends, and colleagues.

Product Information
Price:
$169.99 for the 1 TB CloudStor (CS-WX1.0TL) and $269.99 for the 2 TB CloudStor Pro (CS-WV2.0TL)
Manufacturer:
Buffalo Technology
Pros:

Digital Media Sharing on a personal cloud with transcoding for mobile platforms, including cell phones
Small form factor and support for multiple hard disk drives
Quiet and cool operation

Cons:

Shaky support for iPhone and iPad with transcoding
Lack of included Backup Software