We use affiliate links. If you buy something through the links on this page, we may earn a commission at no cost to you. Learn more.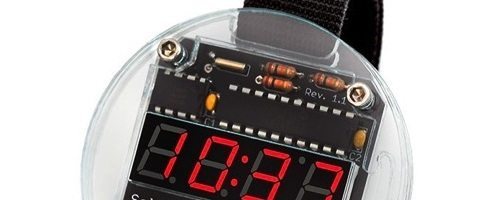 I enjoy making stuff, and I love electronics, so I generally really like electronics kit projects. The SpikenzieLabs Solder:Time Watch Kit seems like a great option for someone like me. This is actually a hackable watch- they provide the source code and other info, as well as convenient pads on the circuit board to tap into.
The Solder:Time Watch is loaded with interesting features for something so apparently simple and only $29.95:
Laser-cut acrylic case (4 layers thick!)
Dallas Semiconductor DS1337+ RTC clock chip
PIC 16F631 micro-controller
Low power consumption components
Simple, one-button set-up and operation
Long 2-sided Velcro strap wristband fits even large wrists
Large, bright display
Hackable and tinker-friendly allows for lots of other options- pocketwatch, desk clock, external power supply and more
The package includes all parts, well and safely packed, some business cards and bumper stickers, but no instructions- which are available on-line and very well done. You'll need basic soldering skills (lots of tight, finicky solder points) and tools (like a low wattage iron, solder, small side cutting pliers). A small Allen wrench is needed to assemble the case, but a small pair of pliers will do in a pinch. The kit should be suitable for kids who have a little experience and can handle an iron safely. Assembly time  is about 30 minutes.
Assembling the watch is easy enough that I decided to tackle it without referring to the directions at all. It is not that I am 'all that' when it comes to stuff like this- it is just that they made it so easy. Each socket is well-identified and diagrams on the board show how things go. There are three resistors, all the same value, and two capacitators, also both the same value, and the other parts are pretty obvious.
Soldering most of the components was not an issue- low wattage on the iron, taking it slow and steady, glasses off for best close-up vision and things went smoothly. The few minor glitches I had were:
Soldering the battery holder was annoying since there are no pins or anything to stabilize it. The directions have a handy trick I should have thought of, but I made it work.
I needed to go back and trim the leads a few times- they need to be REALLY short for the right fit and to prevent issues when the board is squished into the case.
It took a few tries 'dry-fitting' the 6 parts of the case, not including 4 socket-head screws, to get everything to line up right. It was fun to try to work out exactly how things fit. The directions make it super-easy, but I enjoyed the challenge.
Troubleshooting was irritating and kind of fun. Long leads, mediocre solder jobs, and so forth plagued me- try it, works fine, assemble it and it was acting odd. Disassemble, try something, repeat. Even after it was working well enough for this review, it started to act up again.
Trying to determine how to set the time without looking at the directions was fairly straightforward and I got it in only a few tries.
The glitches I had just added interest to the project for me, but could easily have been avoided by following the simple directions.
So what did I end up with for my investment? Well, to be charitable, it is a big watch- it measures 2 3/8in (60mm) across, 1/2in (12mm) thick- not counting the screw heads, which bring it to 9/16 in (15mm). It is also a simple watch- when you press the button, it displays the current time for about 5 seconds. No date, no seconds, no other functionality in its default state. If you wear it as it is, it actually looks a little silly- big clunky watch on a skinny 3/4in (20mm) band- albeit one you can see though,  which is kinda cool.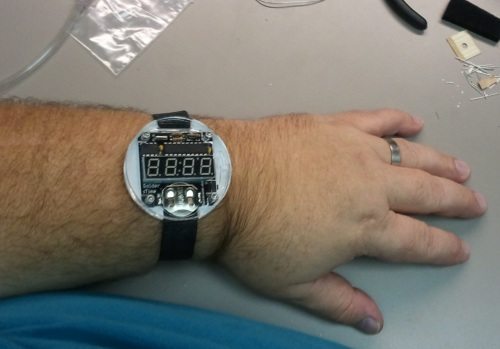 I doubt most people would wear this as is- it begs for hacking the case. I'm trying to decide it's final purpose. If I carry it as a pocket watch or clip-on clock, I'd want to replace the 4 socket-head screws with countersunk flatheads, round off the top and bottom edges for a smoother package and figure out a cooler strap (carbon fiber???) If I use it as a desk clock, I'd glue it to a clear stand, probably taking advantage of the DC power option to run it off a battery pack in the base. Hacking the chip itself is outside my skills although I am curious what is possible. I did not find a lot of ideas or tips online for that.
Sure, for $29.95, you can buy lots of watches that look nicer and do more, but the cool thing about the Solder:Time is that you did it yourself and that you can then modify it into anything you can imagine.
Product Information
Price:
$29.95
Manufacturer:
SpikenzieLabs
Requirements:

Basic soldering skills
Soldering tools
Allen wrenches

Pros:

Do it yourself watch!
Easy to do

Cons:

Only tells time
Large case