We use affiliate links. If you buy something through the links on this page, we may earn a commission at no cost to you. Learn more.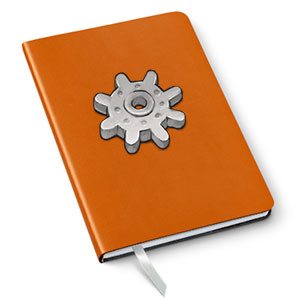 Dear Gadget Diary,
Yesterday was chemo day. The treatments take about 5 hours, so I had to figure out something to take with me to keep me occupied and entertained for that whole time while sitting in a chair with an IV hooked up to the port in my chest.
I decided to kill 2 birds with one stone by taking my iPad 2 and the Crux360 keyboard case that I've been needing to  test. I ran around like a chicken with my head cut off trying to find the perfect back to carry it in and ended up going with the Waterfield Muzetto 10″. The iPad / Crux360 fit perfectly along with my iPhone 4, wallet, iPad AC adapter (just in case) and a few other odds and ends.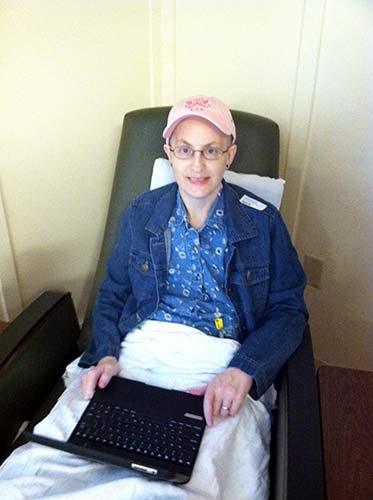 Nope, that's not a laptop on my lap, it's the iPad 2 in the Crux360. I'm not going to use this diary entry to review the Crux360… I'll be doing that with a regular review very soon…
For those of you who roll their eyes when I talk about trying to use the iPad (or an Android tablet) as a laptop replacement, yesterday is a prime example of why I keep trying. Answering and sending emails for several hours would be less than fun without a physical keyboard. Also, tablets tend to have better battery life than a laptop, are lighter weight except when you stick them in a case that turns them into a laptop 😉 More about that in the review.
I was able to knock my inbox down to a manageable level and do a little gadgeteer writing while getting juiced up with yummy Taxol and Herceptin.
During lunch time, I watched part of a lame movie via Netflix. It's actually the first time I've used the app on my iPad to try to watch a movie. I was surprised that it played without any hiccups using the hospital's free WiFi.
The nurse watching over my treatment saw the iPad and told me that her daughter had just won one recently and was very excited about it.
My iPad started out at 100% battery life when I left the house that morning at 7:30am, but by 1:30pm, it had dropped down to about 45%. I guess using Bluetooth and WiFi for 5 hours will do that. I'm not complaining though.
I did get bored checking my email after the 100th time, checking for new comments on the site, reading my RSS feeds, etc. I happened to notice that there was a person sitting with the person getting treatment next to me. I couldn't see the patient, but her visitor had her back to me and on the floor I could see she had a bunch of embroidery floss spilling out of her purse. When the nurse came by to check on her, she commented about how neat what she was doing was. So me being my normal nosy self, I said "excuse me… I couldn't help by overhear that you're making something, can I ask what it is?" The girl turned got up and turned around and I saw that she had tied the colored floss around her thigh and was weaving a friendship bracelet, which looked really cool. I told her how neat it looked and she thanked me and went back to work. When my treatment finished, I gathered my things and was getting ready to leave she turned around again and told me she had made me a bracelet.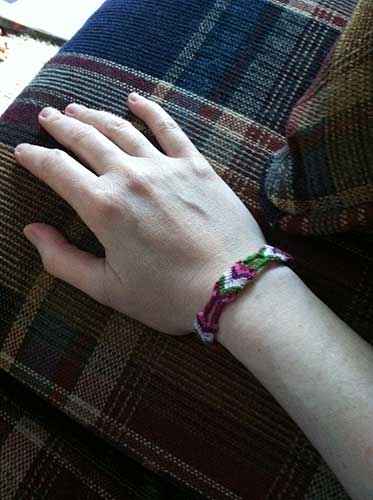 Isn't it cool? That was so nice to make a total stranger (me) something like that. It had to have taken her at least 2 hours or longer to do it. I didn't even get her name. That's the 2nd time in the this last week that a total stranger has done something nice for me. This past Saturday, Jeanne and I went to Cracker Barrel for lunch and after the waitress took our order, she came back a few minutes later to tell us that an anonymous person was going to pay our bill. We have no idea who or why someone did that… Just goes to show you that there are nice people in the world who do things for no other reason than because it's nice.
I did a good deed today when I had to go back to the Cancer Center for my Neulasta shot (white blood cell booster). I took a few iPad cases, screen cleaning cloths and styli for the nurse's daughter who had won the iPad and also for the nurse who I had demo'd the Samsung tab to the week before (see my previous gadget diary entry) who had bought an iPad for her relative. Hopefully they will both enjoy the goodies.
Today I tried out a new wallet that I bought a few weeks ago. It's the Urban Wallet from Bill's Custom Cases.  I used it to carry my iPhone, money, credit cards and lipbalm. I'll have a review of it soon too 🙂 It worked well for me today, but I still have my own modular wallet project in the works. I hope to start on it this weekend. I stopped at Joann Fabrics for more more plastic canvas. Stop laughing… it's just to prototype. I'll probably end up making it from leather or canvas if I can actually create something decent.
Thoughts for today:
I take back all the times I've said that people are overrated. People can be wonderful. 🙂 Just goes to show that you never know how something YOU do can impact someone else. So go out and be nice to someone right now. Even the littlest things can make a big difference.
The iPad makes a good companion when you have 5 hours to kill.
I'm feeling all crafty after seeing those friendship bracelets. I can't wait to start on my wallet idea this weekend.