We use affiliate links. If you buy something through the links on this page, we may earn a commission at no cost to you. Learn more.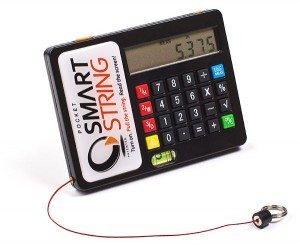 Everyone knows the adage "measure twice, cut once" when it comes to construction/home renovations/clothing alterations/etc and it's absolutely vital since even with the sharpest of eyes, those notches on a measuring tape can seem to run together.  Wouldn't it be great to have an instant readout instead of going blind figuring out if the measurement is 8 or 9 sixteenths of an inch?  Smart String does just that, as well as having a few additional handy features.
Rather than a rigid aluminum tape, Smart String uses, aptly, a string for taking measurements so that even round or curved shapes could be accurately measured.  The length of string reads out automatically on the LCD display screen, up to 3 decimal points.  There is a button to instantly switch measurements from US standard to metric and a button to save the measurement (up to 3 at a time) and switch to the calculator with access to those saved measurements.  And because there weren't enough cool features with just that, there are also a built-in level and flashlight.  The string has a maximum length of just 50 inches, so it's better used on smaller-scale projects.
Smart String Tape Measure is available through ThinkGeek for $11.99