We use affiliate links. If you buy something through the links on this page, we may earn a commission at no cost to you. Learn more.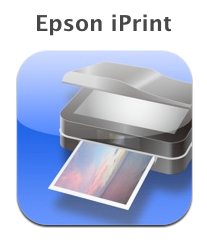 I know that iOS 4.x now includes the ability to print, but that function only works with certain Airprint-enabled printers from HP.  If you don't have one of these HP printers, as I don't, you're out of luck printing from your iPad, iPhone, or iPod touch.  When I got the press release from Epson recently for the new printer announcement I posted earlier today, I saw a mention of their printing software for iOS devices.  I was very interested to see that their Epson iPrint app for iPad and iPhone now allows printing to Epson printers on the same network as the Apple mobile device.  The iPrint app is free, so I downloaded it to my iPad and set about putting it through its paces.
Click the screen captures in this review for an enlarged view.
The iPrint app is a universal app that works with iPad and iPhone/iPod touch.  If you expand the app's description, you can see a list of printers that will work with the app.  Although my Epson Workforce 610 is a couple of years old now, it was on the list, so I installed the free app.  It downloaded quickly to my iPad.

The first thing I had to do was go into the setup option to select my printer.  I forgot to get a screen capture of that first step, but it quickly found and displayed a list of my available printers – only the one Workforce 610, in my case.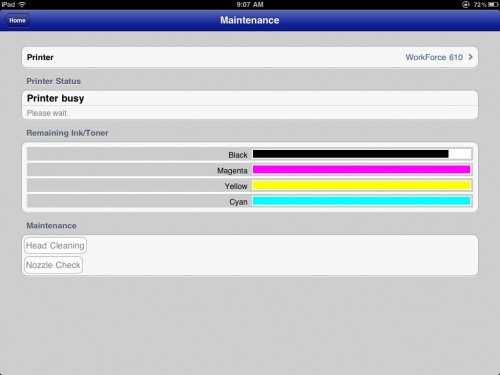 After I selected the printer, the setup option displayed the printer's name, its status (ready to print), and the amount of ink in my four cartridges.  It even has buttons to perform a nozzle check or head cleaning.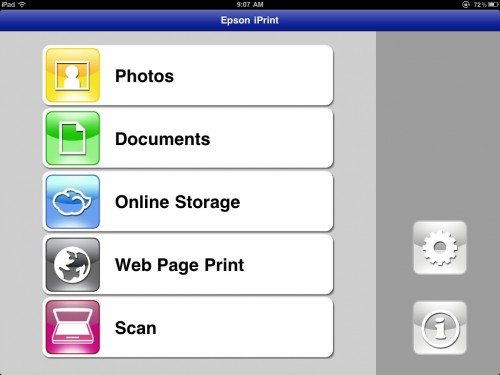 The Workforce is an all-in-one that can print, scan, and fax.  I don't have a landline, so I don't mind that faxing isn't one of the options.  I was happy to see that I can print documents (from various sources) and photos, print webpages, or even scan directly to my iPad 2.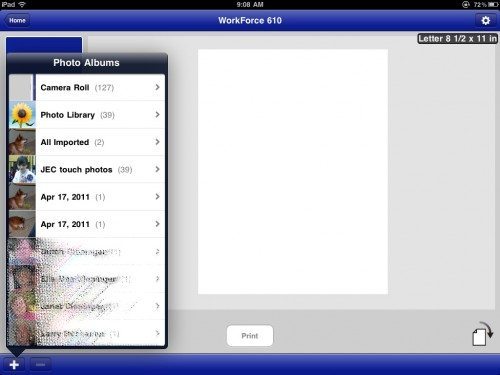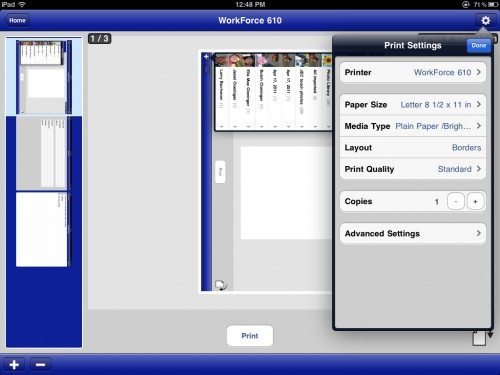 With the Photos option, I could navigate through the photos stored on my iPad and select a photo or queue up photos to print.  I could rotate a photo and move it around to center the desired section onto the page for printing.  I could even change various printer settings before printing:  paper size and type, print quality, number of copies, and more.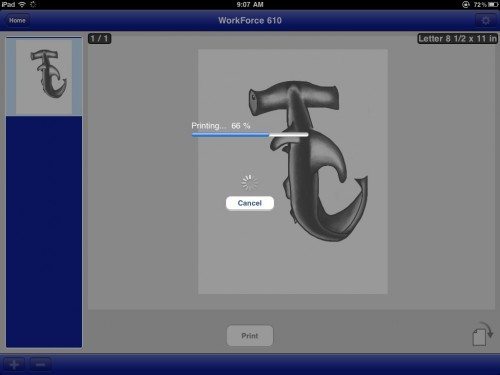 When I pressed the Print button, my Workforce 610 immediately started the clicking sounds it makes as it begins to print.  In seconds, I had a beautiful copy of the hammerhead shark Rachel had drawn for me!  So much nicer than having to get the photo over to my laptop by email and using a program on there to print the photo!
Printing using any of the other options described below allows me to make all the changes to the printer setup, or even the printer itself when more than one are available on the network.  I won't show those options or discuss them in detail for each of them.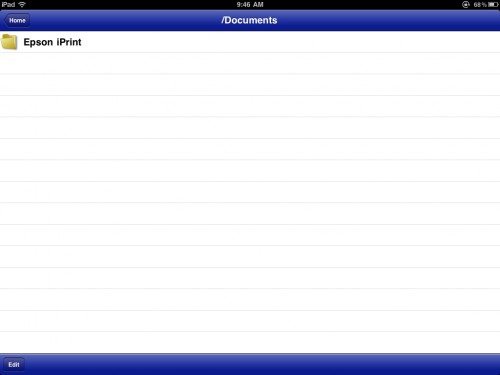 I had a bit of a problem with the Documents option.  This allows you to print files that are on your device.  I have Pages on my iPad 2, so I created a test document to try out printing.  The Edit button at the lower left allows you to specify a directory, but it didn't show a list of possibilities.  Unfortunately I couldn't find where the Pages documents are stored on the iPad 2 to tell the iPrint app.  I had given up using this option at all, until I tried storing a scanned image (a Panera cup holder).  Once that was scanned and stored, I realized I now had a folder specified in my documents listing (shown above), and my scanned file was there.  Printing the document worked like printing photos.  I selected my document (a pdf, in this case), and I was able to rotate the image and make printer setup selections.  Pressing the Print button resulted in a nice printout in just a few seconds.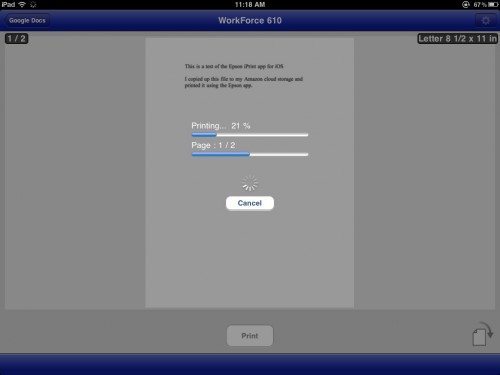 You can print documents stored in online storage, but only a few locations are available.  You can only print from Evernote, Google Docs, Dropbox, and Box.net.  I was disappointed to see that Amazon's Cloud storage wasn't an option.  I do have access to Google Docs, so I copied up a test file.  Naturally, you must have an account at one of these services, and you have to log into your account to see your documents.  My test file was a Word file created on my Mac, and I was warned (as the file opened) that the file might not display or print correctly.  It didn't print perfectly; the title line used a funny font, but everything was perfectly legible.  It did print an extra blank page, too.  I don't have accounts at the other services, so I couldn't test all of them.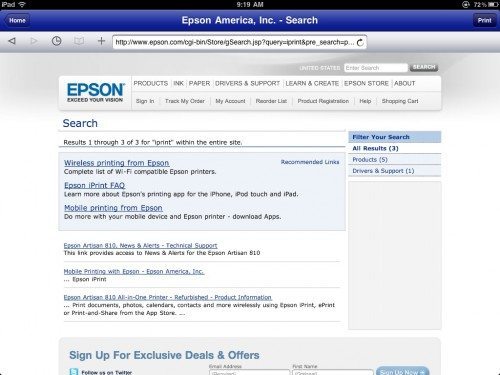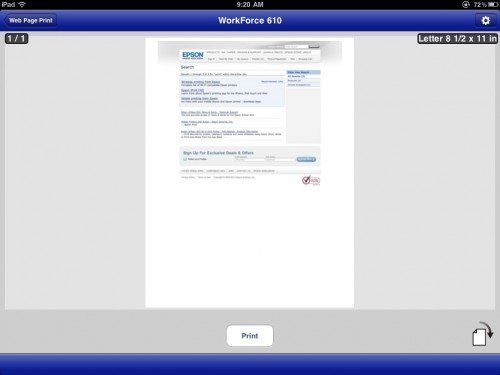 Web page print requires you to enter the URL of the page to be printed.  I was able to navigate normally within the page.  Controls to the left of the URL line are used to navigate forward and back, store bookmarks, and retrieve bookmarks.  Once I found the information I wanted to print, I tapped the Print button at the upper right.  The page was formatted for printing and displayed for my approval.  Be warned that some sites with long pages will produce big documents.  The Gadgeteer's home page resulted in a 13-page document.  Just as before, I could rotate the image and change printer setups.  Also as before, touching the Print button resulted in the printer springing into action.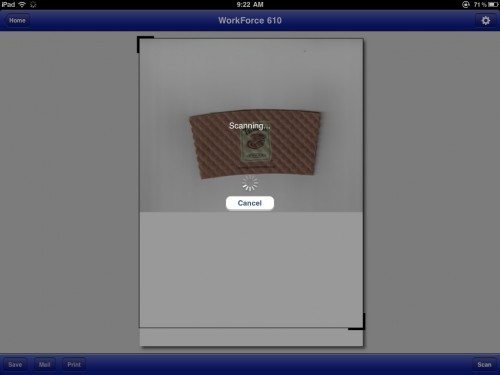 The Scan option is my favorite.  I've needed to scan in my daughter's new school schedule and some other papers, but I've been dragging my feet.  Although everything is wireless, my computer to control and receive the scan is not close to the printer.  I have to drag the laptop over and balance it in one arm as I load the paper and do the scans.  It's much easier to hold my iPad 2 and swap out papers and do the scans, so I was able to scan everything I needed very quickly.  I started out scanning the Panera cup holder, as you can see.
There's a setup option (button with a gear at the upper right) that lets me choose a scanner from the networked ones, select the document table or the automatic document feeder as my source, select image type and resolution, and more.  There's not a preview function so I can check that I have the document placed correctly, but the scan was completed so quickly it doesn't matter.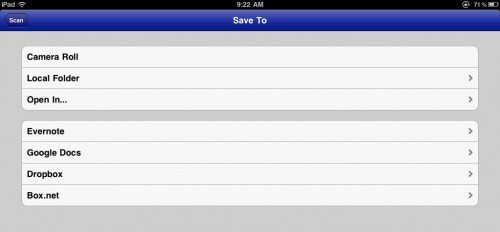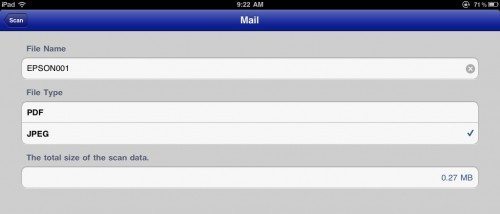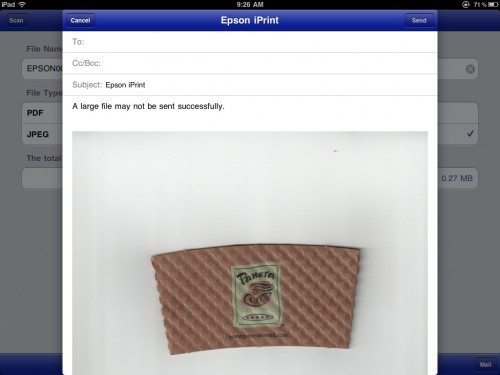 Once the scan is complete, I can save it to my camera roll, to a local file, or to one of the cloud servers I already mentioned above.  I can also email it as a JPG or a PDF file using the Apple mail app, or I can print it.  I was able to scan Rachel's schedule, save a copy to my iPad 2, and print a copy for her with just a few taps on my iPad 2's screen.  I love this feature!
Finally, there's a Support option (the button with the circled I) that lets you read FAQs about the iPrint app, connects you to Epson for more support and information, and finally a "Buy Ink" option that connects you to the Epson store with a list of the cartridges for your printer listed for easy shopping.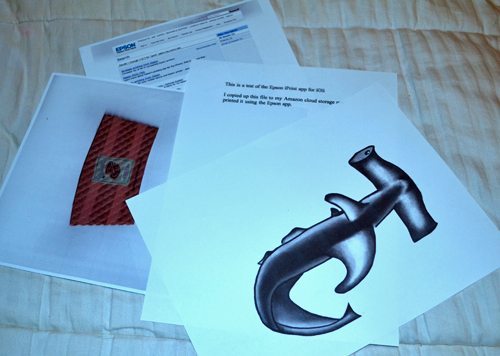 I really like the Epson iPrint app!  It makes printing and scanning from my iPad 2 so simple that I won't be stockpiling documents for scanning any more.  My only problem was finding how to print documents from Pages.  Granted, I haven't spent a lot of time searching the Support pages yet.  Hopefully I'll find it soon.  Or perhaps one of you already knows and could tell me in a comment?

Product Information
Price:
Free
Manufacturer:
Epson
Retailer:
iTunes app store
Requirements:

iPad, iPhone, iPod touch
Certain Epson wireless printers

Pros:

Can print photos and documents directly from my iPad or iPhone/iPod touch
Can print from certain cloud servers and can print web pages
Can print to any Epson printer on the network
Can tweak printer setups before printing

Cons:

I couldn't find where my Pages documents are stored.