We use affiliate links. If you buy something through the links on this page, we may earn a commission at no cost to you. Learn more.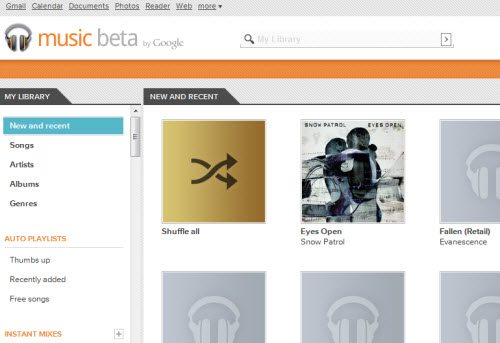 I love to listen to music on my various gadgets, and I have a bunch, including some Android gadgets.  So once I got my invitation I was excited to try the new Google Music Beta.  It's no secret to anyone who knows me that I am fed up with iTunes.  I am a Windows pc user and iTunes on Windows pcs just isn't that great, in my humble, two-cents worth, opinion, which is another long story for another day.  I have used iPods and iTunes since 2003 and owned a half dozen iPods, so I have plenty of experience to speak from.  iTunes sucks.  So did I like Google Music?  Would I recommend it to others? Will it replace my iPod/iTunes solution that I have lived with for 8 years?  Let's find out.
After using my Google account to log into Google Music I installed the Google Music Manager utility on my computer.  The music manager gives you the options of specifying which folders of music on your computer you want to upload, or you can let it grab all your music in iTunes to upload.  I keep all my music in iTunes, so that is the option I choose.  Also, you can't upload music through the browser, you have to use the Music Manager to do that.  Some good news is that you can set the Music Manager to automatically upload any music that is added to those folders that you specify, or schedule it to upload every hour, etc.  So in my case, if I ever add any music to iTunes, it will automatically upload to Google Music, which is a nice touch.  Also, you can pick and choose which songs to upload, so I picked only the songs and playlists that I wanted to upload.  The Music Manager runs in the background and uploads while you do other things.  I did notice my computer slow down somewhat during that process, so it isn't as 'behind the scenes' as some people will like.
Here is a screenshot of the Music Manager main screen: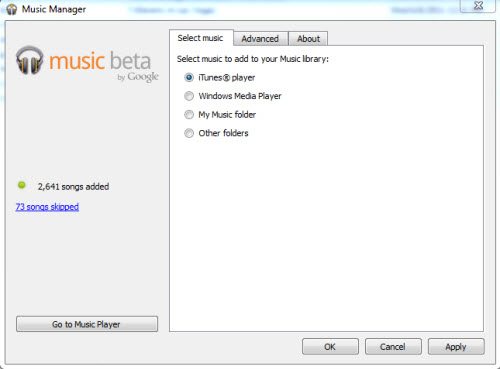 To listen to your music, delete your music, manage your playlists (which it thankfully grabbed from my iTunes playlists), edit song information, etc, you use the Music Player which is entirely browser based.  So that means you must have an internet connection to do so.  Which I guess is the whole point.  There is a downside of course to that, because if you don't have an internet connection, you are sunk.   You have a search feature in the Player to quickly search for any song you have, which of course I would expect being a Google product.  You can also sort the view of your music by playlists, artists, albums, songs, etc.
Before I tell you any more good stuff, let me get the bad stuff out of the way.
After I uploaded all my music I then downloaded the Android app from the Market and fired it up.  And I guess this is where my frustration began with Google Music.  The Android app is truly Beta. It needs updating, like now.  Compared to the Amazon Cloud Music player app, this app is just pitiful in my opinion.  First of all, the app combed my Android phone for music files to see if it could add any files.  It found all sorts of sound files on my phone that are associated with apps installed on my phone.  So there are tons of 1 and 2 second sound files from game apps on my phone that are now sitting inside my Google Music app.  That is just not cool.
In addition, the app wouldn't show me the songs from my Google Music collection that is now sitting inside Google Music. After poking around the sparse help files (which I guess is to be expected at this point) I found out that you have to set up your phone to 'auto-sync' to be able to see your music.   After the app 'syncs' and you can see your music, you can turn off auto-sync.  But if I add more music to Google Music I assume that I'll have to turn auto-sync back on before the app can see the new music.  Again, not cool.  I shouldn't have to turn on 'auto-sync' (which is a better drain) to see my music, the app should be able to communicate with Google Music and see my music. The Amazon Cloud Player doesn't make me do that so why does Google Music?  Google, you should have told me somewhere (preferably in the app on my phone) that I needed to do this instead of making me search around the help files to find the answer.  It would have saved me alot of frustration. Or maybe I just don't get it, which is possible.
Another huge item that is missing with Google Music is that there is no iTunes equivalent software for Google Music on your pc.  It is all based in the cloud and you use your browser to listen to your music, edit song information, add them to playlists, purchase more songs online, etc.  So when it comes to managing the music on my pc, I still have to use a piece of software like iTunes, or something else, and that is a bummer.   The Music Manager that I mentioned before simply uploads music to the service, and that's it. Have I mentioned how much I hate iTunes? Looks like I am stuck using it a bit longer till Google comes out with some software, which I hope they will.
It takes a long time to upload music.  I have over 2,600 songs in my library and it took me over 6 hours to upload the songs using my enterprise-level, high speed network here at work.  It just crawled.  When I was at home on my DSL connection to see how long it would take to upload the entire collection, my home connection was going to take over 30 hours to upload.  Maybe I am spoiled with the speed of internet services that we now enjoy in the mainstream, but that just seems too slow to me.
Having said all that, I guess you are expecting me to now tell you that I simply don't like Google Music, and you would be wrong.
I love it.  Even with the issues that it has, I love it.
I have loved Pandora for a long time, because it gives me access to music anywhere I go on my phone that I have with me 24/7.  But I can't pick the songs I want to hear on Pandora.  Sometimes I just want to listen to a song that I know I have in my collection.  Google Music allows me to do just that.  This is a fulfillment of the promises of cloud computing I think.  As long as Verizon doesn't lock me down in the future with metered data plans, I can happily live with this.  Google Music, and Amazon Cloud Music as well, are only going to get better and I greatly prefer them over any of the music management apps that are currently available to get music from your pc onto your phone.  I gave up on those type of apps because it just turned out to be a hassle, especially when switching phones.  Cloud music is where it's at.  Do I recommend it to others?  Oh yes.  Will it replace my iPod/iTunes setup? Oh yes, at some point.
Now, Google needs to get busy updating that app, like now, and making software for my pc to manage my music.  Are you listening Google? Don't keep this in Beta for 3 years like you do everything else.  You have a legion of people like me who are ready and willing to break up with Apple.
UPDATE:  I was made aware of the fact that even though you can have Google music on multiple devices, you can't listen to your music at the same time on multiple devices.  That takes some of the shine off the product for me, but hey, I guess you can't have it all.
Product Information
Price:
FREE, up to 20,000 songs
Manufacturer:
Google
Requirements:

An invitation from Google and an internet connection. Oh, and some music files.

Pros:

Cloud-based music is the future.
It's FREE
It works

Cons:

Android app is lacking
Upload is very slow
No software on the pc to manage your music locally