We use affiliate links. If you buy something through the links on this page, we may earn a commission at no cost to you. Learn more.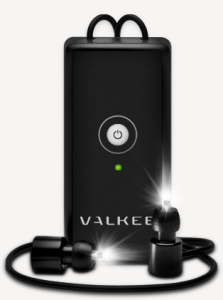 Ever have the winter time blues?  There have been many studies over the years showing a direct link between sunlight and moods.  A team of scientists in Finland have been studying this phenomena to test and prove that the human brain itself is photosensitive.  They have developed a device called Valkee, which almost resembles an iPod, but instead of music the earplugs emit light through the ear canals directly to the brain.
In clinical studies (in Finland) 350 study subjects were tested over the span of about four years and the results found that there is brain activity when the Valkee is sending light through the ear canal (published study available here) and 9 out of 10 subjects did feel a reduction in stress, seasonal depression, and anxiety while using the Valkee.  92% of those studied with severe "winter blues" felt total symptom relief within 4 weeks when using Valkee 8-12 minutes per day.
Valkee is being marketed not only for winter blues, but for PMS symptoms, jet-lag, job stress, migraines, anxiety, etc making it a device just about everyone would have use for at one time or another.  The Valkee headset system is currently available for pre-order (no date for first shipments is currently on the site) in either white or black and includes the Valkee, USB cable, program CD, and instructions for about $300.