We use affiliate links. If you buy something through the links on this page, we may earn a commission at no cost to you. Learn more.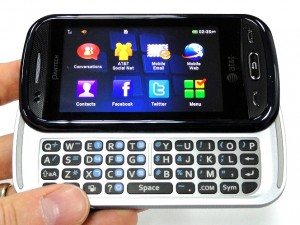 The last several years have seen an explosion of mobile phones, more and more of which are able to access features and apps via wireless broadband.  Most of the attention has been on the big players with their "smartphones," such as Apple's iPhone, RIM's BlackBerry and the many Google Android-based devices from various hardware makers.  However, there is another whole group of phones known as "feature phones" or "quick messaging phones" that, while they may not command the horsepower or notoriety of the big boys, are nonetheless loaded with features.  One such device is the Pantech Laser, a super-slim, touchscreen mobile phone with slide-out QWERTY keyboard available through AT&T.  Let's have a look!
NOTE: All images in this review are clickably enlargeable for your viewing pleasure.
Background
To set the stage here, my perspective is shaped by currently being a very happy iPhone 3GS user.  I am also a former BlackBerry Curve user and was happy with that device as well prior to getting the iPhone 3GS.  However, though I doubt I'll ever go back to a BlackBerry-style device (I like my full touchscreen a lot), never say never.  I also reviewed the Pantech Link from AT&T, which is currently serving quite nicely as the "spare" phone in our household.  I will make references to the iPhone 3GS and the Link throughout this review as a frame of comparison.  Also, my 10-year-old daughter, who has been the most frequent user of the Link, checked out the Laser and helped give me another perspective on it.
Inside the Box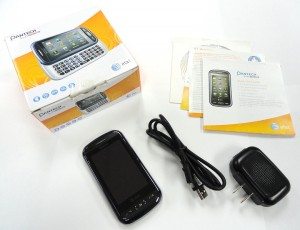 As with the Link, the Laser's box is small and compact, with little wasted space.  Box contents:
Pantech Laser mobile phone
AC wall charging adapter "brick"
Micro-USB cable
Quick-start guide
Tutorial CDROM
Hardware Specs
Display – 3.1 inch resistive touchscreen, 480 x 800 pixel, 262K AMOLED
Input – touchscreen with predictive text, slide-out full QWERTY keyboard with backlit keys
Weight – 4.06 ounces
Dimensions – 4.45 x 2.28 x 0.39 inches
Color – Blue
Battery – removable Lithium Ion; up to 1000 mAH; up to 5 hrs talk , up to 14 days standby time
Operating Frequency – GSM/GPRS/EDGE = 850/900/1800/1900 MHz; 3G = UMTS/HSDPA 850/1900 MHz
Memory – Internal = 150 MB; Expandable = up to 32 GB via microSD card
Camera – 3 megapixel (2048 x 1536) still, MPEG4 video, 8x zoom
Worldphone capable – 190+ countries for phone, 130+ for data
Bluetooth 2.0, USB port, speakerphone
Ringtones: polyphonic, MIDI, MP3
Software and Apps
Mobile email – through Yahoo! Mail, AOL Mail, Hotmail, AT&T Mail, Gmail
Messaging – text; IM through AOL®, Windows Live, Yahoo Messenger; video share
Address Book – 1000 contacts
Mobile Browser
AT&T Mobile Music Player – supporting MP3, MIDI, iMelody, WAV, QCP, M4A, AAC, 3GP audio formats, streaming radio, music subscription services, MusicID and playlist creation
Multitasking – voice and data simultaneously
AT&T Navigator – with turn-by-turn directions
AT&T Social Net
Ypmobile
AT&T Social Net
Voice memo recording
PC suite for PC to phone file sync
Drawing Commander – access apps with the trace of a finger
The Hardware
First Impressions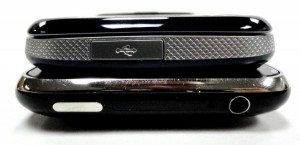 The Laser is touted by Pantech as the "thinnest sliding full keyboard device ever offered by AT&T," and at less than 1cm thin, it seems to live up to this billing.  It is very thin and I almost didn't believe it had a slide-out QWERTY keyboard until I actually tried it for myself for the first time.
Front/Face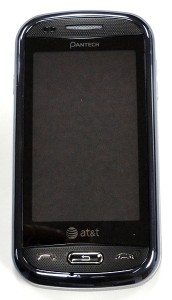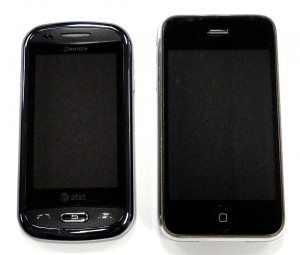 The Laser's face has a simple, understated look.  First, the shape.  The Laser's footprint is rectangular with flat sides, slightly rounded along the top and bottom, and with rounded edges and corners.  Shape and size feel good in the hand.  Framing the face is a very deep blue (so deep you'll only be able to distinguish that it's blue and not black while in the right light), glossy metallic bezel.   Three dedicated keys (hang-up, escape and answer) line the bottom of the face.
Never miss one of our posts again. Sent MON, WED, and FRI with the latest gadget reviews and news!
Sides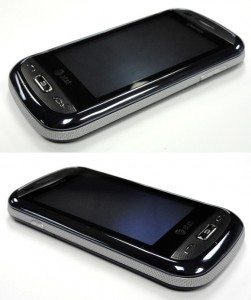 As mentioned above, the Laser is quite thin, especially for a having a full-keyboard slider.  Around the outer perimeter is an iPhone 4-esque matte silver band, textured with a checked pattern to provide some gripability.  Along the upper right side is a volume rocker key and along the upper left side is a device lock key.
Top

Along the top is a pop-out cover for the charge/headphone jack port.  Though I like the idea of built-in port protection, I'm not a big fan of these pop-off covers, because they are typically time-consuming to use, can be difficult to open and close, and they eventually break off and get lost anyway.  However, this is a micro-USB connection, which I think is more versatile than some type of proprietary connector (which the Pantech Link has).
Back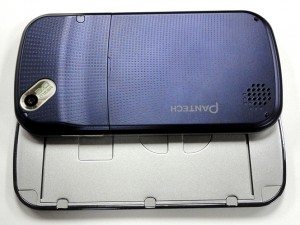 The back is a matte, slightly metallic blue with a textured pattern.  The camera, situated in an oval-shaped silver bezel, is located in the upper left corner of the back.  The speakerphone grille is located in the lower left of the back.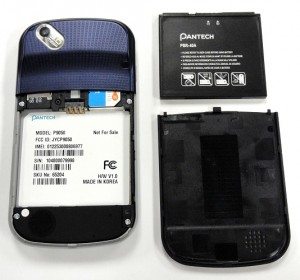 The battery was easy to access, just get a fingernail in the small groove and give a small push.  To access the microSD card and SIM card, the battery itself must be removed.  Not much of an issue with the SIM, since you probably won't need to remove it much.  However, having to remove the battery before popping out the microSD might be an issue, depending on how often you access it.
Touchscreen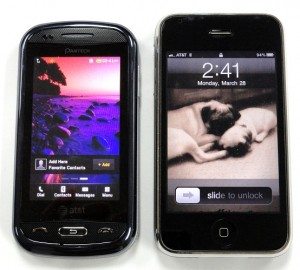 The touchscreen's display is quite nice, with the colors and resolution being visually appealing.  The touchscreen's performance, however, leaves a bit to be desired.  I am accustomed to the iPhone's capacitive touchscreen interface, which, after having sampled multiple devices, I have to say I still feel is best.  The Laser's resistive touchscreen often requires some finessing to get it to do what you want.  Multiple pokes, hesitations and mis-selections were fairly common, as well as inadvertently launching an app while page-swiping.  A bit frustrating.  This in fact was one of the things that my daughter noticed and commented on right away.
However, I was pleasantly surprised to find the Laser equipped with touch feedback vibration, I feature wish I had on my iPhone.  If I get sick of it, I can turn it off, but for now I kinda dig it.
Keyboard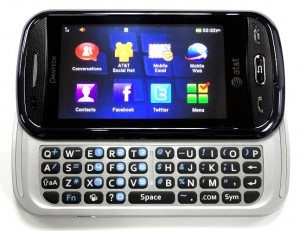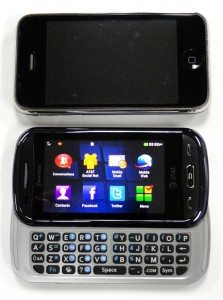 The Laser's keyboard is full QWERTY with four rows of keys.  The layout and spacing are fine, at least for my hands, but the keys, which are a soft rather than hard plastic, have a bit too much compliance for my linking.  I had to press on them harder than I'd have liked in order to get them to register.
Battery Life

The Laser's battery has a decent life.  At full charge, it had no problems going several days in a combination of standby and active use.  I suspect that were I to utilize the data connection heavily, the battery life would decline sharply.
Camera
The Laser's camera performance, while not quite up to par with many of the higher-end smartpones, is nonetheless not bad.  As shown below, it can produce still images up to 3 megapixel (2048 x 1536) and videos in MPEG4 format.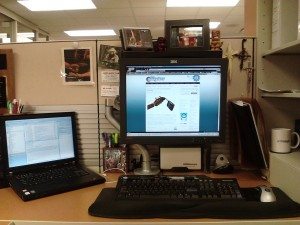 As is typical with phone cameras, no flash means interior images will usually only turn out when the subject is well-lit.  See the sample pic above of my desk at work.  Keep in mind that my work area has the prototypically harsh industrial overhead fluorescent lighting found in most corporate cubicle farms, which actually made it turn out quite well, though with some graininess.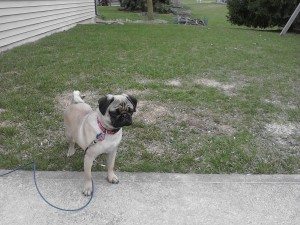 On the other hand, exterior images turn out quite decent, as seen above.  One item of note here: the camera hesitates quite a bit when snapping a pic.  If you're trying to snap something quickly, forget it.  Daisy, one of our pugs in the photo above, had been patiently staring at me for a photo, but in the time between me hitting the button and the camera actually snapping the pic, she'd turned her head to check out a "Squirrel!" (Doug the Dog reference for you Up fans out there).
Voice and Data Performance
Voice performance is on par with other AT&T phones—not terrible, but not outstanding.  Data performance was so-so, even on the 3G network.  It appeared slower than the iPhone 3GS.  Not sure if this was a function of the speed of the device, or the actual data connection.  The Laser's data connection performance is acceptable.  Although it is capable of utilizing AT&T's 3G data network, I found its performance on 3G to be a bit choppy.  It occasionally hesitated when launching web-based apps and frequently hung for several seconds when refreshing the screen on a web page.
Software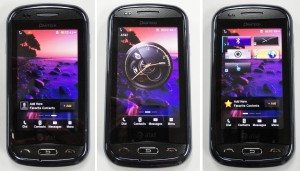 The Laser's OS layout appears borrowed from style elements of iOS, but a bit more from Android with its swipe-left/right page feel and some limited capabilities of adding widgets and favorites.  The Laser has a suite of factory-provided software and has the capability of downloading additional apps via the mobile web.  Here is where I got really irriated with this phone.  For nearly every on-board app that I launched, the Laser would go out to the web, then come back with a message telling me that I would need to pay to use the app.  This was in addition to the data rate I was already paying.  I don't really know if this is an AT&T thing, or a non-smartphone thing, but it seemed very "bait-and-switch"-ish, or at the least, very "nickel-and-dime"-ish.  If the phone already has an app installed (or appears installed), why then make the owner pay to use it?  That said, between the pre-installed apps and what is available through the AT&T AppCenter, you can find Laser-compatible versions of most, if not all, of today's more popular apps.  Facebook, Twitter, a mobile mail client and web browser, and so forth are on-board, with more available in the AppCenter.
Final Thoughts
OK, so maybe you're not into all the smartphone hoopla.  But maybe you are really into texting, and occasional mobile web use.  And yeah, you wouldn't mind having some of the hardware and software features on those shmancy smartphones.  If this even kinda describes you, then have a look at the Pantech Laser.  No, it's not a smartphone, but I'm not sure it's actually trying to be one.  Its hardware (super thinness, form factor and slider keyboard) are all very nice and its software and performance are fair to good.  It's a pretty decent step in the smartphone direction from its cousin, the Pantech Link.
Update 03/26/2015
Like the Pantech Link, this phone seemed to me to be more of a souped-up texting phone than a smartphone. The touchscreen was a bit inaccurate and the OS was a bit laggy. Perhaps a decent starter phone for someone not wanting to go full-bore on a true smartphone, but the lack of true smartphone versatility eventually turned us off. It was a backup phone in our house for a while until we donated it to to a group that collects phones for veterans.
Source: The sample for this review was provided by PanTech. Please visit their site for more info.