We use affiliate links. If you buy something through the links on this page, we may earn a commission at no cost to you. Learn more.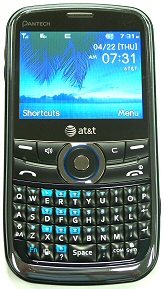 A multitude of messaging mobile phones were launched in 2009, and the trend appears to be continuing in 2010.  The recently-release Pantech Link offered through AT&T is one such device (see Press Release here).  It is a new handset with nice hardware for a great price.  Let's dig in.
NOTE: Click any image below to enlarge
Background
In the interest of full disclosure and to establish a baseline, my perspective is shaped by currently being a very happy iPhone 3GS user.  I am also a former BlackBerry Curve user and was happy with that device as well prior to getting the iPhone 3GS.  The iPhone 3GS is used for size comparison purposes in the images below.
Inside the Box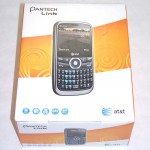 The box itself is relatively small and compact, which is nice for both eco-friendliness and if you are inclined to save it for storage.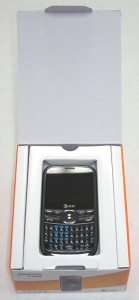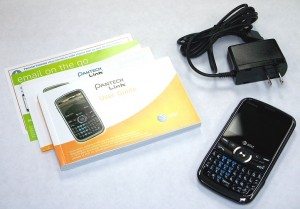 Box contents:
Pantech Link mobile phone
AC wall charging adapter
User Guide
Quick Start Guide
Hardware Specs
Display – 2.4-in, 262k color TFT LCD display, 320×240 resolution, 5 lines for text in basic
Input – Two soft keys and four-way scroll and selection "OK" keys
Weight – 91 g (3.2 oz) w/ standard battery
Dimensions – 4.5″ x 2.4″ x 0.39″
Memory – Internal 80 Mb, expandable to 32 Gb with microSD (not included)
Battery Type – Standard Lithium-Ion (Li-ion), 920 mAh capacity, Minimum Standby Time 10 days (250 hrs), Minimum Talk Time 3 hrs
Operating Frequency – GPRS/EDGE Quad-Band, UMTS/HSDPA Dual-Band; GSM
Software and Apps
A basic list of on board software and apps is below, but for a more comprehensive list, check the Link info on the Pantech and AT&T sites.
Mobile Email – through Gmail, Yahoo! and others
Messaging – Instant messaging including text/picture/video
Address Book with 1,000 contacts – syncs with online AT&T Address Book
Mobile Web browser
Mobile Share through AT&T Online Locker
AT&T Navigator – GPS
AT&T Social Net
AT&T Mobile Music player plus downloads via Napster and eMusic
Multitasking voice and data
Bluetooth support
AppCenter – download apps through AT&T
YPMobile – yellow pages
Tools: alarm clock, calendar, notepad, voice memo, calculator, tasks, stopwatch, unit converter and more
The Hardware
The hardware of the Link is actually quite impressive.  As can be seen from the images, it is a BlackBerry-style "QWERTY bar" design with a physical keyboard.  To me, it resembles the Nokia E71 series or possibly the Samsung Jack.  What struck me immediately was how thin and lightweight the Link is, yet with a fairly solid heft that prevents it from feeling "cheap".
Front/Face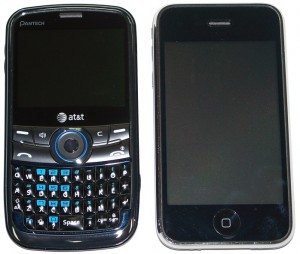 The face of the Link has a rather sophisticated black color scheme, with dark metallic accents and white and blue on the keys.  It has the metallic bezel made popular by the iPhone, this one in a darkened metal finish.  The display is quite nice, with good color and resolution.  The input array consists of a six dedicated keys, a rocker disk with center button and the full QWERTY keyboard.  When the rocker disk is used, a ring around it glows blue–a nice touch.  All have a nice feel and provide a soft click for tactile feedback.  The keys are all hard, not soft, similar to the BlackBerry Curve, but a bit more compact together, yet not unusable.
Sides
As can be seen from the images, the thickness of the Link is actually quite impressive.  It is every bit as thin as the iPhone 3GS, quite a bit thicker than most of the current BlackBerry devices.  Along the perimeter of the Link and at the very bottom of the keyboard runs a band of very dark (almost black) blue metallic.  Light has to hit it just right in order to notice it.  Very subdued.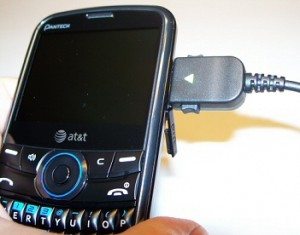 Along the right side near the top  is a pop-out cover for the charge/headphone jack port.  Though I like the idea of built-in port protection, I'm not a big fan of these pop-off covers, because they are time-consuming and can be difficult to open and close, and they invariably break off anyway.  I am also not a fan of non-USB connectors on these device, and also not having a standard mini-3.5mm jack is a big negative to me. Lower down along the right side is camera shutter button.  Along the left side near the top is the volume rocker, and slightly below that is another pop-off cover that is begging to be broken off, this one to protect the microSD slot.  Finally, the upper left corner has a through hole so that a lanyard, charm, etc can be attached.
Rear/Back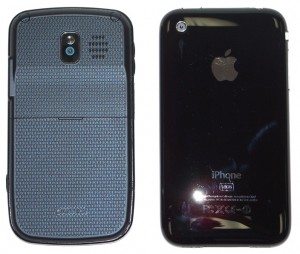 The back of the device is plastic in an all-flat-black color scheme, with the vast majority of it covered by a tiny diamond pattern.  Also, there is a rounded edge around the perimeter of the back.  Both the diamond pattern and the rounded edge have a slightly rubberized feel to them, with the rounded edge feeling slightly more so, presumably to give some texture for gripping.  Roughly the bottom half of the back is a removable panel to access the battery and the SIM card, and I had no difficulty with removing/replacing battery, SIM or the access panel itself (see image below).  The camera lens is mounted in the top center of the back (see image below).  The lens itself is surrounded by a small blue ring in keeping with the Link's color scheme, just above it is a tiny concave mirror for self-portraits, a feature I wish was present on my iPhone 3GS.  Just to the right of the camera is the speakerphone grille, consisting of a hex-shaped pattern of holes.
Camera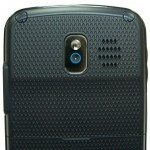 The 1.3MP camera takes pictures that are acceptable for a quick shot here and there, but not much more than that.  There are actually several settings that the user can configure, which is unexpected, but they don't seem to help the overall picture quality much.  The settings consist of: Integrated 1.3 M CMOS Camera, Resolution up to 1280×1024 (1,310,720 pixels), Mpeg4 Video recording/playing up to 15f/s (QVGA size), 5 or 10 second self-timer function, Photo album and video album; Customizable Resolution, Brightness, White Balance, Color Effects, Quality, Self-Timer.
Battery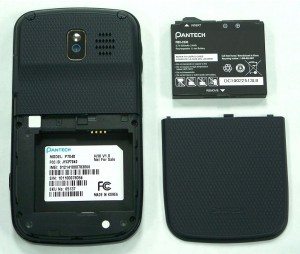 Battery life seems quite good for this phone.  I charged it for about 7 hours out of the box, and it has held a charge under regular (but not constant) use for over four days and is still going.  I suspect that this is mainly because the screen is relatively small and doesn't require as much power.
Voice and Data Performance
I pulled the SIM card out of my iPhone 3GS and placed it into the Link, so that I could test out the Link on the AT&T network.  The voice network was performance was comparable to that of my iPhone 3GS, with a similar amount of difficulty in connecting and dropped calls, so this this may be the AT&T network itself.  However, the actual call quality was slightly less clear than the iPhone.
Data Connection Performance
The data connection on this device is through AT&T's 3G network, reverting to Edge when 3G is not available.  I found that the Link seems to pick up and hold the 3G connection with virtually the same frequency and solidity as my iPhone 3GS.  However, the speed of the 3G connection seems a bit slower than my iPhone 3GS.  I am unsure if this is due to the processing speed of the data connection itself, or because the overall speed of the operating system is contributing.  It resulted in anything from an annoying split-second delay in launching an app  a several-second wait to upload/download data from the network.
Software

The operating system of this phone is a step up from a standard mobile phone, but does not have the capabilities of a true smartphone OS such as webOS, iPhone,  Android or even BlackBerry.  I found it to be relatively comparable to the BlackBerry OS in navigation and  appearance, but not in capability.  The AT&T AppCenter was a bit cumbersome to navigate.  Having said all this, I found the selection of on board apps and utilities to be quite impressive in a phone of this price range.
Final Thoughts
In th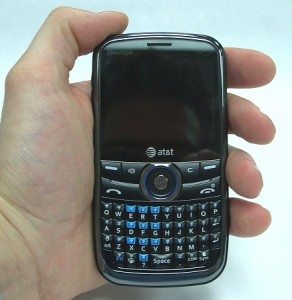 e category of mid-level smartphones, the Pantech Link is an overachiever in its hardware, with its styling and feel, and is average in most everything else.  I was pleasantly surprised with the on board app selection in a phone of this type, but the speed of the OS and data connection and AT&T's nickel-and-diming on data-based features tend to bring it down.  Overall however, I would characterize this phone as great buy for the AT&T's currently offered price of $9.99 with a new 2-year contract.
Update 03/13/15
My daughter used this phone for a while, but eventually abandoned it. To me, although it resemble a Blackberry, it was more of a souped-up texting phone than a smartphone, with the OS being a bit limited and clunky to use.
Source: The sample for this review was provided by Pantech. Visit their site for more info.
Product Information
Price:
through AT&T: $9.99 w/ rebate ($39.99 w/ 2yr contract, $159.99 no commitment)
Manufacturer:
Pantech
Pros:

Hardware: thin, lightweight, solid & looks great
Quite a few software/app features

Cons:

hesitates when launch apps or interfacing with web
no 3.5mm headphone jack
no USB-type charge/data connection