We use affiliate links. If you buy something through the links on this page, we may earn a commission at no cost to you. Learn more.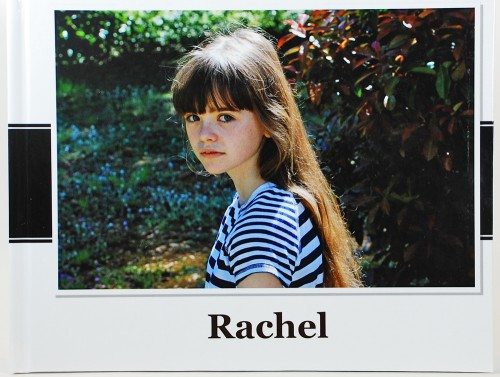 Julie knows that I have an interest in scrapbooking and making photo books. In the past, she's offered me the opportunity to review a few different photo book products. When Inkubook contacted her with an offer to try out their product, she thought of me. I was happy to give them a closer look.
Many of the photos in this review, including the lead photo, can be clicked for a larger view.
Inkubook is a browser-based program. It works with Windows or Mac computers, but it does require the Microsoft Silverlight plug-in. No worries, Mac users; Silverlight will work with Safari and Firefox for Intel-based Macs. I installed Silverlight on my Macbook Pro, refreshed the Inkubook website, and started the process of building a book.
You first choose a size and a cover. Books are available in mini-brag (7"X5" landscape), square (8.5"X8.5"), portrait (8.5"X11"), classic landscape (11"X8.5"), or big square (11"X11"). Many of these books are available in either soft or hardcover, but classic landscape and big square are in hardcover only. Prices start at $9.95; but of course, price varies depending on the size and cover selection. I chose the classic landscape in hardcover with a starting price of $29.95.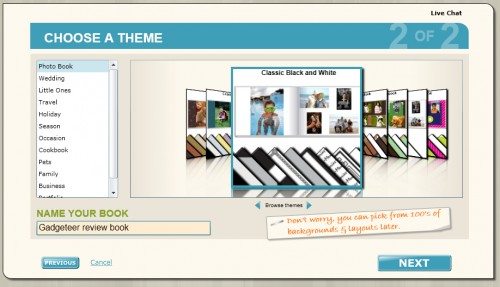 You choose a theme for your book to give it a "scrapbooked" feeling. Choices include themes like wedding, child, holiday, travel, etc. If you saw my earlier photo book reviews, you'll remember I like plain, simple books. I chose "Photo Book > classic black and white theme. I was told I could choose from hundreds of backgrounds and layouts later.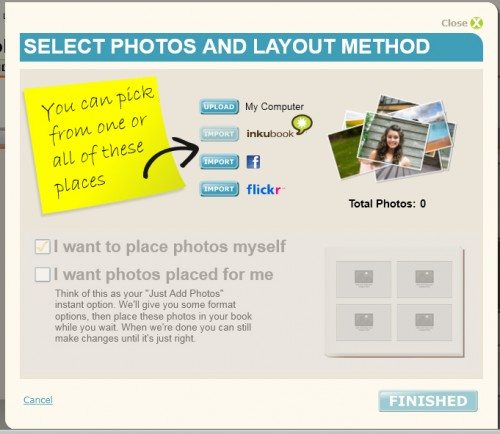 Now it was time to upload my photos. I used the same set of pictures I've used for my earlier reviews. You can copy photos from your computer, Flickr, Facebook, or use photos already uploaded to Inkubook. I had 39 pictures in my set. Some of these are large, high-resolution pictures taken with our Nikon D80; others were taken with older digital cameras, including one that was only 1.1MP. The pictures were copied at their highest resolutions. Uploading only took about 4 minutes.
The Inkubook software could auto-arrange the photos for me. I could rearrange them if the book layout wasn't to my liking, or I could just do the layout myself. I decided I'd arrange them myself so I could get a better feel for choosing background designs and doing photo layouts and groupings.
Never miss one of our posts again. Sent MON, WED, and FRI with the latest gadget reviews and news!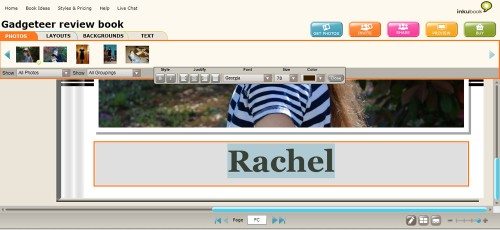 The standard book has 20 pages for photos, and it has plain endpapers. The Inkubook has a smooth cover, and you choose a layout, photo, and text label for the front. The spine and backcover of the book are plain; you can't add any photos or text to these areas.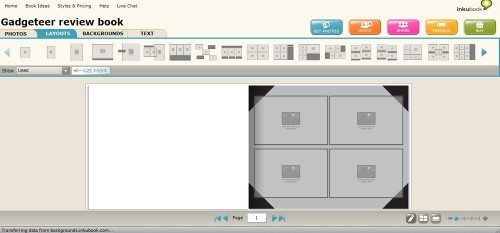 The twenty photo pages had pre-selected layouts and background images from the black-and-white theme I had selected. I didn't like the pre-selected layouts, but I could easily choose from other backgrounds and picture layouts as I worked.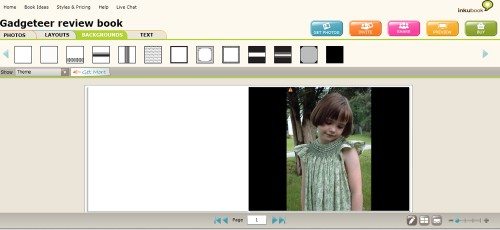 When you select a photo with a resolution too low to look good for the layout, you'll be warned with a yellow triangle with an exclamation point in it. You should choose a different photo for best resolution, but you can use that photo if you want.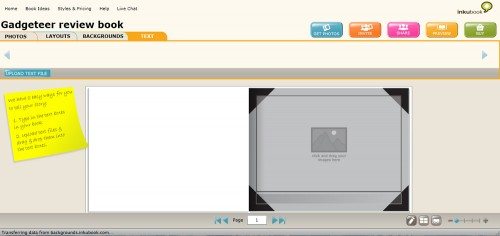 Some page layouts have text boxes. You choose a font from a limited selection. You can type in text as you build the book, or you can copy up text files to populate the text boxes. I only used simple titles for my pages, so I typed in the text as I built the book.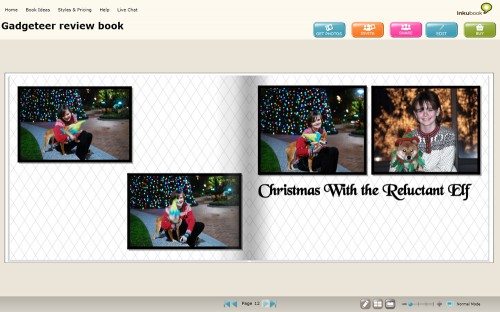 I could see a preview of my book as I worked. When I had the design to my liking, I saved it and placed an order. Inkubook says it should take about a week to receive your finished book. I received my Inkubook photo book within that time frame.
An unusual feature with Inkubooks is that you can ask friends and family to help you populate the book. You can send invitations to people, and they can upload photos for you. This is a great way to do a group project, like a family photo album or cookbook. Once your book is finished, you can share it on Facebook.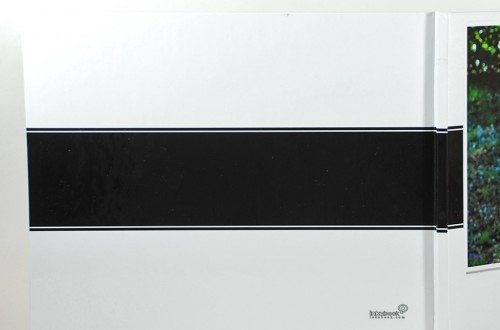 The photo book has a hard cover constructed of paper over an interior cardboard. The cover I chose has a smooth, matte finish. A glossy cover is available.  As you can see from the pictures of the finished book, there is no title on the spine to help you locate the correct book from the bookshelf. The back of the book is plain with only an Inkubook logo.
The book is printed on 100lb archival-quality silk paper. This means the pages shouldn't yellow with age, and they should stand up to years of being thumbed through. The pages are sewn together, and the endpapers seem to be glued in. Hopefully the construction will hold up as well as the paper should.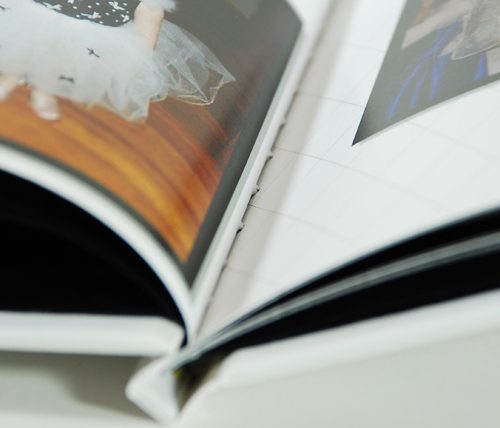 Because the book is sewn, there is a gutter between the pages. That means text and pictures that fall into the gutter can be difficult to see. You'll need to keep this in mind when designing the book. That said, this layout and construction is typical of most photo books on the market at this price point.
As I looked through the book, I noticed some of my photos looked a little dark. Some of my originals were dark, and I expected them to be dark. Some of the ones that printed dark didn't seem dark in the originals. Most of the pictures seemed clear and sharp. Some that weren't sharp had been flagged as being too low-res for the photo box size, so I wasn't surprised they were a little fuzzy.
I like the Inkubook photo book. If you don't mind adding a plug-in to your browser, you'll be able to quickly upload your photos and easily design a nice book to your liking. I like the hard, smooth cover of the classic landscape book I chose. This style is much nicer, in my opinion, than those cloth covers with the hole cut out in the front. The price is comparable to that of other photo books of this type. I think you'd be happy with an Inkubook photo book. And Inkubook makes it easy for you to collect photos from others and collaborate on a finished product. I don't know of any other company that lets you share your book on Facebook. Before you print your next photo book, be sure to give Inkubook a look.
Product Information
Price:
Varies with style. Prices start at $9.95. $29.95 as shown.
Manufacturer:
Inkubook
Requirements:

Microsoft Silverlight plug-in

Pros:

Smooth cover
Easy to design
Lots of themes to choose from
Can easily collaborate with friends and family members to design a group project
Can share your book on Facebook

Cons:

Requires you to install a browser plug-in