We use affiliate links. If you buy something through the links on this page, we may earn a commission at no cost to you. Learn more.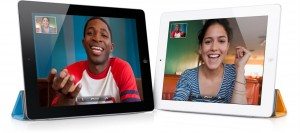 Mere minutes ago, Apple unveiled its iPad 2 and quite a bit more at a media event, throwing the daylight of reality on speculation about the rumored new device's features.  Steve Jobs, Apple CEO who has taken a leave of absence from the day-to-day operations, even emcee'd the event.  More detailed info is available via Apple, but a quick rundown: New dual-core A5 processor (touted to be faster than the previous A4), front- and read-facing cameras, gyroscope, 33% thinner (13.4mm to 8.8mm—thinner than the iPhone 4 at 9.3mm),  lighter (1.3lb vs. 1.5lb), black or white bezel colors, models for both AT&T and Verizon, same battery life and same price tag (starting at $499), up to 1080p HDMI video out (with a $39 cable), and to begin shipping March 11!  Who's gettin' one?
Also debuted was something called a SmartCover.  It's a flap that attaches magnetically to the iPad 2 and when pulled back from its face, it "wakes" the device; it also folds into a stand.  Has a microfiber underside and available in 5 polyurethane ($39) or 5 leather ($69) colors.
Additionally, iOS 4.3 (also out March 11) with improved Safari, iTunes home sharing over WiFi, AirPlay improvements, personal hotspot (for iPhone 4 only), and both FaceTime and Photo Booth (to take advantage of the iPad 2's new cameras).
Finally, new apps: iMovie and Garage Band for iPad (each $4.99).
I myself am a bit bummed that the Retina Display rumors didn't pan out, but I held out and didn't buy an iPad, and now I'm definitely going to pick up one of these.  Anybody else out there going to buy one, or am I the only one?  😉
Special thanks to Engadget for the awesome live event feed coverage!