We use affiliate links. If you buy something through the links on this page, we may earn a commission at no cost to you. Learn more.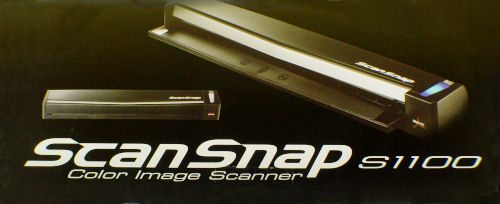 The ScanSnap Color Scanner from Fujitsu is one of those products that surprised me when I first used it. It surprised me because it works so well. The scanning was surprisingly fast and the scanned images were a perfect copy.  I had to stop myself from scanning any picture and document I could get my hands on. Well, almost…
The ScanSnap from Fujitsu is their portable scanner in a line of  their larger models the S1300 and the s1500.
This model is the mobile version of the three. Without the need of a power adapter, the included USB cable is the only cable needed to power up the S1100 which makes this convenient to have in your bag, luggage or briefcase. As slim as the ScanSnap is it can probably fit into a large purse with no problem. This is perfect for the business person or traveler waiting in the airport that is sitting in one of those small round table tops in a cafe with only enough room for the sugar packets and ketchup but needs to scan a document or picture and send to a colleague, family member or whomever. It's perfect for those tight small areas.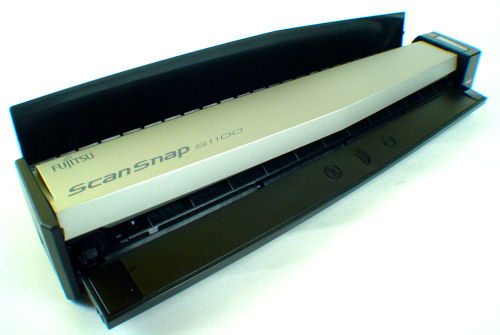 This feature alone makes it worthwhile to construct your mobile office anywhere.
The ScanSnap scans images to a PDF file, a searchable PDF (through ScanSnap Manager), and JPEG files.  It also has a few special features.  One of the features that ScanSnap has is the CardMinder. It can scan business cards and extract and export contact information from the scanned business card. There is also the ability to convert a document into an editable Word or Excel file. And for those cloud users, the ScanSnap allows direct scanning to Google Docs and Evernote.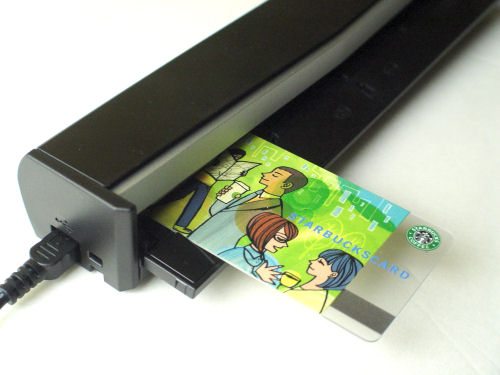 The CardMinder was a big plus for me since I have accumulated tons of business cards that I started filing them in a business card book. I will take the time to scan those business cards and digitize them so I can archive them and free up some room on my desk. The ScanSnap can also scan plastic cards and embossed cards up to 0.76 mm thick.
The ScanSnap has an included software that allows for different choices after scanning such as scanning to email, scan to print or scan to Word and more.
With a touch of the Scan button an average scan time takes around 7 seconds from start of page to end of page. This was pretty accurate when I tested it. The S1100 can accommodate documents as long as 34 inches and allows for Continuous Document Feeding so you can scan documents one right after the other. Documents and images are scanned at 300 dpi and can go up to 600 dpi.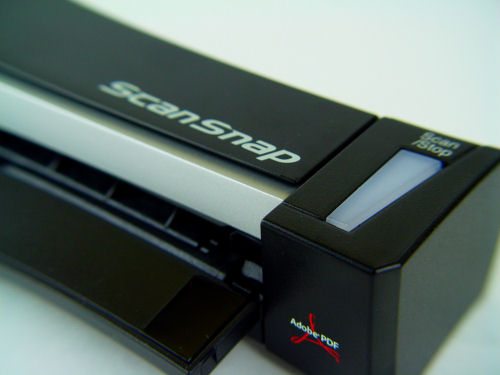 The ScanSnap weighs in at around 12 ounces and its dimensions are 10.74 x 1.87 x 1.33.
The ScanSnap has two doors or trays that flip open. The front/bottom tray is where the user initially feeds the document and then exits out the back of the unit. The back/top tray is more of a convenience if you have little or no room behind the ScanSnap for the document to feed out. This tray directs the document to exit out the top of the unit. It's very handy if you have objects or a wall directly behind the ScanSnap  that will impede the document to exit.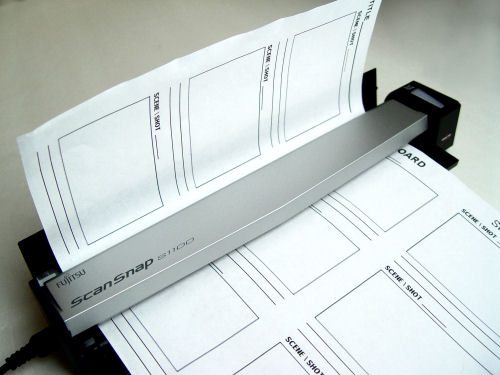 However, if you are scanning something that is hard stock  such as a postcard, or a business card or plastic card then this is not ideal to do so. The cards will simply not accommodate the bend in the tray to exit. So you'll have to keep the top door closed so the card can exit smoothly.
I scanned a couple of 35mm pictures and noticed that the resulting scan was a tiny bit soft but not by much. It could have been the pictures to start with anyways but it was still an impressive scan. I then scanned a colored flyer and noticed it was sharper. But that could have been the difference between a photograph picture and a flyer with blocky letters.  Naturally, it seems that a document with hard edges will appear sharper in contrast to a picture with more organic and softer lines. Either way, both provided a substantial clear and proper scan.
One thing I found helpful was the fact that you can open the ScanSnap in case of a paper jam or to clean the camera and rollers since it can accumulate dust and debris over time.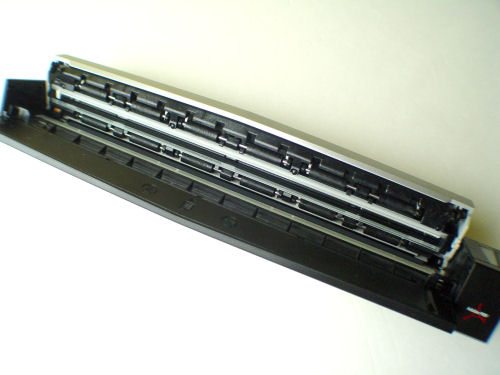 So if you are looking for  an ultra portable scanner that can fit in tight spaces, save images to a searchable PDF file, and can scan at high speeds and can than look to the Fujitsu ScanSnap S1100. You'll find that using this scanner is a pleasant delight that takes little room and scans documents with a speedy quickness.
The ScanSnap comes with a DVD (driver and softwares),  USB cable, manual, and EZ set-up guide.  It is both Mac and PC compatible.
Product Information
Price:
$199.00
Manufacturer:
Fujitsu
Pros:

Fast scanning.
Supports business cards and other plastics cards.
Ability to clean rollers and camera.
PC and MAC compatible.

Cons:

No case included.
No ability to scan multiple pages.