We use affiliate links. If you buy something through the links on this page, we may earn a commission at no cost to you. Learn more.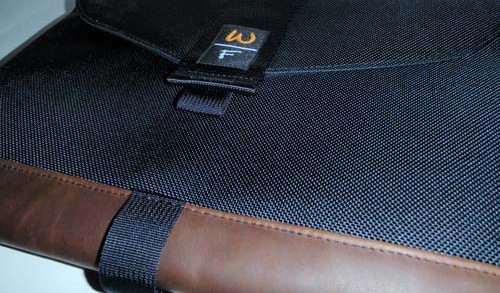 There are certain manufactures where I truly love their products; Apple, Vaja, Surefire and Waterfield bags, to name a few.  Yep, definite fanboy and I am not ashamed to admit it. Quality is what matters. With the purchase of my 13" MacBook Air, I have been doing my best to take it with me as minimalistically as possible. For the most part, I have been transporting it in my booq Flow backpack (which I love) and my Speck TuckBack slipper case. Neither of which are as sleek or slim as I would prefer. It had been quite a while since I have used a Waterfield slipper case. So, when I discovered that Waterfield was creating a slipper case (SleeveCase) especially for the new MacBook Airs, I requested one to review to see if they are as great as I remember them to be.

I requested the Cadillac of what was possible for Waterfield to create. I chose horizontal orientation, flap, side D-rings/shoulder strap, accessory pouch and leather bottom/highlights.

On the right is my old Waterfield slipper case that I carried around my 17" MacBook Pro. As you can see, their design has not changed much over the years (why futz with a good thing). That said, I really like the new leather bottom/highlight option. It transforms a nice looking case into one that looks stylish and professional.
My MBAir slides snugly into the sleeve. Waterfield has done their usual great job of creating and sizing a form-fitting slipper case. The exterior of the slipper case is a rugged ballistic nylon. The interior is soft padded felt material that will protect and definitely not scratch your precious laptop. Without a doubt, Waterfield's material and construction are up to their usual high standards.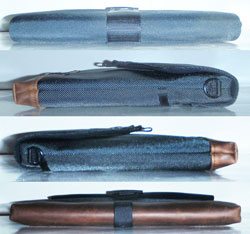 As you can see, the case really does look nice. Other than the black nylon pull tab on the bottom, D-rings on the sides, and magazine pocket on the back, the MBAir sleeve is very simplistic in its design.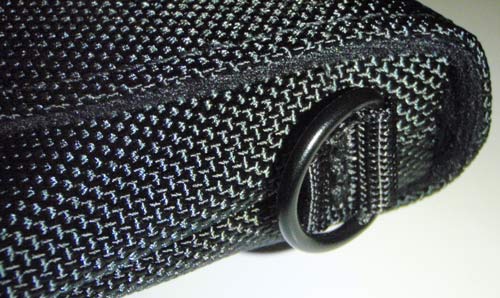 I opted for the D-rings which are well engineered into the sides of the sleeve.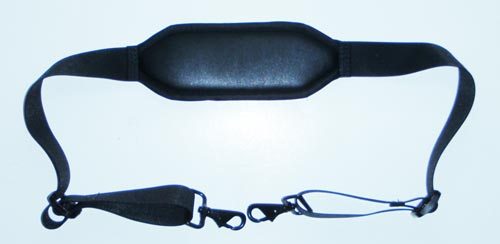 These are meant to attach not only the (suspension) shoulder strap (which is as well constructed as the case itself)…..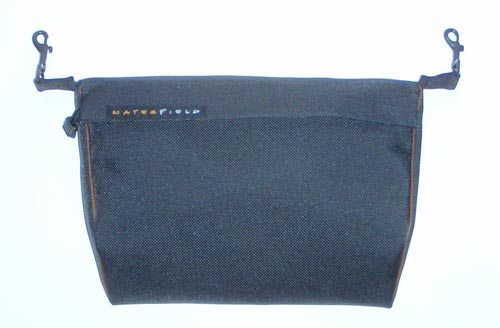 ….but the accessory pouch as well.
The pouch is lightweight and ideally sized to carry my tech-essentials.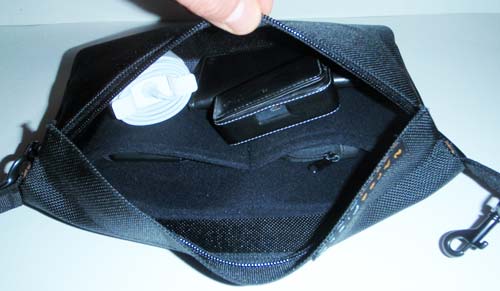 Everything fits within the pouch with a bit of room to spare.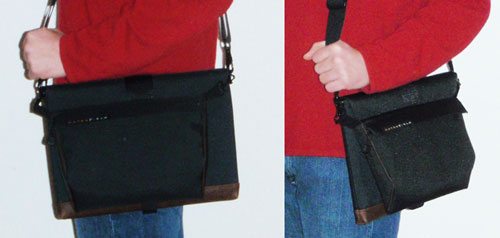 The Waterfield laptop SleeveCase for the new 13" MacBook Air and accompanying accessory pouch is very nice and extremely well constructed. However, it is not engineered to protect your laptop during a significant drop or impact like the booq Flow. It is designed to protect the MacBook Air from minor bumps, bruises, and scrapes.
Waterfield allows you to customize your sleeve; the flap ($15), leather bottom ($10), D-rings/suspension (shoulder) strap ($22),and  accessories pouch w/leather trim ($27) are all upgrades to the base model sleeve (which comes in vertical and horizontal orientations). The base model is reasonably priced @ $39.  The way I customized mine is a pretty steep upgrade at $113. No matter how you configure it, I would recommend Waterfield as one of the best places to get a sleeve for any device you are trying to protect.
Product Information
Price:
From $39 to $113 (depending on how you configure the SleeveCase)
Manufacturer:
Waterfield
Pros:

- Great construction
- Quality materials
- Perfectly fitted
- Customizable

Cons:

- Fully configured, some would consider expensive