We use affiliate links. If you buy something through the links on this page, we may earn a commission at no cost to you. Learn more.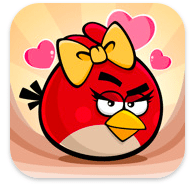 The Rovio folks are at it again….they have just released their most recent holiday version of Angry Birds Seasons. First was Halloween, then Christmas, and now Valentine's Day. A quote from their website (says it all):  Hogs And Kisses for Valentine's Day! Enjoy the Valentine's Day spirit of love and affection by popping more pigs!
Angry Birds Seasons is now available at the App Store $0.99 for the iPhone or Touch version and $1.99 for the iPad HD version….well worth the money (this game is also available for Android devices). I am not a gamer at all but the Gadgeteer Kid & I regularly play this (very addictive) game.
How many of you are still addicted???