We use affiliate links. If you buy something through the links on this page, we may earn a commission at no cost to you. Learn more.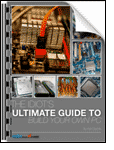 The Idiot's Ultimate Guide to Build Your Own PC [affiliate link] is a free handbook that provides almost 50 pages full of screenshots, links to video demos and easy how-to instructions for every step involved in the process of building your own PC. Don't settle for a Dell, HP or other pre-configured computer, when you can create your own monster computer from scratch.
There are a few hoops to jump through to get this free guide, but it helps The Gadgeteer to earn some some affiliate fees that can help us to bring you more cool product reviews.