We use affiliate links. If you buy something through the links on this page, we may earn a commission at no cost to you. Learn more.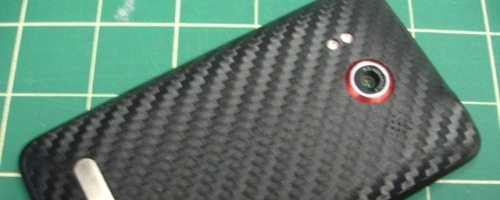 Carbonfiberskin.tk offers a pre-cut, sharp-looking carbon fiber skin for the HTC EVO 4G's back cover for $25. Not a bad deal, but they also offer a 'DIY' option for a mere $5- that looks like it would fit a lot of things nicely! The question is "How easy is it to install and customize?" I ordered one in just to answer this burning question.
The company offers free S&H for either options, so I plunked down my $5 and got a plain business letter-sized envelope in the mail a few days later with a 5″ x 3.5″ chunk of self-adhesive black 'basketweave' pattern carbon fiber vinyl. It feels great to the touch, but feels more like a textured shelf paper than what I would expect real carbon fiber to feel like. There were no directions enclosed, but they are on the site.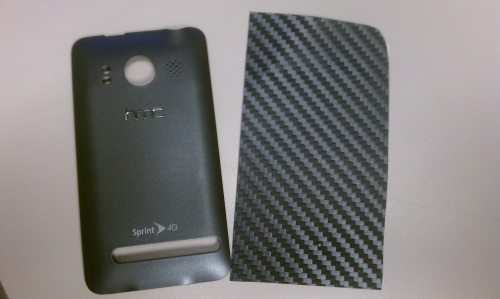 The site directions are not illustrated, and perhaps not as clear as they could be in a few places. The overall process is not hard- peel the backing, stick it to a clean battery cover, heat gently with a hair dryer, smooth into place, cut off excess with a new, sharp-tipped Xacto knife, sit back and admire.
Of course, there are a few minor roadblocks in the real world. The untrimmed cover is bigger than you really need so you can trim off almost 3/4″ from the end- and I suggest you use this little chunk for practice if you are unsure of your mad skillz. I made a minor tactical error in trying to have as little excess as I could on two sides- it is best to leave a little bit of a margin all the way around.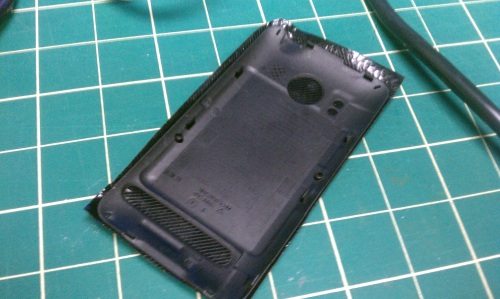 Heating and smoothing was easy- my industrial hot air gun did it nicely but I am sure your puny little civilian hair dryers would work as well. The back conformed nicely to the mild contours of the EVO. I let it cool a bit then started the trimming.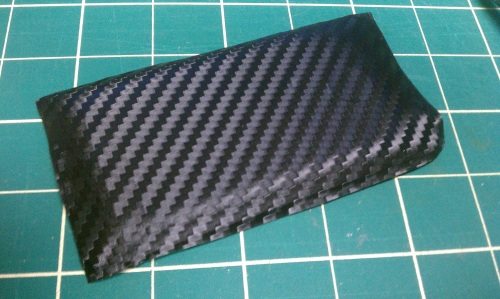 My new Xacto blade was sharp enough that if I was not careful, I was shaving plastic off the battery door, but several techniques quickly developed. I was able to stick the blade tip in my cutting mat and slide the cover along it, almost like using a band saw. Using it like a whittling knife to carefully slice off little bits took care of the few imperfect cuts I made.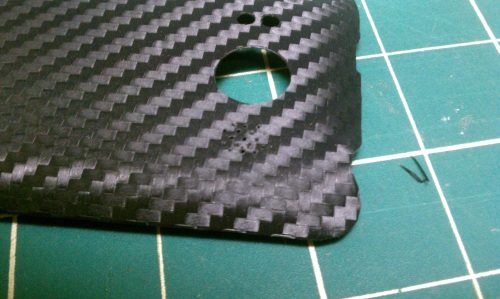 Cutting out the interior holes was easy, especially since I could access them from the back. The speaker holes, however, are a pain. The site suggests poking them with a needle and warms they often close up from the heat and pressure of your pocket. Poking them from the inside left a rough patch on the cover. Poking them from the inside a little and then using a bigger pin from the outside helped a bit- but the adhesive sticks to the needle and smears. A small application of heat smooths the cover again, but closes up most of the holes. I tried a hot needle and it only worked a little better. You may choose to just use a template and cut a circle around the speaker holes and peel the carbon fiber covering off.
Elapsed time- something under 10 minutes of actual work, a little more time experimenting with various techniques. Satisfaction rating- a lot higher than I've had with a lot of pre-cut things that are so frustrating to align perfectly. Durability- time will tell, but it feels good so far.
Never miss one of our posts again. Sent MON, WED, and FRI with the latest gadget reviews and news!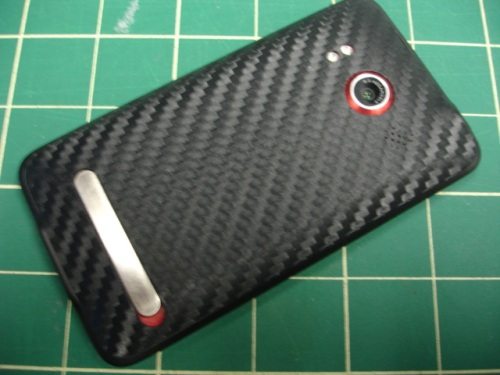 Could you do it on other devices? I think so, as long as there is not a lot of contour and you can get to where you need to make cut-outs. I'd like to try it on my laptop's lid and around the keyboard if I could get the film at a good price. I assume it will not conform around the lip of the lid, but it should work on the flattish areas nicely.
Product Information
Price:
$5.00
Manufacturer:
Carbonfiberskin
Pros:

Inexpensive
Easy to install
Looks sharp!

Cons:

Instructions are not the best