We use affiliate links. If you buy something through the links on this page, we may earn a commission at no cost to you. Learn more.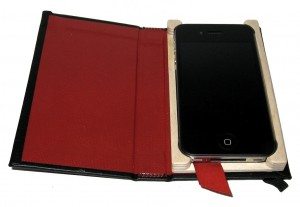 When I first heard of the Pad & Quill Little Black Book for iPhone ( LBB for short ), it struck me as a great idea. Covered in book-leather, built with strong birch wood, and put together by a family owned Minneapolis company, the LBB is an analog cover to your digital companion. Click on to read about my week with this as my iPhone 4 case.
I have more cases for my phones than I do shoes, and I keep adding to my collection because I keep finding neat new cases. I'm not one of the those people that keep the same case on the whole time I own a phone: I like to swap cases around depending on my mood or what I'm doing. So when I hear about a neat new case design, I'm always eager to try it out. The Pad & Quill Little Black Book ( LBB ) for iPhone is basically a case made from wood and leather that imitates a book. I was actually asked by a couple different people why I was carrying a little book around – Nobody could tell there was actually a phone inside until I opened it up.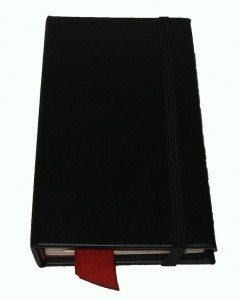 The book appearance is done astonishingly well, right down to the red cloth bookmark. First, the outside of the LBB is finished with a thin coating of matte black book leather. It's got a great feel to it, but it is hard and adhered to the frame of the case like a good book – It's not a soft leather cover but gives the same leather feel with a great texture.
On opening the cover without your iPhone, you'll see the birch wood frame which is finished with an eco-friendly urethane coating that's tough yet gentle on the environment. The wood is a composite of alternating layers of birch, and finish is a beautiful light color. The iPhone's slot is cut out into a block of this wood, with a small rubber liner at each corner to hold the iPhone securely. In the middle of the holder is the red cloth bookmark, which helps pull your iPhone out of the case. And the rubber liners do an excellent job of holding the iPhone in, even open and secured only by friction my iPhone wouldn't fall out.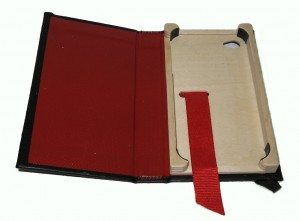 The rest of the inside of the LBB is covered with a red textured fabric to continue the appearance of a book even when opened. The back of the case has a cutout for the camera and flash, and the elastic strap for closing the case. The hole for the camera is about the right size, and doesn't block the view, but when the flash is used you can see a slight halo. It only appeared noticeable in a couple night photos, but it's something to be aware of. And although there is no lens on the cutout, the camera is recessed far enough back that it shouldn't get scratched.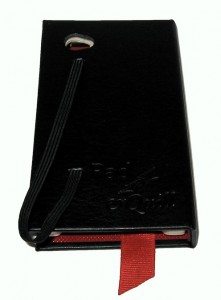 But the LBB has a few drawbacks just like any other case. One of them is the cover- It opens like a book, so if you're used to holding your iPhone and typing with your thumbs, you'll find the cover of the case in the way. The case is also a bit larger because it completely swallows your iPhone, and it's not going to fit in your pocket easily. The cover opening like a book does let you use it as a 'handle' when playing games though, which makes on-screen controls a little easier to deal with.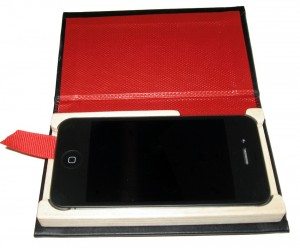 After a week spent using this case, I have to say I like it. The case is strong and tough, and covers your whole iPhone – front and back. Rattling around in a bag, I can't see anything causing your phone damage when in this case. It's also a great stealth case because it looks just like a book, and to everyone else it looks like you're reading a book. The case is a little pricy, it's bigger then most, and the cover is sometimes awkward but overall, I liked the LBB and recommend checking it out.
Product Information
Price:
$39.99
Manufacturer:
Pad & Quill
Retailer:
Pad & Quill Shop
Requirements:

iPhone 4, although they make models for iPod Touches, older iPhones, and the iPad.

Pros:

Quality Construction
Great Feel
Total Protection
Stealth - It looks like a book!

Cons:

Size - It's as big as a small book
Cover is sometimes awkward
Slight halo from flash
Price