We use affiliate links. If you buy something through the links on this page, we may earn a commission at no cost to you. Learn more.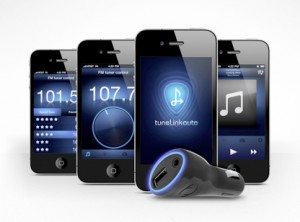 While portable audio has been making major strides, and home audio has been doing its best to keep up, car audio has had a difficult time keeping up.  Most cars still include CD players, and who listens to CDs anymore?  NewPotato Technologies hopes to help get us out of the antiquated audio rut with their TuneLink Auto wireless solution.  The device itself plugs into your car's cigarette lighter socket, pairs with your iPhone, iPad, or iPod Touch over Bluetooth, and then sends audio to your car stereo either over a direct connection to your car's auxiliary input, or over its built-in FM transmitter.  Or as NewPotato says, "Plug it, pair it, play it, share it".
The TuneLink Auto uses a specialized app for setting up the FM transmitter, and also includes a USB port for powering your iOS device (or probably even an unrelated device, such as a standalone GPS).  NewPotato emphasizes the "share" aspect of the device by pointing out that it allows multiple Bluetooth audio sources to communicate with it, so that anyone in the car can provide tunes for the ride.  And if that wasn't enough, the TuneLink Auto also includes their "Humbuster" system for eliminating ground loop interference;  and if you don't know what that is, consider yourself lucky.
The NewPotato TuneLink Auto is available now in the NewPotato online store for $99.99.