We use affiliate links. If you buy something through the links on this page, we may earn a commission at no cost to you. Learn more.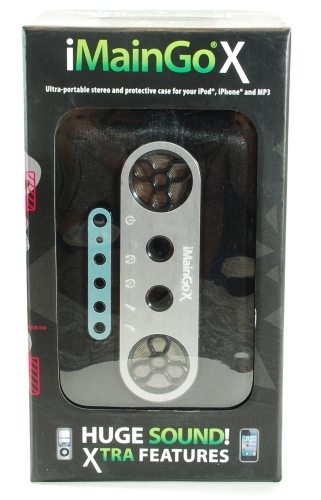 Portable music players are great for listening to music with earphones, but sometimes you just don't want to – or can't – wear earbuds.  A few MP3 players have tiny speakers, but they usually produce a tiny sound.  Portable Sound Laboratories, Inc. makes a couple of portable external speakers for iPhone, most iPods, and other MP3 players, and the iMainGo X also serves as a play-though protective case.  I asked Julie if I could give it a try when the folks at Portable Sound offered one for review.
Technical Specifications
Speakers: Extra large 37mm premium high output stereo
Output: 2.1W per channel
Amplifier: premium state-of-the-art digital
Bass: Tuned porting
Headphone jack, combination jack/auxiliary, mic-in
Power Supply: rechargeable lithium-ion battery with up to 12 hours battery life
Plug: 3.5mm gold-tipped stereo
Weight: 9 ounces (255 grams)
Size: 5.7" x 3.8" x 2.4" (145mm x 96mm x 61 mm)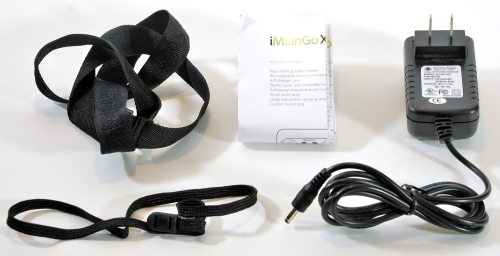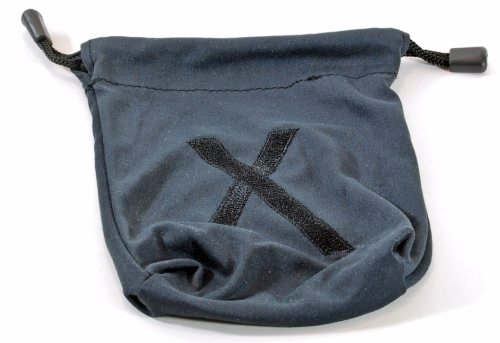 In the Box
iMainGo X speaker/case
AC power supply
Carry bag
Wrist strap
Lanyard
Instructions
Memory foam insert
The iMainGo X case is covered in what seems to be a synthetic, knitted black fabric.  Under the fabric, the case is very hard, so it should be very protective.  The case has a zipper closure around three sides.  The speaker side has two speakers, each about 7/8" in diameter, covered with a metal grill.  There are also two open bass ports, each roughly 0.5" in diameter.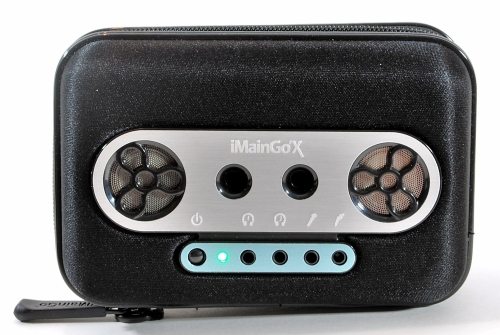 The power switch and connector ports are located under the speakers.  The power button is "sunken", so it won't be easily turned on accidentally.  There's a green LED that indicates when the unit is powered on.  There are two headphone jacks, numbered 1 and 2.  When headphones are plugged into jack 1, the iMainGo X is powered off and the sound comes directly from the MP3 player.  You can listen privately without having to remove the MP3 player from the case.   When headphones are plugged into jack 2, the iMainGo speakers continue to work, and sound will also go to the attached headphones.  If both 1 and 2 are used, the iMainGo X is turned off and acts merely as a signal splitter; sound will come directly from the MP3 device to both sets of headphones.
You can chain multiple iMainGo X devices together for increased volume.  Connect the 3.5mm plug of the second device to the 2nd headphone jack on the first iMainGo X (which is connected to an MP3 player).  You can connect multiple iMainGo X devices together in this way.
There is also a jack identified with a microphone.  This jack allows you to use the iMainGo X as an external speaker for various devices. You can use this auxiliary-in jack to connect an electric guitar, karaoke machine, etc.  You will probably need to purchase a ¼" to 3.5mm adapter to connect these devices to the iMainGo X.
The rightmost port is for the power adapter.  Connect the included adapter to charge the lithium-ion battery; a complete charge takes about 6 hours.  You can use the iMainGo while it is plugged in, but charging will be slowed.  With a full charge, the battery supplies up to 12 hours of life.  This battery can be replaced by the user.  You can order the appropriate battery from iMainGo.  Replacement is easy; simply unscrew the battery cover (inside the case) to replace the battery.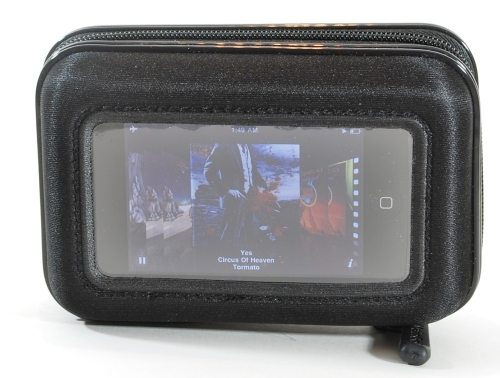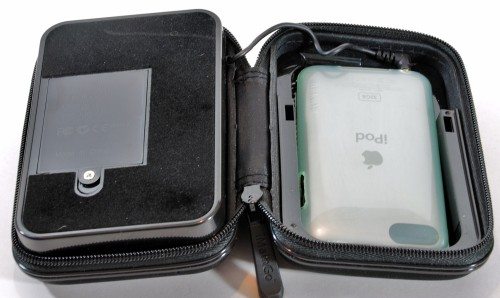 The other side of the iMainGo X is a play-through case for a variety of MP3 players.  It works with iPhones, iPods (except some shuffles), and Zunes.  The plastic screen allows you to see and access the device controls.  It worked perfectly with the capacitive touch screen on my iPod touch (2nd generation).  I was able to fit my iPod touch in a Belkin Grip Vue case into the cavity with no trouble, and the documentation says that most iPhones and iPods in a variety of cases will fit.  Other MP3 players and phones with built-in audio players will work with the iMainGo, if they have 3.5mm jacks.  If your device is too small for the compartment, use the included piece of gray memory foam to adjust the fit.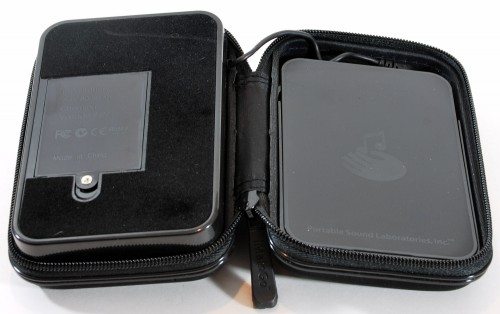 You can use the iMainGo X as an external speaker for other devices that are too large to fit in the device compartment, too.  It will work with iPads, computers, portable gaming consoles, and the like.  Just connect the device using the 3.5mm plug in the iMainGo X.
Making calls will require you to remove your phone or iPhone from the case.  However, you can use the iMainGo X speakers and an iPhone to make conference calls.  Just remove the iPhone from the case and set it beside the iMainGo so its built-in microphone will be able to pick up your voice.
So how does it sound?  I can't tell you the frequency range the speakers reproduce, because I couldn't find that information documented anywhere.  I can tell you it sounded amazingly good for such a tiny speaker set.  Volume is controlled by the device, and the speakers were able to operate at moderate volumes without noticeable distortion.  When connected to my computer, it produced much more volume than my computer speakers at the same setting.  You don't feel the bass in your bones, but it isn't absent.  Of course, stereo separation doesn't exist, but that's to be expected when both speakers are in the same cabinet – especially such a tiny cabinet.  I listened to every style of music I had available – from classical to metal, AC/DC to Warren Zevon, the sublime (Peter Gabriel) to the ridiculous (Ally & AJ) – and it all was amazingly enjoyable.  The vocals were especially clear, but not at the expense of the music.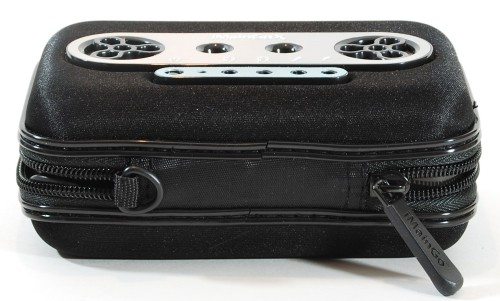 To make the iMainGo X even more portable, you get a nice embroidered carry bag.  You also get a wrist strap and a lanyard so you can wear it around your neck.  The two straps connect to a metal D-ring on the spine of the case.
I like the iMainGo X.  You can plug it into a power outlet and use it as a little home system.  You can charge up the battery, insert your iPhone, iPod, or other MP3 player, and take your music with you.  It would work well for adults, and it would work great for kids.  It's a great little speaker system and protective case for a moderate price.