We use affiliate links. If you buy something through the links on this page, we may earn a commission at no cost to you. Learn more.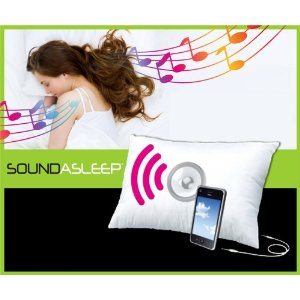 I'm not a big fan of falling asleep with the television on.  I do it a lot, but sometime around…say 2 am, I am awakened by loud screaming from whatever cheesy slasher movie is on or the rattling sounds of war from whatever action film is on or worse yet…the sound of some loud-mouth pitchman trying to sell me overpriced kitchen tools, exercise equipment or herbal supplements for conditions best not mentioned here.
I don't know what my problem is, but it's been hard for me, since I started living on my own, to fall asleep without the tv or radio on.  Now that I am married, my husband says he doesn't mind me falling asleep with the tv on, but he also keeps a second remote on his side of the bed to turn the thing off.
The Ellery Homestyles Sound Asleep Comfort Pillow is the answer to several problems for several people.   It's a nice, comfy, squooshy pillow with almost imperceptible built in speakers and a plug in for an Mp3 player, CD player, SmartPhone, televisions or radio.  Best of all…no batteries necessary.
It's almost impossible to hear the media coming from the speakers unless you place your head on the pillow.  It's great.  Great sound, quiet for everyone else and you can fall asleep, relax, meditate, whatever just by laying your head down on the pillow and you don't have to worry about bothering anyone else.
When my Comfort Pillow arrived, I immediately put it into a comfy sham and then proceeded to download a couple of hours of classical harp music onto my Zune Mp3 player.   I laid down on the couch, my Corgi, Gracie (who LOVES nap-time with Mommy) curled up next to me.  I plugged in the Zune to the pillow, tucked it and the cords into the sham and pretty much don't remember anything after that.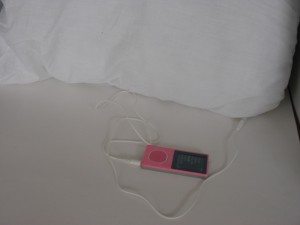 The Comfort pillow is your standard 20″ x26″, white cover, hypoallergenic polyfill pillow with white plug in cord.  You don't need batteries, and it attaches to pretty much almost any media device that you would plug a set of ear buds into.
I love it.  I honestly have nothing bad to say about it.  At $29.99, it's a little bit pricey but seriously… I've seen more expensive pillows that did less.
Like the Sound Asleep Comfort Pillow on Facebook.

Product Information
| | |
| --- | --- |
| Price: | $29.99 at Amazon.com, cvs.com and Bed Bath and Beyond.com although Amazon.com likes to make you think they marked it down from $49.99. |
| Manufacturer: | Sound Asleep Comfort Pillow distributed by Ellery Homestyles of New York |
| Pros: | Soft, comfy, easy to use, needs no batteries, plugs into Mp3 players, CD players, televisions, radios, Smartphones....pretty much anything you can plug a set of earbuds into. It's quiet to everyone else but you can hear it perfectly when your head hits the pillow. It's also ideal for kids' use as well. |
| Cons: | At $29.99, it's a little pricey but not a deal breaker and because of the electronics, it (obviously) cannot be put into the washing machine but it can spot cleaned. |