We use affiliate links. If you buy something through the links on this page, we may earn a commission at no cost to you. Learn more.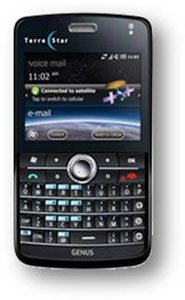 You don't seem to hear much about satellite phones these days. I can remember seeing them in the past, with huge fold out antennas… definitely not something you could carry in your pocket. TerraStar and AT&T are now offering the GENUS, a sleek pocket sized smartphone (powered by Windows Mobile 6.5) with an internal antenna that can be used to make regular cellular, satellite calls, text messages and data access using 1 phone number. The TerreStar GENUS connects to the AT&T cellular network for terrestrial calls and uses the TerreStar-1 satellite for those times when the phone doesn't have a regular signal. All it needs is a line of sight to the southern sky to make calls within the United States, Puerto Rico, U.S. Virgin Islands and in territorial waters. Of course the privilege of making calls anywhere will require an AT&T cellular voice and smartphone data plans along with a monthly satellite service. Satellite usage will be billed per-minute, per-message or per-megabyte roaming charge. Press release after the jump.
HOW CONNECTED ARE YOU?
SLEEK, NEW CELLULAR-SATELLITE SMARTPHONE FROM AT&T AND TERRESTAR KEEPS YOU CONNECTED… FROM THE SLOPES OF ASPEN TO YOUR OFFSHORE PARTY IN MIAMI
TerreStar GENUS, the world's first dual-mode, cellular-satellite smartphone available for the AT&T network, is the new mobile accessory to keep active lifestyle consumers connected – even in remote locations!!
Who:                AT&T and TerreStar Networks have introduced the TerreStar™ GENUS™ – the only dual-mode cellular-satellite smartphone, available to consumers today.
What: Say good-bye to traditional, clunky, brick-like satellite phones with the TerreStar GENUS,  a sleek new smartphone that connects to both cellular (AT&T) and satellite (TerreStar) networks, combining 3G wireless capabilities with satellite voice and data – all in a standard smartphone device!
It provides rich smartphone functionality and includes premium features such as a touchscreen, WiFi, Bluetooth®, GPS and a QWERTY keyboard.  To gain satellite connectivity across the U.S, Alaska, Hawaii, Puerto Rico, U.S. Virgin Islands and in territorial waters, users must be in line of sight to the southern sky – to gain the convenience of one device, one phone number,  and the security that their everyday cellular smartphone also has satellite back-up access.
Why: From skiing the Telluride slopes to sipping cocktails on the Lakes of the Ozarks, the GENUS takes satellite technology previously used by the government and emergency responders, and brings it to the consumer; ensuring a layer of mobile connectivity never offered before.
TerreStar's satellite acts as a cell tower in the sky, enabling users to gain a new level of mobile security and an 'insurance policy,' knowing that when they are exploring desolate locations, participating in extreme sports or enjoying their vacation in a remote area of the U.S., they can always remain connected.
Availability:    The GENUS is available, today… Check out our video on how to use the GENUS as compared to a cellular-only device on YouTube.