The Gadgeteer is supported by readers like you! If you buy something through links on our site, we may earn an affiliate commission. Thank you! Learn more.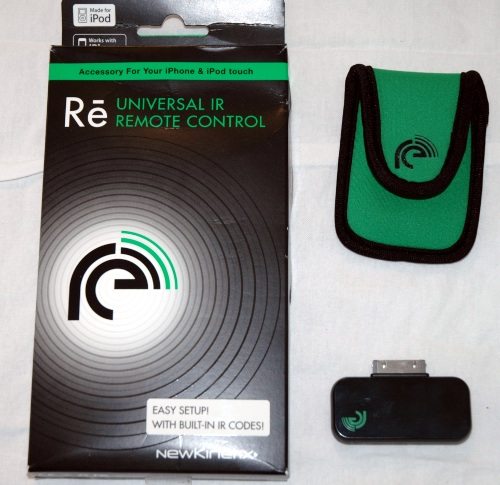 The NewKinetix Rē universal remote control is a combination of hardware and software that aims to turn your iOS device into a high end universal remote control. If you've ever been tempted by one of those $200 plus touch screen programmable remotes, you'll find the Rē to be a capable substitute. In many ways, it surpasses the performance of those other remotes. Of course the drawback is you'll need to use an iOS device as your remote!
I'm a multifunction remote junkie. I admit it freely. Anyone with any kind of home theater soon finds juggling three or four remotes just to watch media gets to be comical. The typical progression of obsession is to go from one of those 3 or 4 function remotes, to perhaps one of the medium-priced learning remotes, and finally to end with a high end programmable touch screen remote. After your child drops one of those $200 suckers and kills it, it's back to the medium tier, but the longing for crafting that PERFECT remote often lingers on. The Rē combination seems like a great solution – with the addition of a small IR dongle and a nice app (which is a free download in the app store- so you can play with it all you want before you commit to paying for the dongle)  you can turn you iOS device into a very high end programmable remote.
The Hardware
The IR dongle is a small and light rectangle that mates to and integrates well with iPhone/iPod Touch devices. I don't have an iPad, but its dock is also on the bottom, below the home button, so I'd suspect it would work more or less the same. I also expect it to be a bit more awkward to use!

Once mated to an iOS device, you'll notice right away that you'll be using your device "upside down". After all, you really do need to point the IR beam at the stuff you want to control. When you launch the Rē app, the display flips over, and you're good to go: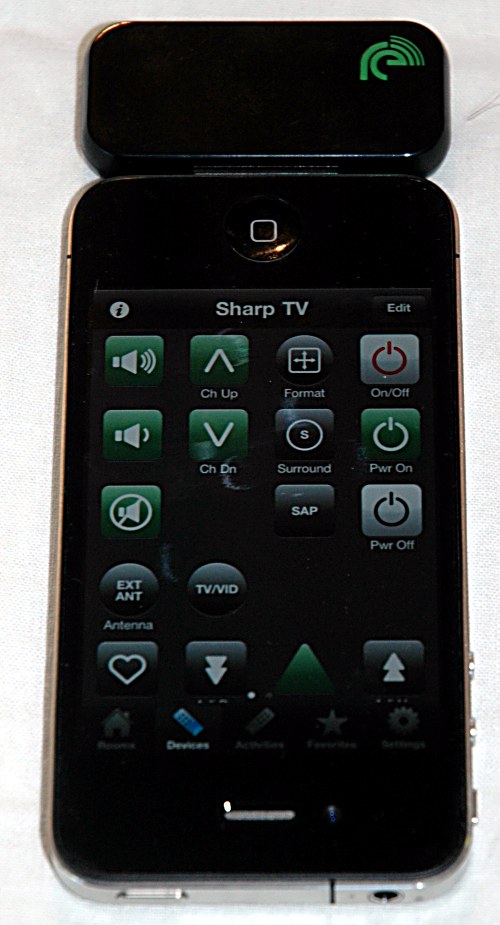 The Apps The Thing
The Rē app (in the app store, free) is the key to this product. It lets you create a nearly limitless supply of remotes. The app breaks down this daunting task by organizing your remote life into Rooms, with Devices. Once you've defined some devices (essentially these are your software replacement remotes for the pile of physical remotes you have) you can then create Activity remotes, where the buttons you need from each device all appear on one remote. After a bit of head scratching, it all makes sense and works quite reasonably. Let's do a quick tour of some of my living room remotes in Rē – I'm skipping over a lot of screens and options simply because there are so many tweakable things we could be here all day.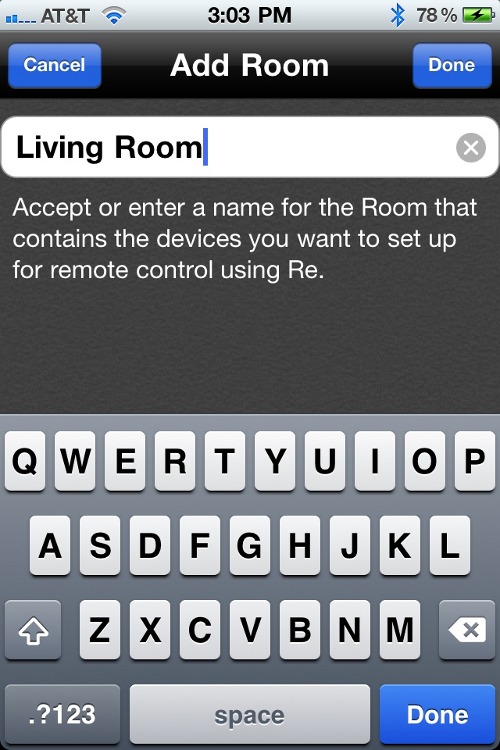 You begin by adding a new Room. Once you name it, you proceed to add a Device for each remote controlled device in that room: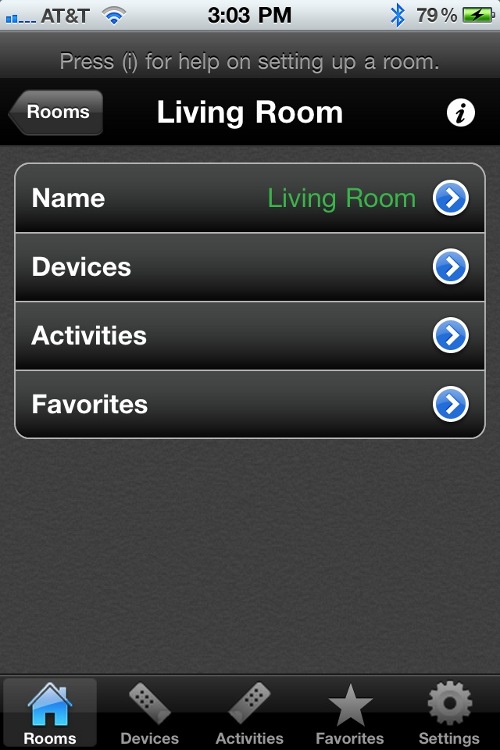 Tap Devices, then Edit: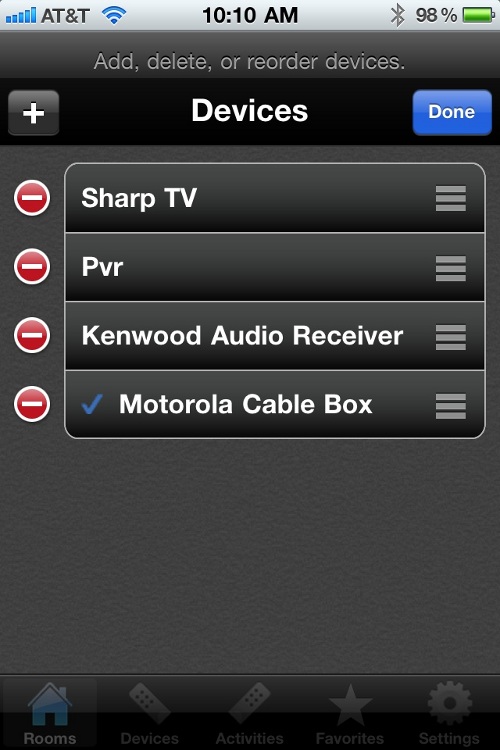 You can delete or rearrange the order of devices, or tap the + to add a new one. We'll add a new one, our Sharp DVD player. First we select a Brand, and then a Type of device, which leads to the last step, trying all the variations for IR codes for the device: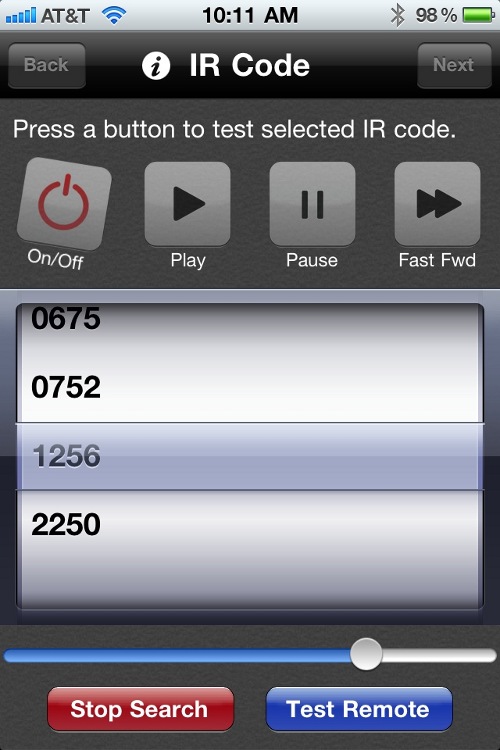 You can allow the software to try the codes one after another, trying to power on the device, or one of the other actions listed at the top. When your device seems to do something encouraging tap Stop Search, then Test Remote. You'll be presented with a full remote for that device code to test. When you're sure you have the right one, Tap Next again, give it a name, and you're done.
Once you have a room set up with devices, you can use Rē as a multi-function remote. Select the room, then tap Devices, and you'll have all the remotes available for that room: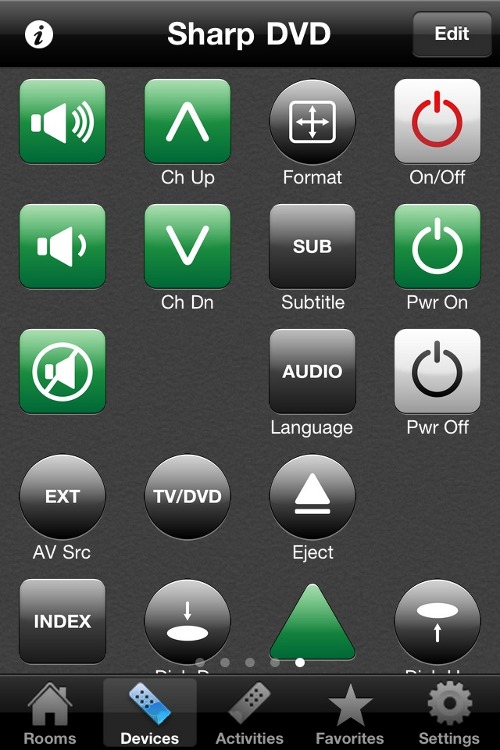 The view scrolls up and down to show all the buttons, and a left/right swipe flips between remotes in the room. Double tapping any blank space will go full screen, getting rid of the top and bottom bar so more buttons are visible. That's pretty nice, but the real power is in Activities. You create those for a Room in much the same way as you create devices, except the app guides you through a series of questions about which devices are needed for what function in this activity. Based on your answers an initial "combo" remote is created, which you can then edit. For example, here's my "Watch PVR" remote: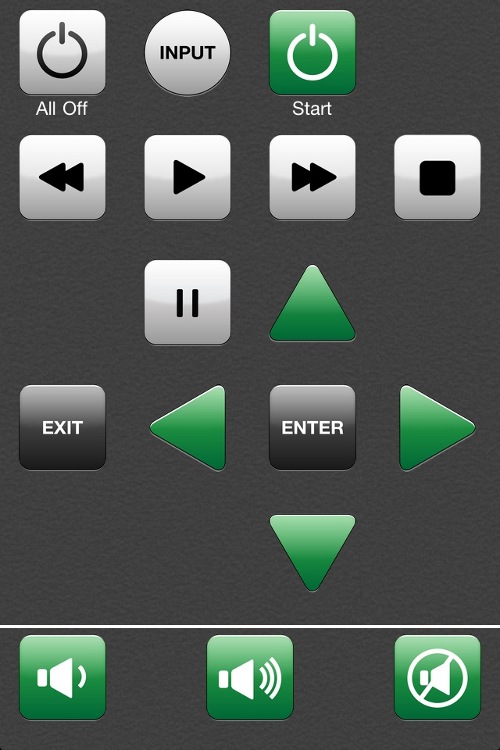 Editing Remotes, Macros, Learning, and Databases
Every remote is fully editable. Tap the Edit button, and then you can tap and drag any button anywhere. They snap into a grid pattern – which is a little limiting but does keep you from making unusable remotes. You can double tap a button to delete it, change its graphic, add a label, and change its function. Double tapping the background gives you the option to add a new button, learn an IR code from an existing remote, and change the background "skin" of the remote.
If you edit an activity remote you can create unlimited macro buttons – each button is actually a macro, or a pointer to one or more buttons on a device. For example, my Watch PVR activity remote above has an Input button – this button switches the TV and Receive to the correct inputs to watch the PVR, by using the right input button from each device for that function.
The Rē comes with an impressively large database of remote codes, and perhaps even more impressive, if your device is missing you can request that it be added. In my case I found they did not support the Hauppauge WinPVR remote. I posted a query on the support forum and was surprised to find they had updated the database the next day. That's pretty decent support.
IR Details, Actual Use
Although its fun to edit remotes all day, in the end you really do want to just use the thing while sitting on the couch. So, does it work as a remote? There are three things that a remote has to do – it has to reach the devices without undo careful pointing, it has to work reliably – doing the right function when you press the button for that function, and it has to work without looking at it. The Rē combo does the first two very well and fails at the last, because there are no physical buttons. As far as range and angle of attack go, it's a winner. The IR emitter is very strong, easily reaching the 15+ foot viewing distance in my living room, and working so long as the dongle end is pointing in the general direction of the device under control. I only experienced one non-response to a button press, so the reliability factor is a win – no double actions or odd side effects were seen in testing. The only downfall is that this is a "heads down" remote. You must look at it to know what you're pressing. It seems obvious given the lack of physical buttons, but if you are a heavy duty couch jockey chances are good you can work any remote with physical buttons by touch alone – no need to peek – and that's just not going to happen with the Rē. You'll need to decide if this is a major problem for you or not.
It's Too Much, Let Me Sum Up
I've really only scratched the surface of the Rē app – if you're remotely interested, I suggest you download the app and check it out. I was impressed with the power of the app, the extensive database of codes, and the responsive support from the company. The physical IR hardware has good power, and the software was battery friendly and uses a fairly intuitive method of creating activity-based remotes. If you are considering a dedicated high end programmable touchscreen remote, the Rē is very much worth your consideration.
Support The Gadgeteer
:
The Gadgeteer is supported by readers like you! If you buy something through the links on our site, we may earn a small affiliate commission. Thank you! Learn more.
Product Information
| | |
| --- | --- |
| Price: | $69.95 for Rē NK100 Accessory, Free download of app in the App Store |
| Manufacturer: | NewKinetix |
| Requirements: | iOS 3.1 or greater (iPhone, iPod Touch, iPad all supported) |
| Pros: | Excellent IR performance, huge code database, macros, learning, custom activity remotes |
| Cons: | |