We use affiliate links. If you buy something through the links on this page, we may earn a commission at no cost to you. Learn more.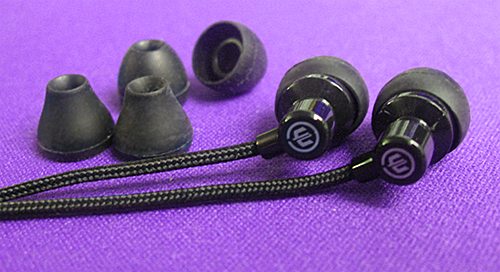 Lately, I have been reviewing some really, really expensive earphones and will continue to do so. I do it mainly because I want to educate people about how much more enjoyment can be had from their music with an investment in quality earphones or headphones. That said, there is a huge market for less expensive choices, whether it's because of budget demands or just a second pair needed for exercise/outdoor use. In fact, there are almost too many choices out there. You can spend anywhere from $10 to $50 and get a pretty decent – if not great – pair of earphones that will last you a while. One entry into this mega-segment is Empire Brands' Wicked Audio division.  We'll be looking at their Wicked Little Buds earphones.
Wicked makes inexpensive earphones and headphones that concentrate on style. That seems to be the trend in this price range. Many earphones with identical specs will come in wild colors and wilder graphics to set them apart. Consequently, these earphones tend to appeal to a younger, fashion-conscience crowd. Which is great, as long as that fashionista is getting his/her money's worth in sound quality.
Before I get into the pros and cons of how the Wicked Little Buds sound, there are a couple of things that impressed me. First is the size. They're small… as in tiny. I have the black model, and because of their size, they are very easy to insert into the ear and are comfortable over hours of listening. Secondly, the cord is covered in woven cloth. That's not something you usually see on earphones this inexpensive. Its a nice touch that helps prevent tangling and cuts down on microphonics – that distracting thump you hear as the cord is bumped, a common trait of many earphones. The Little Buds do not come with a mic for smartphone users, but that's not surprising at this price.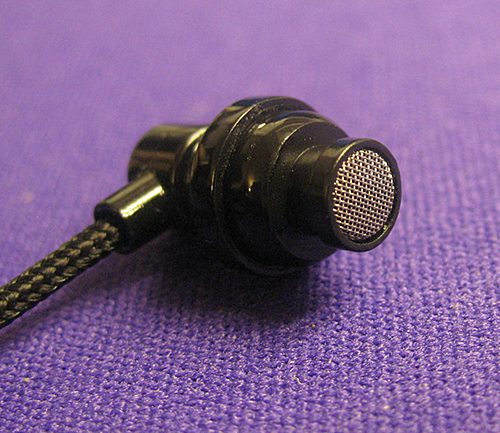 The sound quality of the Little Buds is not a surprise, either. They don't sound any worse or any better than other earphones under $50. But that's not a criticism because while they don't sound terrific, they sound good, and that's light years ahead of  free buds included with your player.
The earphones are rated at 20-20,000 Hz, which is a little more range than a normal human can hear. But we have to take these numbers with a grain of salt. What is important is how the music sounds.
The Little Buds faired better on older recordings than the newer bass-heavy songs, which is a bit strange since these are made for the younger listener. Oh, there is plenty of bass here, but it gets muddled when pushed. Of course, if you are used to those 'white earbuds', then the bass exhibited here will knock you over and you will be in heaven. So there.
I began with "Hot Love" from T.Rex, an old 70s glam-rock tune in the Bowie style. What was good is that even though the bass was a bit on the heavy side, recordings just didn't have the frequency range they have today. So in this respect, the Little Buds weren't tiring. The same held true for David Bowie's "Word on a Wing" from "Station to Station". This album has recently been remastered, so maybe the newer mix will be less forgiving. This mix from an 80s CD pressing was fine.
One of my favorite groups is Simple Minds and I love the 12" version of a B-Side song, "King is White and in the Crowd". Here is where I was disappointed, simply because on the Little Buds, the song had less power. On really good speakers, this song takes you places. On these earphones, I stayed home.
One of the modern songs  I listened to, was "Modern Drift" from Efterklang. This song has a lot of percussion and subtleties going on and I wanted to see how the Little Buds were able to distinguish all the various instruments and sounds. Once again, they did OK, not great. I just couldn't get into the song like I have been able to with other earphones. But once I remind myself what they cost, my reservations disappear.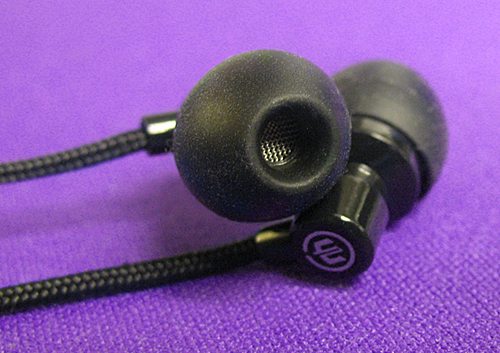 As a backup pair or an upgrade from the freebies, Wicked's Little Buds are a bargain.
Now if they cost $100, I would be hurling insults. But they don't. For what you get, both in the little extras mentioned earlier and the perfectly OK sound; at $35, I have no complaints. And you won't either.

Product Information
Price:
$29.99 US
Manufacturer:
Wicked Audio
Pros:

Sound good for the price
Corded wire cuts down on microphonics

Cons: