We use affiliate links. If you buy something through the links on this page, we may earn a commission at no cost to you. Learn more.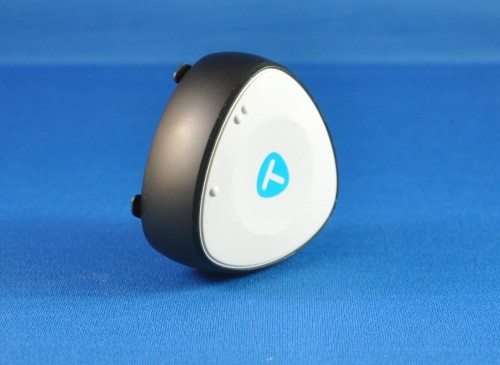 Since the advent of the Walkman™, we have become addicted to being connected to our music. Not just any music, but our music, sorted and selected while on the go to match our moods and activities. The vast libraries available with iPods and other digital music devices now make it expected that we can and should carry huge numbers of songs everywhere. What has evolved more slowly, however, is how to get that music into our ears. Speakers, of course, force those tunes onto bystanders, who may or may not share our tastes. Earbuds block us off from the environment, which, when you're driving, riding a bike, or skating, can be illegal and/or fatal. So, what's the answer? The folks at Tunebug have come up with a pretty good solution – their Shake is a speaker designed to use the head-enclosing shell of a safety helmet as a resonating chamber. They were good enough to send me a unit to try.
The device itself is a rounded triangle about 2 inches on a side, and three-quarters of an inch thick. It connects to your music source via BlueTooth or via an included mini stereo (AUX) cable. The speaker on it's bottom side (about the size of a US quarter or 1£ coin) makes contact with your helmet while held in place with a Velcro strap and a thin neoprene cover.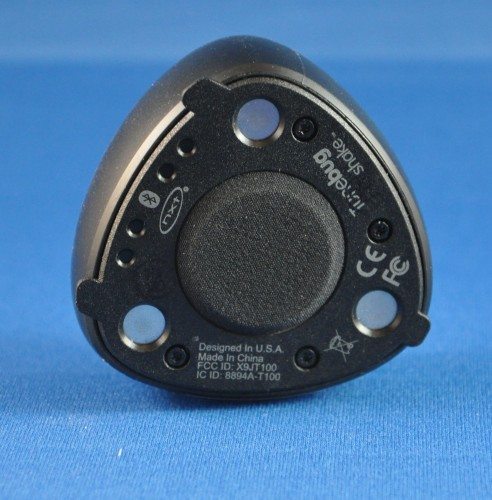 Before use, Tunebug recommends giving the Shake a full charge, which is easy with the USB to mini stereo plug included in the package. I left it plugged in for just an hour or so, and it was ready to go. Powering the device on (and every other operation) is simple with the two touch controls. Holding one or the other or both gives the desired results: turn the unit on or off by holding both, hold the single dot to lower volume, and the double dot to raise it.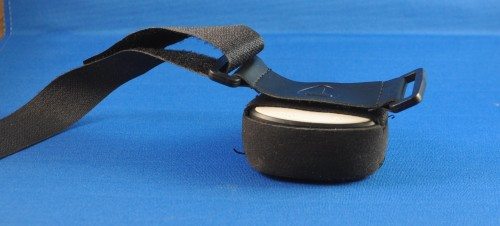 Pairing with my iPhone was fast and easy. During playback, a small Bluetooth logo shows up next to the volume level. Tapping this allows one to change from Bluetooth to the built-in speaker. Getting the speaker attached to my bike helmet proved a little more difficult. Well, getting it attached wasn't hard, but finding a place that offered a flat space that would allow the speaker a good surface contact was tough. I finally settled on a place that had the most surface contact, and cranked up the music. It was surprisingly loud, even with the helmet off. With the helmet strapped on, I had no problem riding and having my music with me. I tried it both on my quiet neighborhood streets and on some more heavily traveled roads further afield, and could still hear quite well.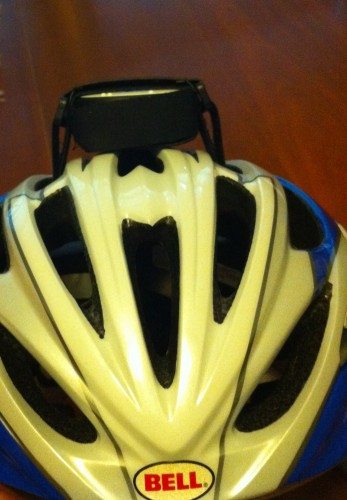 In addition to the neoprene case and Velcro strap for bike helmets, there is also an attachment system for solid skate/BMX-type helmets. I didn't have one of these to try, but both are included, which is quite cool. If you're wanting that music to surround your melon while you're enjoying something active, this may be the best option out there for you.
I give this one five stars – great concept, fine execution, very safety and lifestyle conscious.
Product Information
Price:
$99.99
Manufacturer:
Tunebug
Pros:

Small size
Each charging and syncing
Easy attachment to helmet
Two different attachment systems included in package

Cons:

Contact with helmet must be solid for proper resonance
People look at you strangely as you ride by, radiating music