We use affiliate links. If you buy something through the links on this page, we may earn a commission at no cost to you. Learn more.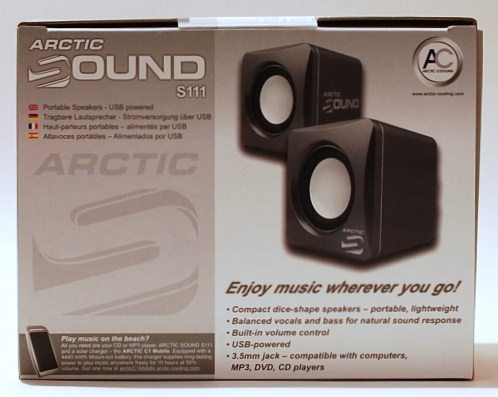 I've used laptops exclusively for the past few years, and their speakers aren't the best for listening to music.  But what can you expect from speakers the size of almonds, right?  My current laptop has the best speakers I've had in a laptop, but even they are weak and tinny.  They are okay for announcing emails, but they are lacking when I decide to listen to some music while working at my laptop.  When Julie said she had a pair of Arctic Sound S111 portable speakers for laptops, I said I'd be happy to give them a try.  I've had the chance to try three pairs of Arctic Cooling earphones in my tenure at The Gadgeteer.  I found them to be well-made, comfortable, and they sounded great.   Based on my experience with the earphones, I thought the Arctic Sound speakers would be a compact way to improve my listening experience.  When I opened the package and saw how small they were, I'll admit I was afraid such tiny little speakers wouldn't be any better than my laptop speakers.  But we'll see the adage "good things come in small packages" is right in this case.
Technical Specifications
Frequency Response  – 50Hz – 25,000Hz
Impedance – 4 Ω
Output Power – 4W (2W per channel) RMS
Cable – 1 meter with 3.5mm stereo jack
Dimensions – 70mm X 70mm X 70mm (about 2.5" per side)
Weight – 494 grams (about 17.4 ounces)
Warranty – 2 years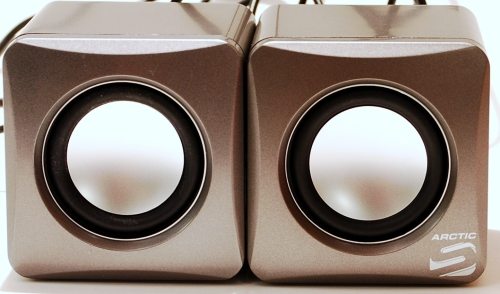 The Arctic Sound S111 speakers don't have any sort of grill covering the cones.  The center of the cone is made of a silvery metal.  The cone surround is made of a black, rubbery material.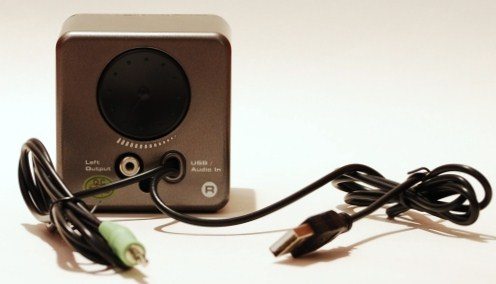 The back of the right speaker has a large black volume dial.  There are two cables permanently attached.  One ends in a standard USB plug, the other with a 3.5mm stereo plug.  There's also a port to plug in the left speaker.  The back of the left speaker only has a permanently-attached cable ending in a 3.5mm stereo plug.  Both the cables on the right speaker are 40" long.  The cable on the left speaker is about 38.5" long, so you can separate the two speakers by about 36".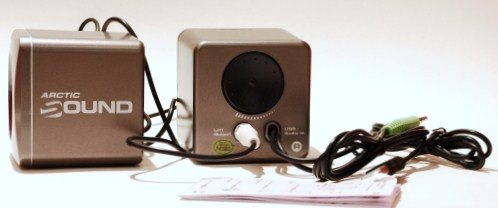 I plugged the USB cable into my laptop, hooked up the two 3.5mm stereo plugs (one to connect the two speakers, the other to connect to my laptop headphone jack), and started up iTunes.  I've played a variety of music, and I'm happy to report that all the music sounded surprisingly good coming from such tiny speakers.  I got much more volume from the Arctic Sound speakers than from my laptop speakers at the same sound setting.  Speaking of volume, the volume control on the back of the right speaker does work to adjust the sound.  The maximum sound is limited by the volume setting on the computer.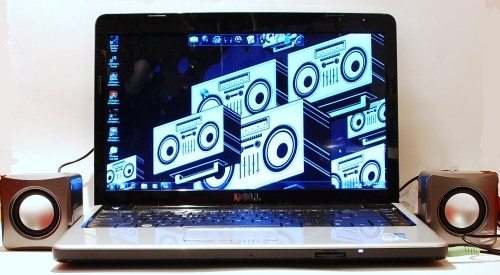 The Arctic Sound S111 speakers aren't tinny, as you might expect from such small speakers.  They produce a satisfyingly rich sound, especially for vocal music.  I've listened to a wide variety of music while trying out these speakers.  I've listened to orchestral music, AC/DC, Peter Gabriel, Israel Kamakawiwo'ole, Ted Nugent (only Stranglehold – I do have standards), Art Garfunkel, Kiss, The Beatles, Queen, Joe Satriani, Cat Stevens, Tibetan Singing Bowl, and who remembers what else.  (We have a strange variety of music in my household.)  All of the music sounded good and was enjoyable – except for the Kiss, but that had NOTHING to do with the speakers.
Naturally, with two watts per channel, the house wasn't shaking from the bass.  Clipping off the bottom end doesn't mean that the entire bass end is lost, however.  I didn't notice anything missing in the music as I listened to it. 
With the 36" of separation, I could hear the stereo separation in my standard test song – "I Only Have Eyes for You" by Art Garfunkel.  Vocals sounded great, and the Tibetan Singing Bowl music was piercing as I'd expect.  I swear I could feel some of those notes from the singing bowls – not deep in my bones, but as vibrations in my head and ears.
Because these speakers are compact and lightweight, you can pack them in your gear and take them with you.  You can even use them with mp3 players or other devices that have a 3.5mm stereo output.  If you aren't using them with a computer, you'll need to power the speakers by plugging them into an AC adapter with a USB output port.  You can also use the Arctic Sound S111 speakers outdoors with the Arctic Power C1 Mobile solar adapter from the Arctic Cooling website.
I found the Arctic Sound S111 speakers to be a good addition to a laptop.  They make listening to music much more enjoyable because of their increased power and sound reproduction range when compared to the laptop speakers.  They are small enough that you can take them with you, and you aren't limited to using them only with a computer if you supply your own AC adapter or get the solar power adapter from Arctic Cooling.  At only $15.45, the Arctic Sound S111 speakers are a good addition to your audio gear.

Product Information
Price:
$15.45
Manufacturer:
Arctic Cooling
Pros:

Compact and lightweight
Surprisingly good sound for such small speakers
Can be powered by USB port on laptop or by external adapters

Cons:

Have to supply your own AC adapter