We use affiliate links. If you buy something through the links on this page, we may earn a commission at no cost to you. Learn more.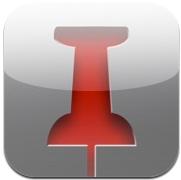 Hello, my name is Andy, and I'm a to-do appoholic.
Hello, Andy.
It's a problem.  I have purchased at least eight to-do apps from the App Store, and I own licenses for three more on my Mac.  Sometimes I think I spend more time trying out new to-do apps than I spend actually doing the things on my to-do lists.  The worst part is that often all I want to do is make a quick reminder for myself to do something, and suddenly I find myself sucked into a task management quagmire, creating projects and assigning due dates, when all I really wanted was to remind myself to call my mom tomorrow.
But I think I might have found the solution to my woes in a little app called REMINDERS!
REMINDERS! is built on a simple premise:  tell it what you need to do and when you need to be reminded to do it, and it will remind you.  That's it.  You might be thinking that this sounds like something that should be hard to get wrong, and you're right about that.  But it's also something that's hard to get really right.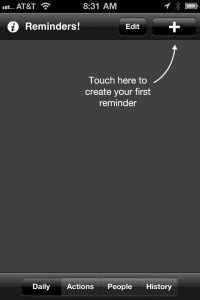 When you first start REMINDERS!, you are given a single instruction for creating your first reminder.  Each reminder consists of a small set of attributes:
Action – what you need to do
One or more contextually appropriate details for this action (who, where, URL, etc)
Time – when you need to be reminded to perform the action
Notes – any additional info you want to associate with this action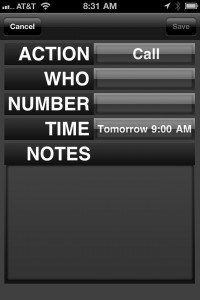 The app provides a pretty sizable list of actions, which should be enough to accommodate most tasks appropriate for the app: Call, Meet, Email, Todo, Check, Buy, Pick Up, Delivery, Workout, and SMS.  Each of these has one or more detail fields that make sense for that action.  For example, select "Call", and you'll be given fields for who to call and the number at which to call the person.  Email replaces the phone number with a field for an email address, Pick Up, Buy, and Delivery each provide fields for what and where you are picking up/buying/delivering, etc.  When selecting a person to call or email, you may enter the name and number/email info manually, or you may select it from your iPhone's contacts.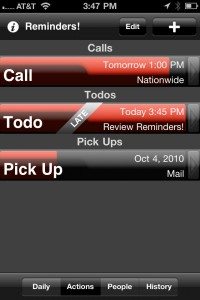 Each reminder you create is displayed as sort of a progress meter, showing you how close you are to the reminder date that you have specified for that task.  The more full of red the bar is, the closer it is to being due, giving you a nice view into what is due soon, even when you have your tasks sorted by something other than reminder date.  Tapping on a task displays the same notification pop-up that would be displayed at the time that the reminder is due, allowing you to perform the task now, mark it as done, or do nothing.  Tasks that are beyond the reminder date are flagged with a "late" ribbon across them.
Never miss one of our posts again. Sent MON, WED, and FRI with the latest gadget reviews and news!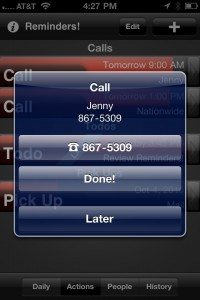 The app provides the normal notification badge on the app icon for due reminders, but the reminder pop-ups are where the app shines.  The popups are quite intelligent and clearly designed to expedite the completion of the task.  For example, if you have a reminder to call or email someone, the reminder popup includes a button to take you straight to dialing their number or writing the email.  If your task involves a URL target, a button is provided to open the URL in Safari, and the app is even smart enough to identify URLs in "Where" targets that are not exclusively designed for URLs.  For example, if I want to be reminded to buy socks from a local store, I would enter the name of that store into the "Where" field of the reminder.  But if I put "amazon.com" into that field instead, REMINDERS! realizes that this location is a URL, and provides a button in the reminder pop-up that will take me straight to Amazon.com in Safari.  Pretty brilliant stuff.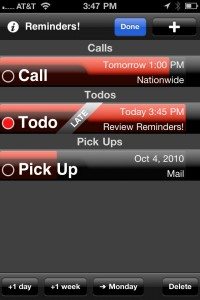 If you're the type to procrastinate, REMINDERS! has you covered there, as well.  The app features an iOS-standard "edit" button that lets you perform actions in bulk  on selected tasks, but it isn't limited to just deleting.  You can move the reminder date of all selected tasks out by a full day, by a full week, or to the next Monday.  If you need more specific control over existing tasks, each line has an arrow icon that will take you back to edit any aspect of the task.
I actually have one other app that is very similar to REMINDERS! in its scope and purpose, but it relies on push notifications to send reminders.  This is problematic because, as you can imagine, if you are in an area where you have no signal, you won't get your reminder.  REMINDERS! appears to work with the iOS local notification framework, so you should be able to get your reminders anywhere as long as your iOS device is on.  The app provides 20 different alert sounds, and also supports using the system default sound or silent alerts.
I don't often get the chance to say this, but there isn't much that I don't like about this app.  I do have one gripe, albeit a small one: when you receive a reminder that requires you to send an email, and you use the button on the reminder to begin composing that email, REMINDERS! does you the favor of filling out the To: address (presuming you have provided one in the reminder), but it also takes the opportunity to grab a little free advertising.  That's right, it throws a little "Get Reminders! for iPhone" link at the end of your email, just before your signature.  While this is a relatively minor issue — you can quite easily delete the link before you send the email — it's still rather annoying, especially in a paid app.
All told, REMINDERS! for iOS is exactly what I've been looking for in a lightweight to-do reminder app.  I can definitely see it being a useful additional tool for GTD junkies and low-maintenance to-doers alike, and for only three dollars, it's a steal.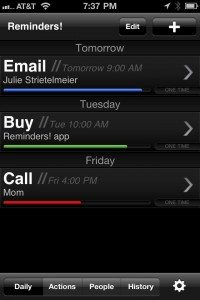 Update – 3/20/2011: In the time since this review was completed, Ripe Apps has made some major improvements to their Reminders! app.  The UI has been refined;  the layout of the data for each task has been rearranged, the wide progress meter has been reduced to a thin line at the bottom of each task, and a field has been added to indicate whether a given task is a one-time or repeating task.  Task types are also now configurable; you may select the color of the progress bar for each task type, as well as assign a different notification sound for each type.  You may also remove task types from the selection wheel, which is nice if, for example, you don't ever need to be reminded to take your prescription medications or workout.
A few shorter alert sounds have been added, which is nice in case the entire room doesn't need to be reminded that you need to order flowers for your significant other's birthday, and a few new options have been added for deferring tasks to a later date — you can now defer to the following Friday, Saturday, or Sunday (for one or multiple tasks) with just a couple of taps.
Ripe Apps openly solicits suggestions for improvements and new features in their support forum, and with the way the app is evolving, it's clear that they're taking that feedback to heart — and that's the best feature that any app can offer.
Product Information
| | |
| --- | --- |
| Price: | $2.99 |
| Manufacturer: | Ripe Apps |
| Pros: | Uses local notifications, easy to use, handles data intelligently, a great deal at this price |
| Cons: | Advertisement links in emails |