We use affiliate links. If you buy something through the links on this page, we may earn a commission at no cost to you. Learn more.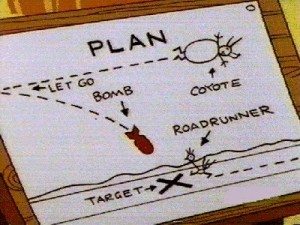 A previous article here on Gadgeteer asked about the state of Android. I'd like to ponder on the state of the tablet: Here we are, almost 10 months after the iPad announcement, quickly approaching Christmas 2010, and where are our options other than the iPad? As far as I can tell, the maybe-soon to be released WiFi Samsung Galaxy with a 7″ screen might be the only option, and its release is preceded by Google saying Android is not for tablets. There's the Dell Streak but at 5″, it's not really in tablet territory. More like really big cellphone territory. So why aren't any mainstream tablets on the market right now? Read on to find out what I think was Apple's "Secret Plan"…
Here's my opinion: Apple says the iPad was actually designed first, before the iPhone. Only after they realized it would work just as well as a phone did they release the iPhone and put the iPad on the shelf for a couple years(1). So I think this was also to give the iPad as much of a head-start in the market as they could engineer. Most big companies, like anything large and unwieldy, have a certain amount of momentum. Once a product plan is in place, thousands of people are required to implement the plan. And I think Apple used this momentum to steer everyone towards phones while they had a bigger picture in mind – And this is why it's taking so long to get a decent iPad competitor shipping to the public.
When the iPhone was released in 2007, the whole market reacted and shifted to touchscreen. Android's seen rapid growth, Palm came out swinging and then got bought by HP, Microsoft Kin was around for a week and now Win 7 is about to be released. We also can't forget the marketplaces created within these ecosystems, with many additional companies developing applications, cases, and whatnot. All of this concentration on Phone OS's and Phone apps created serious momentum. People were hired, schedules developed, budgets solidified, everything focused on making some great phones. Then, all of a sudden, while everyone's attention is on the iPhone, Apple comes out with a tablet that fits right into the existing iOS ecosystem and uses this as a bridge towards the Tablet market. And sells millions.
Apple's little mis-direction with the iPhone took alot of the R&D dollars that could be spent on a light & powerful tablets was spent on creating light & powerful cell phones. Sure, many of the components can be used in either device, but I bet things like manufacturing efficiency  focused on 4″ screens – not 10″. And the software market too: Google's announcement that Android wasn't designed for the tablet form factor made me wonder 'why not?'. What about Google's Marketplace; Where do tablet apps get distributed? This is a serious chunk of the marketplace that Apple seems to have effectively diffused for the immediate future.  ( Note: I'm not counting Windows7 or Linux tablets, nobody is buying them right now. That might change in the future like everything else )
So… If Apple really had a plan to release the iPhone first to get everyone going in one direction and then release their iPad a couple years later in another direction… It seems to be working. Of course, it only puts off the inevitable: A marketplace full of choice… coming soon.
( The image is from here )