We use affiliate links. If you buy something through the links on this page, we may earn a commission at no cost to you. Learn more.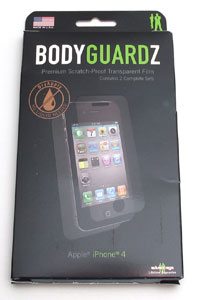 Are you paranoid that your shiny new iPhone 4's display will get a nasty scratch on it? Maybe you've thought about protecting it with a case, but didn't want to deal with the bulk? Or you might have considered a screen protector but installing it seemed a little intimidating. I'm not really paranoid about scratches, but that doesn't mean that I want my brand new gadget to have one. I don't like to use a case and I'm not a big fan of screen protectors because they are a hassle to install and always seem to make touch screens feel less responsive. Guess what? I've just changed my mind about screen protectors after trying the new BodyGuardz Dry Apply protectors.
BodyGuardz Dry Apply protectors are available for various devices, in both a screen only protector kit and full body protector kits. I was sent the full body Dry Apply kit for the iPhone 4.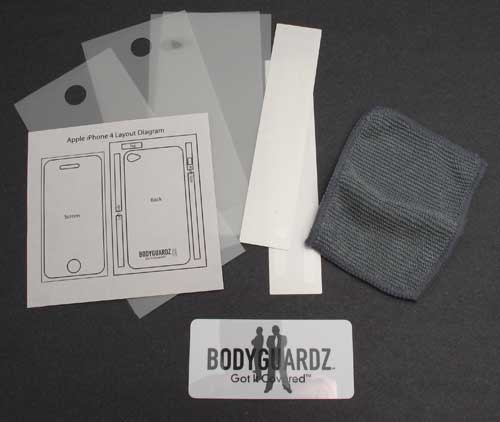 Package Contents
2 sets of screen protectors, back protectors and side protectors
Microfiber polishing cloth
Squeegee card
To be perfectly honest, I've not tried installing a screen protectors on my phones in quite a few years. They always seem to require you to spritz the screen with water and other gymnastics in order to get them to install perfectly. I don't have much patience when it comes to doing stuff like that and prior experiences years ago resulted in bubbles, dust and other junk between the screen and the protector. For that reason, I wasn't too excited when the folks at BodyGuardz offered to send me a free set of full body protectors for my iPhone 4. I fully intended to bribe… I mean give them to one of the other team members to review, but in the end I accepted the sample for myself because they didn't require water to install them.
The first thing I did was read the directions, which seemed pretty straight forward. I then watched two very short videos on the BodyGuardz site demonstrating the installation. Next it was my turn.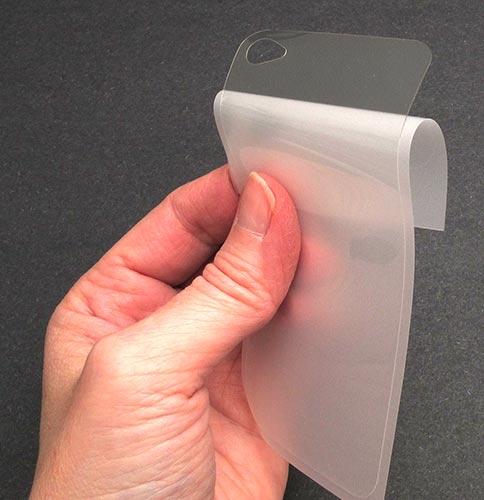 Using the supplied microfiber cloth, I polished the back of my iPhone 4 and made sure that the surface was free of dust. I then peeled the backing from the top of the protector as instructed and without touching it.
The next step was to line it up with the top edge and then using the plastic squeegee, slide it down the rest of the surface to affix the protector. The whole task from polish to end took less than 2 minutes.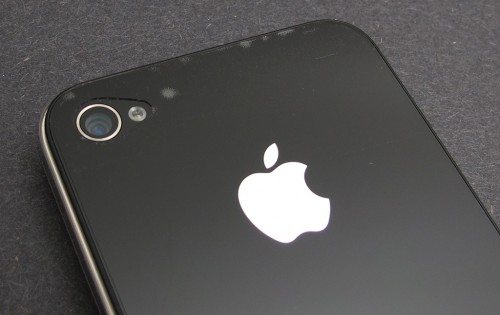 It really helps that the protectors are not made of super flimsy thin material. They are thicker and almost rigid. Lining up the edges was not a problem. The only issue I noticed was the top most edge and one bubble that would not go away no matter how much I tried to squeegee it. Click the image above for a large view.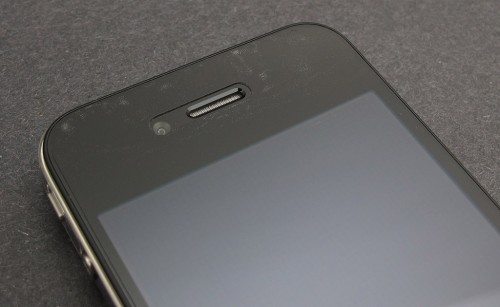 I applied the top surface protector using the same method. The result was a few bubbles at the top edge as you can see in the image above (you can click for a larger view). I wasn't very happy with the way it looked, but decided to keep going and do the edges protectors next.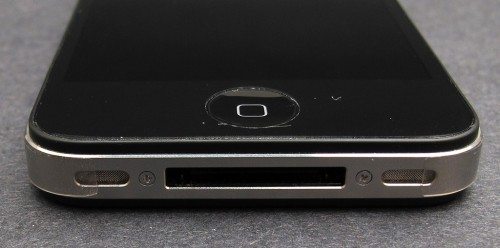 I found it more difficult to apply the edge protectors. The material seems to be more stretchy than the top and bottom protectors. The instructional videos mention not stretching them and I really didn't think I did, but as you can see here, both edges overlap the speakers slightly.

You can see how close I stuck the Right side stickers…

and Left side. The Left side does bridge the antenna area, but I can't tell you if it has any effect on attenuation issues as my iPhone is no longer active on AT&T's network.

Top surface.
I didn't really like the feel of the side protectors and I obviously didn't like the look with the overlapping edges.
Looking back at the top and bottom protectors, I wasn't too happy with the bubbles either. The rest of the surface of the phone looked fine to me though. I then remembered that the video said to wait 24-48hrs for the bubbles to go away. I wasn't convinced that they would disappear, but what the heck… I gave it 24hrs. And…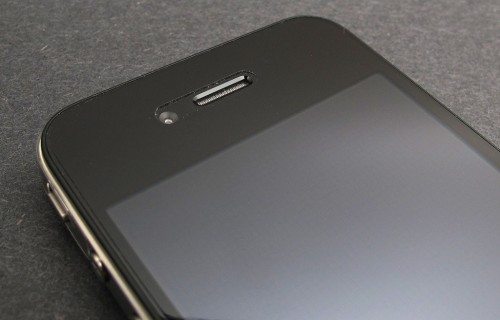 They weren't just blowing smoke, the bubbles did go away! Totally! Check it out (click the image for a larger view). I was completely surprised and impressed.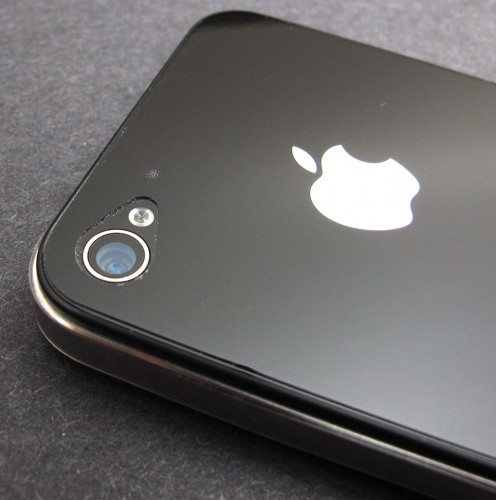 The one bubble on the back side remained, but It's not a bubble,  I think there's an actual piece of dust between the protector and the phone. Bummer.
You will notice something in these close up pictures though… It seems that dust particles like to stick around the edges of the protectors. This is more noticeable if you look at the earphone cutout and camera cutout. Yes, I'm being crazy picky, but I have to find at least something to complain about right?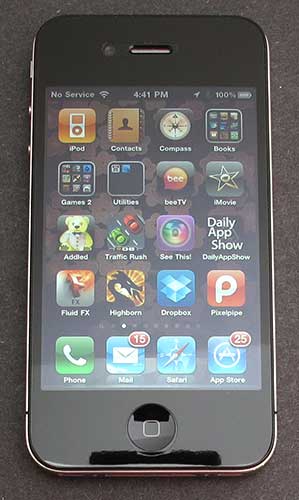 Another very surprising fact is that once installed, I am not seeing any degradation of screen clarity or sensitivity. Actually, if I wasn't already aware that my phone had a protector installed on it, I would not know it. It does not feel any differently or behave differently.
I removed the side protectors after 24hrs, but the top and bottom ones are staying put. I will definitely recommend BodyGuardz Dry Apply protectors for any device. They are very easy to apply, not overly expensive and will protect your device from scratches.
Product Information
Price:
$14.95 - $24.95
Manufacturer:
BodyGuardz
Pros:

Does not require liquid to install
Very easy to apply
Doesn't hinder touch screen sensitivity

Cons:

Dust sticks to edges of protectors once applied