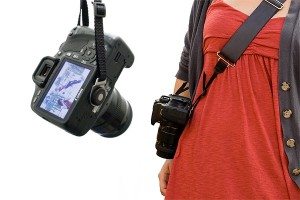 While I swear by my BlackRapid camera strap, and I will preach its virtues to the masses at the drop of a hat, I realize that many people really aren't in a position to spend $50 or more on a camera strap.  If you want the across-the-chest style, but you're on a budget, you might want to check out Photojojo's Camera Strap Buddy.
For $15, you get a metal tab that attaches to one end of your existing camera strap, and screws into your camera's built-in tripod mount.  The other end of the strap attaches to the camera as usual.
While this doesn't provide the awesome quick-draw action that the BlackRapid straps do, it does allow you to get your camera off of your chest and onto your hip, and that's a start.
The Gadgeteer may receive a commission on purchases made from affiliate links on our posts.