We use affiliate links. If you buy something through the links on this page, we may earn a commission at no cost to you. Learn more.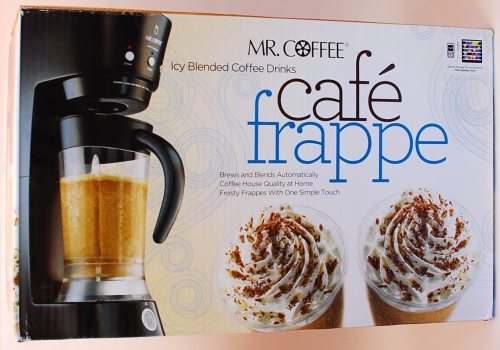 A couple of days ago I posted a news item about the Mr. Coffee Café Frappe Maker.  I mentioned that my family and I are addicted to the Starbucks' frozen Frappuccino™ coffee drinks, and we spend a lot of money on them in the coffee shop in the local Barnes and Noble bookstore.  Making our own drinks using the Mr. Coffee Café Frappe Maker should allow us to save a lot of money, and we should be able to customize our flavors.  We spent some time Saturday (after one last drink at the Starbucks in the B&N) searching for the Mr. Coffee machine.  We finally found one at Target, got some flavored syrups at Walmart, and anxiously raced home to try it out.  If the drinks don't taste good, all our efforts will have been wasted.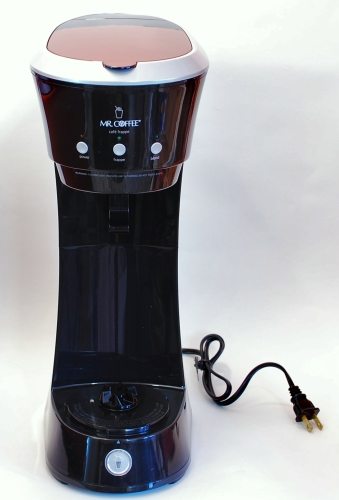 Inside the box is a black plastic brewing stand, a plastic pitcher, Quick Start guide, manual, and a recipe book.  Although there were a variety of recipes to choose from, we followed the basic recipe and added our own touches.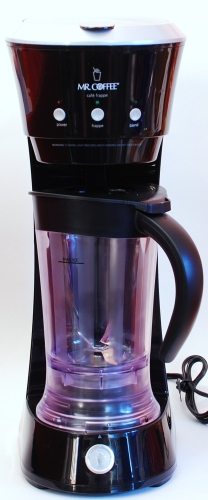 Basically, the Mr. Coffee machine brews a small amount of strong coffee into the pitcher.  The pitcher is equipped with blender blades to crush ice and blend the ingredients together into a frozen drink.  You add 3 tablespoons of ground coffee to the brewing basket and add ½ cup of water to the reservoir.  Add 2 cups of ice, 2 tablespoons of sugar, 3 tablespoons of flavored syrup, and ¼ cup of milk to the pitcher.  Lock the pitcher into the brewing stand and press the Frappe button to start the process.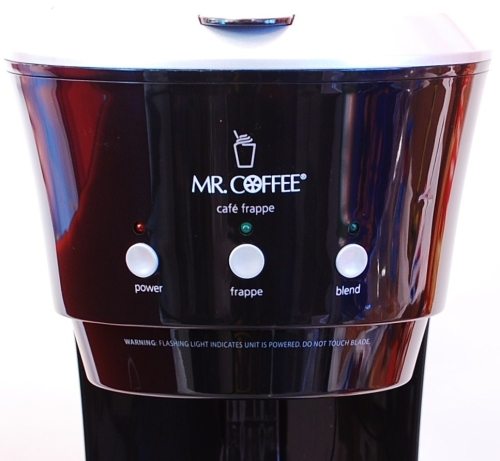 The coffee brews into the pitcher; this process takes about 1.5-2 minutes.  After the brewing process is complete, the blender begins to pulse to crush the ice.  The first time this happened, we were all very startled because it's quite loud.  After a few pulses, the blender runs for a while to completely blend the drink.  Press the Blend button for additional blending time if the drink consistency isn't to your taste.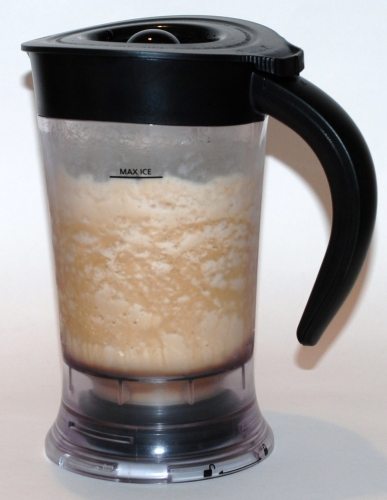 The drink is very frosty and thick at first – rather like a Slurpee.  The ice was the consistency of perfectly shaved ice.  I didn't have a single big chunk of ice in my drink.  The drink does melt faster than the Starbucks' version.  Mine didn't completely melt, though.  There was still a lot of ice left in my last sip.  I would imagine that Starbucks uses some sort of thickening agent to help theirs stay thicker longer.   And I should note that this recipe made enough drink to completely fill a 16 oz red plastic cup with a little left over.  Starbuck's says this is 2 servings, but it's about the size of the grande drink I get at Starbucks.
As I mentioned before, I'm diabetic, so I used a sugar-free Torani chocolate syrup and Splenda (instead of the sugar) in mine.  My daughter had one with Hershey's chocolate syrup and sugar, and my husband had one with caramel ice cream syrup and sugar in his.  Rachel's drink with Hershey's syrup seemed to be a bit more watery to start than were the other two drinks.
So how did they taste?  Butch, Rachel, and I all agreed – they were delicious!  We all tasted each other's drinks, and we all agreed that they were all equally tasty.  The drinks had a distinct coffee taste, and they didn't seem as bitter as the ones we buy at the coffee shop. 
A single trip to Starbucks costs about $14 if we all three have drinks, so the Mr. Coffee Café Frappe Maker will pay for itself in six visits – or three weekends.  It will use quite of bit of coffee, but even an inexpensive coffee (like the one we used for this experiment) tastes great and will reduce our continuing costs.
If you are also addicted to these frozen coffee drinks, my advice to you is RUN – do not walk – to buy yourself a Mr. Coffee Café Frappe Maker.
Product Information
Price:
$79.99, but you can find it cheaper if you look around
Manufacturer:
Mr. Coffee
Pros:

Makes thick, frosty, icy coffee drinks
Much cheaper than buying the drinks at coffee shops

Cons: