We use affiliate links. If you buy something through the links on this page, we may earn a commission at no cost to you. Learn more.

With modern day life as hectic as it is, I find myself looking for ways to keep myself better organized, less forgetful, and more productive. When I was younger and life was simpler, I was able to mentally keep track of all the things/stuff I needed to get accomplished. But with more responsibility and old age (aka less braincells), that To-Do list is constantly well beyond my capability to keep my head above water without some organizational assistance.
Since I carry my iPad around with me (almost) everywhere I go, I thought it the perfect place to keep my To-Do list (vs written on the palm of my hand or scraps of paper in my wallet). I looked through the various apps in iTunes (there are many…..) that are designed to help keep you organized and Cultured Code's Things for iPad stood out amongst the crowd.

I came to find out that Culture Code's Things comes in three variations for the Mac, iPhone/Touch, and now for the iPad. The initial setup/experience is very intuitive and easy to hit the road running. The user interface is nicely designed, clean and operates on the K.I.S.S. principle. Like most of the apps created for the iPad, Things operates in either portrait or landscape mode but (IMO) is more functional and Mac-like when running in landscape view.
To begin, I quickly input the top six projects (and major tasks for each) I want to get accomplished before the end of the year.
I have also been inputting my daily tasks into the Today tab. It is a great way to visualize what needs to get accomplished during the day and check items off your list as you roll through them. As you can see, in landscape view are two sets of columns. The column on the left side is comprised of the List of categories: Inbox, Today, Next, Scheduled, Someday, Projects and Logbook. The right side of the screen provides the list of To-Do's for each category.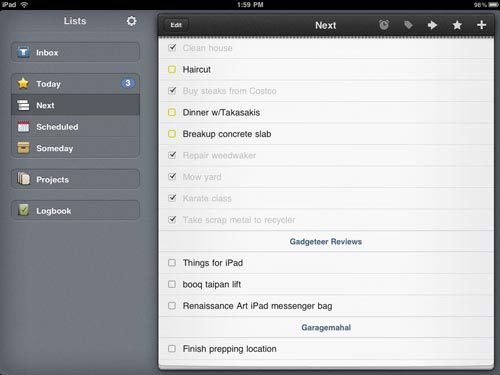 The Next tab shows what needs to be done from the Today tab but those tasks in Scheduled and Projects sections as well.
Never miss one of our posts again. Sent MON, WED, and FRI with the latest gadget reviews and news!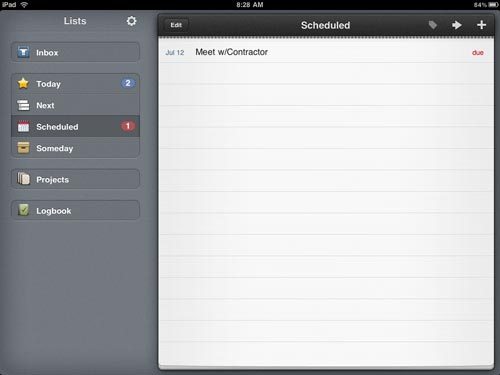 I have not used the Scheduled portion/feature of the app much yet. But it allows you to schedule a date in the future for a task to be accomplished. It will show red when it is due or late.
The Someday tab is extremely useful as well. It allows you to keep track of those items and projects that you eventually want to accomplish but on a more strategic time-frame.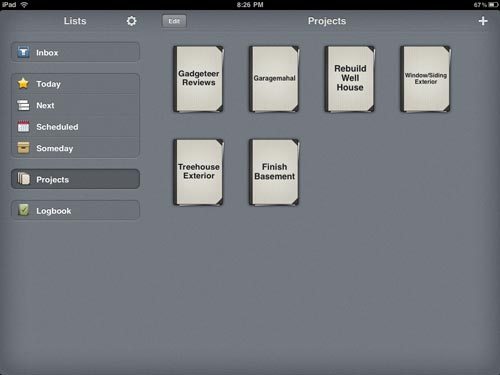 For me, the Projects section is the most useful part of Things. It allows you to organize major efforts into separate folders or notepads.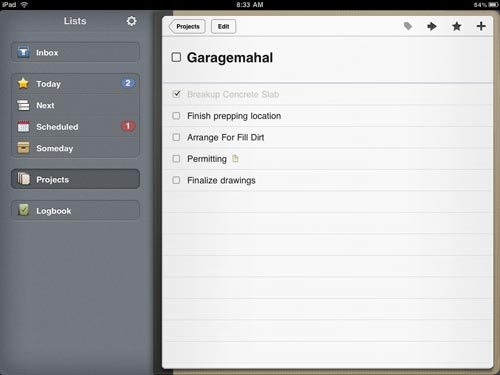 Within each project, Things enables you to have tasks within each project that need to be accomplished. I wish Things allowed sub-tasks to each To-Do, enabling you to refine/organize each effort even further.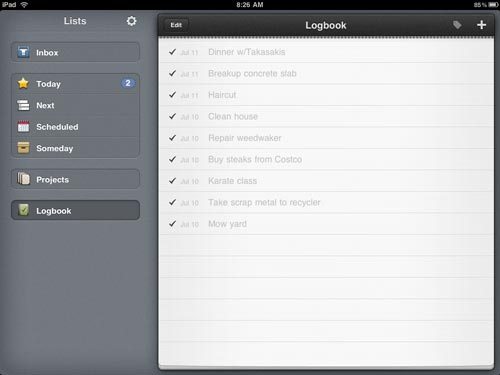 The Logbook archives all completed efforts by date and relative time each was checked off.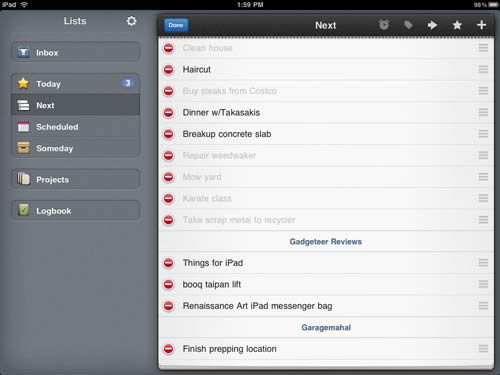 You are able to delete, reorder, and move (between projects) each To-Do item.

If you have Things for the Mac, you are able to sync wirelessly between the desktop and their mobile versions (iPad/iPhone/Touch) within the same network (both apps have to be on @ the same time). I love this feature; I am regularly adding tasks to my To-Do list on both platforms. They sync seamlessly in the blink of an eye.
Things for iPad is missing a few features that would make it better: sub-tasks, database search, set alarm, and input a time a task is due (vs just a date).
For those of you who use or have tried Things for the Mac or iPhone/Touch, I am telling you info that you already know. The folks at Cultured Code have done a great job of creating an excellent cross-platform, task manager application that is extremely well thought out and polished from both the usability and visual standpoints. That said, Things for the iPad is one of the more expensive To-Do apps in the iTunes store. At $20 (iPad version), this program is many times the cost of similar applications. Also, if you want to be able to manage/sync your To-Do list on your computer as well, Things for Mac (aka desktop version) will cost you an additional $50 as well. At those prices, it is difficult to say these are must have applications.
Cost aside, Things for the iPad is a great app for those with hectic lives needing assistance keeping focused/organized. I use Things many times per day and my addiction continues to grow. When my trial version of Things for Mac runs out I will seriously consider splurging and purchasing that as well, making my holistic Things experience even better. Things for iPad is definitely one of my top five apps on my iPad.
Product Information
Price:
$19.99
Manufacturer:
Cultured Code
Pros:

- Great task management app
- Easy intuitive user experience/design
- Syncs between iPad and Mac versions

Cons:

- Expensive
- No sub-task function
- No search function
- No alarm function
- No time-due function