The Gadgeteer is supported by readers like you! If you buy something through links on our site, we may earn an affiliate commission. Thank you! Learn more.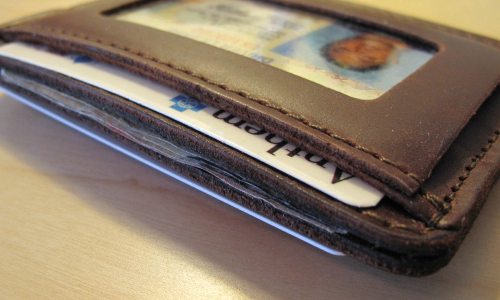 It's no surprise that the Saddleback Leather Company. is a Gadgeteer favorite to carry your oodles of shiny gizmos.  But what if you don't carry much around at all?
Recently I've been trying to pare down what I carry with me to a bare minimum.  I've ditched the laptop for an iPad, and the computer backpack for the Tom Bihn Ristretto shoulder bag that I reviewed in April 2010, which has worked out wonderfully for me so far.
Once I realized I was carrying FAR too much junk in my wallet, I did some pocket soul searching and pared it down to just three cards, drivers license, and bills.  Now what could carry just that in a minimum of bulk?
Enter the Saddleback Leather Co. "Small Wallet".  I purchased the chestnut colored one.
The specs from Saddleback's web page:
Dimensions: 4 1/8″W x 2 7/8″H x 3/16″ D (10.4775cm x 7.3025cm x .4826cm)
Thick enough leather to last, but not too thick to be bulky
Sturdy continuous filament Polyester marine grade industrial thread
Hypoallergenic 2 oz. (1.2 mm) thick chrome tanned leather
Tough pigskin lining and backing. Pigskin is the second strongest hide in the world, second to kangaroo.
The first thing you notice is how free of glitz and glam this thing is.  No silken liner material, no metal logos… not even a plastic window over the license slot.  These are all things that over time, will fail.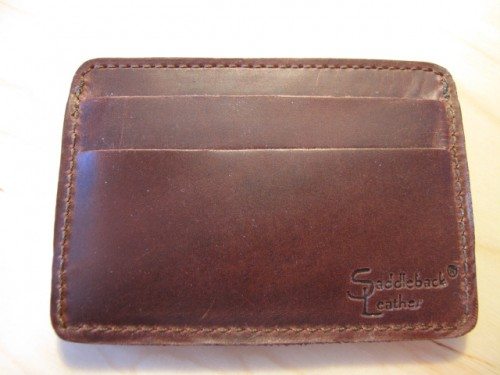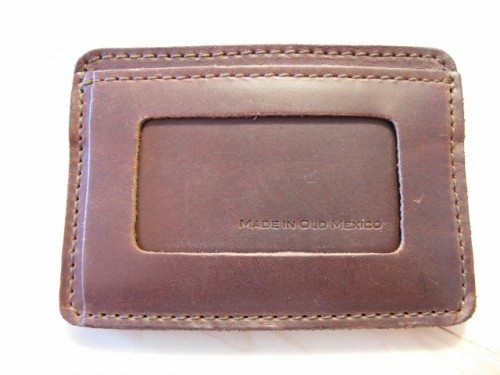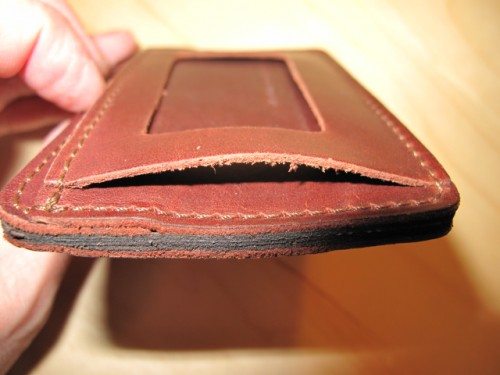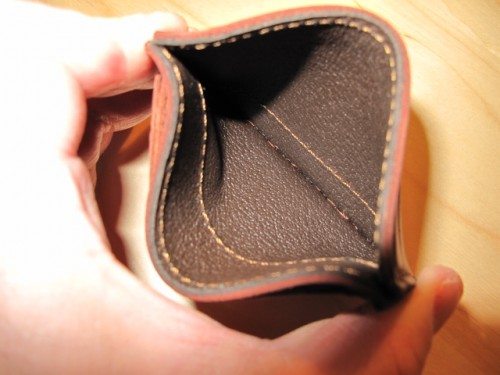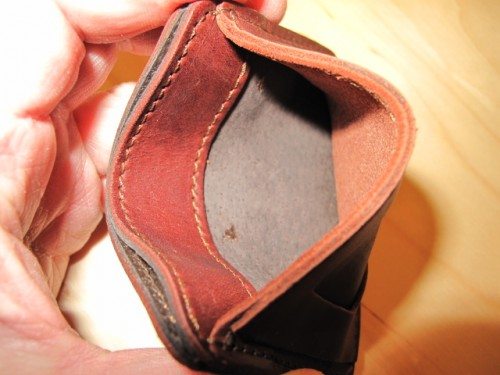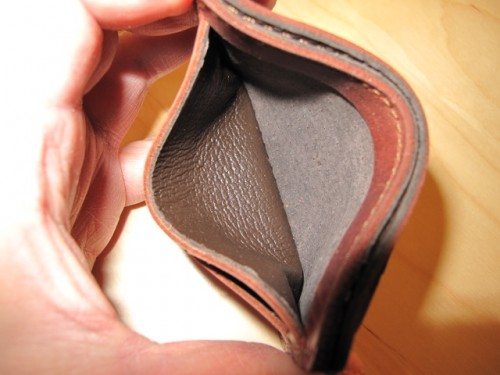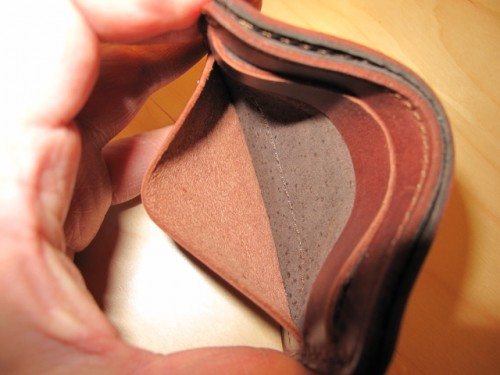 Well, this was nice, but how would the Saddleback Small Wallet do when stuffed with cards and cash?
True, the Small Wallet does not come with a plastic window, but I was a little concerned about the buckets of sweat I normally produce (ew) and how it might affect a bare naked driver's license.  I'm sure it would hold up well, but to be sure, I cut out a little piece of vinyl scrap as a "window".  Done!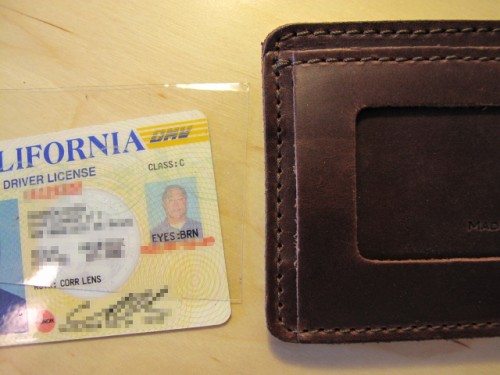 I think the results look pretty good!  The window doesn't show all the information on a California driver license.  Be prepared to pull the whole thing out if if asked!  At least the main photo is unobstructed.
Note that the card slot BEHIND the driver's license is deeper than the other two on the reverse side, so cards actually hide completely from view.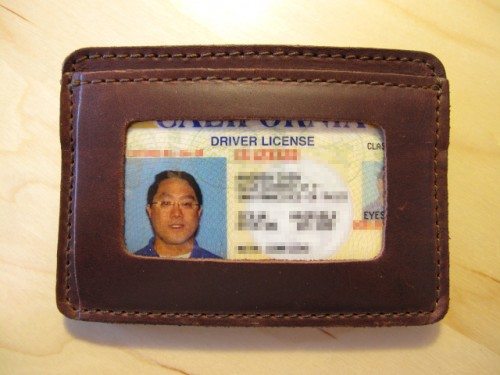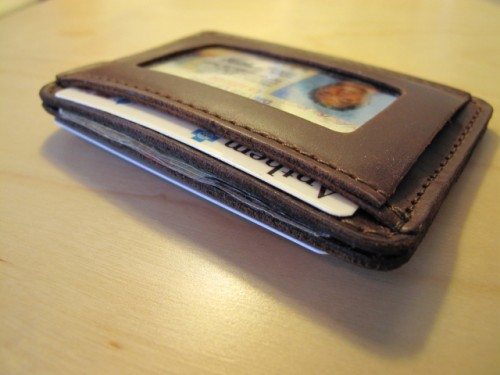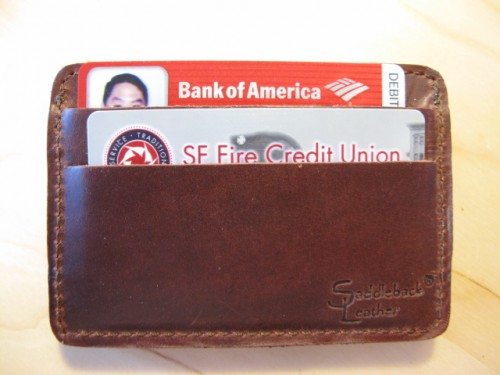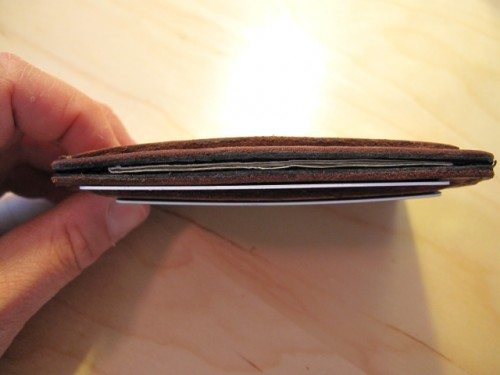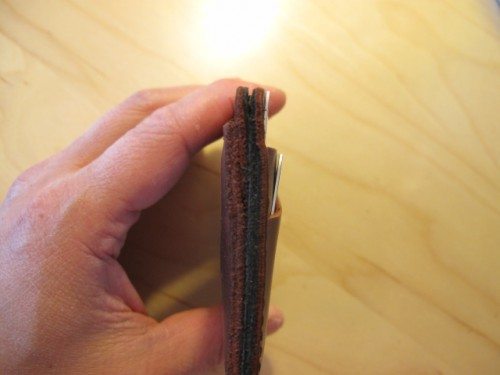 I realize there is the possibility that I may have to carry more cards in this wallet, or more cash.  I grabbed a total of nine old cards and shoved three in each card slot to see what would happen.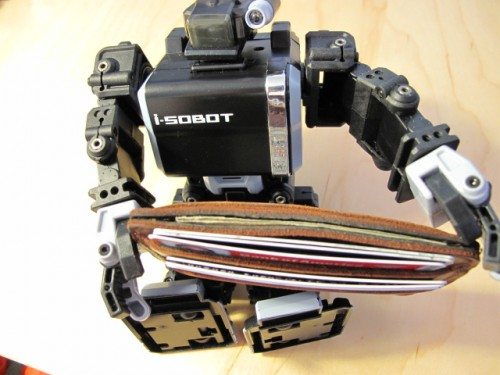 It's a little hard to tell, but there are actually nine credit cards, one driver's license, and three bills.   It fit OK but the cards were very difficult to remove!
So I went back to my rather sedate configuration of one credit card, one ATM card, one health insurance card, a driver's license and some cash.  My Saddleback Small Wallet is happy.
Update 01/22/15
Since I wrote this, I've used other wallets small and large, but I've returned to the Saddleback.  Still sturdy, still slim, still looks great with age.
Updates 03/15/16
It's now been over 5 years, and I'm using the Saddleback Leather small wallet. The leather continues to wear nicely, and shows no signs of falling apart.
Source: The sample for this review was provided by Saddleback Leather Company. Visit their site for more info.
Update 07/03/16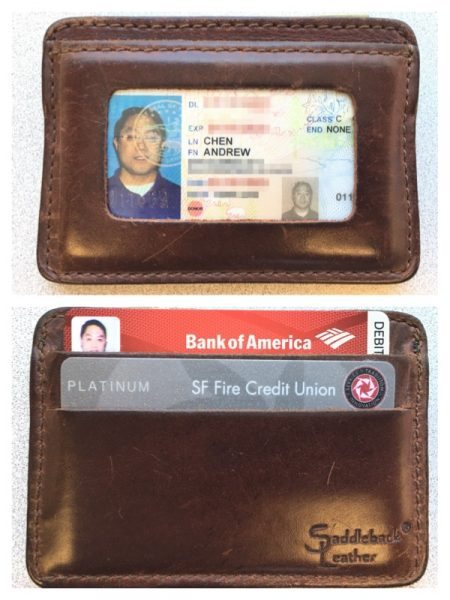 It never occurred to me to add a photo, but this is what the wallet looks like after nearly 6 years.  It's still sturdy and shows no signs of giving up.
Note: The links to Saddleback Leather Company on this page are affiliate links. If you use one of these links to make a purchase, we will earn a small percentage of the sale, so we appreciate it if you click through.
Support The Gadgeteer
:
The Gadgeteer is supported by readers like you! If you buy something through the links on our site, we may earn a small affiliate commission. Thank you! Learn more.
Product Information
| | |
| --- | --- |
| Price: | $29 |
| Manufacturer: | Saddleback Leather Co. |
| Pros: | Built to last. 100 year warranty. |
| Cons: | Not for those who carry LOTS of stuff in their wallets. (Saddleback has different wallets for that!) And, you may get strange glances as you lovingly sniff the leathery aroma from your wallet. |