We use affiliate links. If you buy something through the links on this page, we may earn a commission at no cost to you. Learn more.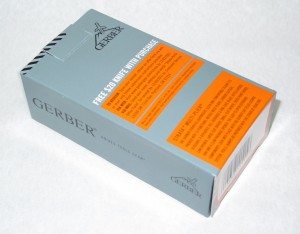 I suppose for many of us who write for or read this fine blog our fascination with 'gadgets' probably started with our first "Swiss Army Knife".  My  'junk box' still has most of the ones I've owned over the years, but my answer to the question "How many gadgets is enough" will always be the same, "Just One More!!" It is with that in mind that I present the Gerber Strata, one serious multi-tool.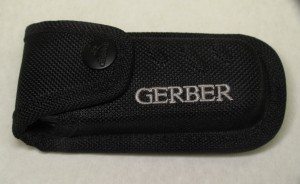 If you read Gerber and thought you'd be reading a review of a baby food jar opener or something like that, you'd be thinking of the OTHER Gerber.  This 'baby' is made by Gerber Gear.  To quote from the company's website:
Joseph R. Gerber started Portland, Oregon's Gerber Advertising back in 1910. For client Christmas gifts in 1939, he hired a local knife maker to craft 25 sets of kitchen cutlery. The knives and presentation walnut boxes and literature were so popular, Mr. Gerber asked his sons Ham and Pete to launch a new business, Gerber Hand-Made Blades, which became what we know today, Gerber Legendary Blades.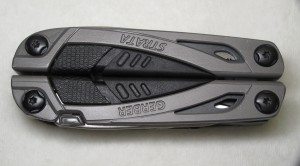 I'd be careful going on their website if you are weak in the credit card, as their tool and knife options are many!
The Strata is a listed as a "butterfly opening" tool.  Of course opening the Strata brings out the very sturdy plier jaws.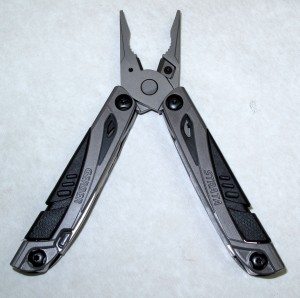 In each handle is stored approximately four other "appendages".  The listed tools are: pliers; carbide pinch cutters;  saw; 1/2 fin edge and serrated blade; can and bottle opener; scissors; large flathead driver; retail package opener (Yeah!) and small flathead driver; large Phillips head; and small tipped file.
I gave the tool a good workout on an up-North trip a few weeks ago (Explanation: here in Michigan, generally when you go on vacation you go "Up North" to beautiful Northern Michigan). The saw worked well on 1″ branches.  Bottle opener, check.  Bottle opener, again, check!  The scissors, while being a bit difficult to get into position,  cut paper well. The screwdrivers worked well as long as a great deal of torque was not necessary.  The pliers are the most sturdy tool in the set, which makes sense as they are the largest, so if you use pliers a lot, then this model if probably the one for you.
The technical specs are as follows:  length 6″; folded length, 4″; weight 7.4 oz.
In this view you can see the locking/unlocking mechanism on the handle.  It is the black sliding portion of the handle just below the black hex bolt.  You slide this to disengage whatever 'appendage' you are using to be able to fold it back into the handle.  I found it a bit awkward at first, but got the hang of it.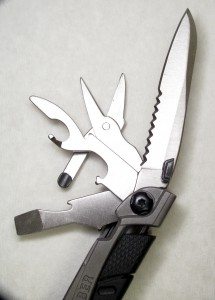 Below are photos of the  'appendages' in the other handle….and a closeup of the pliers.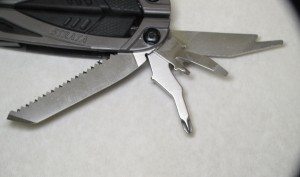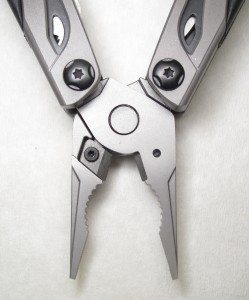 This is a very well built tool. As such, it carries a bigger price tag, $104.  Again, I warn you about their website!  Lots of stuff.  If the layout of this tool is not exactly what you are looking for check out their site, you will probably find something that will work for you (or that you want just because it is so darn cool!)
Product Information
| | |
| --- | --- |
| Price: | $104 |
| Manufacturer: | Gerber |
| Pros: | |
| Cons: | |