We use affiliate links. If you buy something through the links on this page, we may earn a commission at no cost to you. Learn more.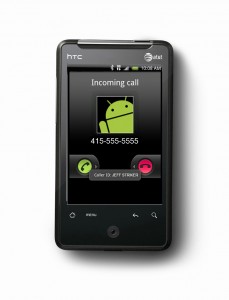 First Orion is launching PrivacyStar for Android, which will display the name of the caller as the phone is ringing – even if that person is not in your address book. PrivacyStar will give Android users the same level of Caller ID service that has only been found on landline phones. The application accesses the same data source as landline Caller ID plus other databases for more thorough mobile phone identification. There are a few caveats to this application. First, it requires Android operating system 1.6 and higher. That's not a big deal though. The bigger issue is that CDMA phones require a connected WIFI for Caller ID. And lastly, this service will run you $2.99 a month. Downloading the app will give you a 7 day trial though. Full press release after the jump.
First Orion Launches PrivacyStar Application for Android Featuring Caller ID
Powerful Privacy Solution Provides Unlimited Call Blocking, Caller ID, Caller Lookup, Ability to Report Telemarketing Violations and More
CONWAY, Ark. – August 5, 2010 – First Orion, a corporation with a significant intellectual property portfolio dedicated to phone privacy and preference, today announced the availability of the PrivacyStar application for Android smartphones. PrivacyStar is a feature-rich privacy application providing comprehensive and unlimited call blocking, the ability to report violators of Do Not Call laws to the relevant authorities in the United States and Canada and new to mobile phones – Caller ID*.
PrivacyStar is available for download at the Android Market.
"We are excited to introduce PrivacyStar to the Android community," said Jeff Stalnaker, CEO of First Orion. "PrivacyStar offers a host of features that will appeal to everyone who wants to increase the functionality of their phone, from unlimited call blocking to our newest, groundbreaking addition – Caller ID. PrivacyStar is the first app that provides mobile users with the same Caller ID service that consumers typically have on their landline phones."
PrivacyStar's Caller ID is the first of its kind on mobile phones. Taking the same level of service that is usually found only on landline phones, PrivacyStar displays the name of the person who is calling as the mobile phone is ringing or buzzing. Current PrivacyStar subscribers have been enjoying caller look-up by looking up the name of the person via their call log. Now along with caller lookup, PrivacyStar users can immediately see who is calling and then make a decision to answer or not.
PrivacyStar's versatile call blocking functionality gives Android users the ability to block individual numbers, entire area codes or all private and unknown numbers. PrivacyStar subscribers can enter wild card numbers to block an entire area code or to stop potential spoofed numbers.
PrivacyStar's unique feature-set also includes, SmartBlock, which proactively blocks the most blocked numbers as determined by all PrivacyStar users. Users are able to select SmartBlock in their app settings menu to keep known nuisance callers from reaching them. Do Not Disturb with automatic text messaging enables users to send a custom text message while sending callers to voicemail.
Never miss one of our posts again. Sent MON, WED, and FRI with the latest gadget reviews and news!
PrivacyStar remains the first and only mobile app that captures detailed information about possible telemarketing violations including date, time, number and identity and automates the process of supplying this information to law enforcement authorities for further action.
All Do Not Call complaints and blocked calls can be managed, including unblocking, from a personal web portal that is automatically synced with the device.

PrivacyStar Features and Benefits
Simple to Use – After receiving an unwanted call, select the number from the call activity list in PrivacyStar to add to the Privacy List and that call will be blocked in the future
Caller ID – While the phone is ringing, PrivacyStar displays the name of the calling party
Caller Lookup – PrivacyStar Caller Lookup allows a user to identify unknown callers by name and take appropriate action, such as adding to the contacts list or Privacy List
SmartBlock – Employs crowdsourced data from PrivacyStar users to automatically block the top offenders – kept current according to user activity
Do Not Disturb – Forwards all non blocked incoming calls to voicemail and sends a custom text message acknowledging the call
Report Potential Telemarketing Violations – Upon the user's request, PrivacyStar captures detailed information about possible violations including date, time, number and identity. PrivacyStar allows users to easily provide this information to law enforcement authorities so they may take action
Web Portal – Utilize the fully integrated personal web portal to manage the PrivacyStar account, block and unblock callers, and perform number look-ups. The portal also provides additional details on violations
Pricing and Availability
PrivacyStar for Android is available for a no risk free 7-day trial period. For continued service, PrivacyStar is available for $2.99 (USD) per month or for discounted semi-annual and annual periods. PrivacyStar is available for download at the Android Market, or http://www.privacystar.com.
About PrivacyStar
PrivacyStar provides Caller ID and also allows users to lookup callers not in their address book, block unwanted callers, report Do Not Call Registry violators to authorities and provides capabilities focused on allowing users to take control of their mobile phone. PrivacyStar is also available for BlackBerry smartphones and can be downloaded at App World.
About First Orion
First Orion delivers the only network-based privacy and preference service to wireline, wireless, VoIP users and smartphones. First Orion has patented numerous privacy and preference solutions and is based in Conway, Arkansas. The company provides consumers the best in phone privacy solutions.
###
*Requires Android operating system 1.6 and higher. CDMA phones require a connected WIFI for Caller ID.
First Orion and PrivacyStar are registered trademarks of First Orion, Corp. All registered or unregistered trademarks are the sole property of their respective owners.