We use affiliate links. If you buy something through the links on this page, we may earn a commission at no cost to you. Learn more.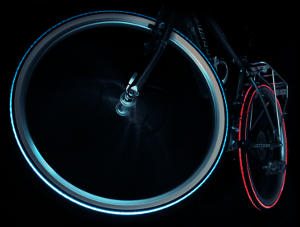 We may soon be seeing self-powered LED illuminated tires on our bicycles. NightBrightTyre has announced the CYGLO Tire, which uses a motion sensor within the tire to switch on high powered, tough and durable LED bulbs when the bike starts to roll. These LEDs are built into the tread or wall of the tire and can either flash or glow steady, so when the wheel turns at any speed, a perfect ring of light is formed. No word yet on availability or pricing. Full press release after the jump.
Today, NightBrightTyre (NBT) announced a unique breakthrough in cycle safety – CYGLO Tyres.
CYGLO Tyres is a patented technology allowing any tyre to have high powered LED bulbs installed into
the tread or potentially the wall of the tyres. The bulbs can either flash or be permanently displayed
with a variety of operation modes.
The CYGLO Tyre invention made its debut in 2002 on the hit BBC TV Show Tomorrows World – Best
Inventions shortly after inventor James Tristram came up with the idea, and won the program by a vast
majority. Now, 8 years later and patent granted, NBT has BBC Dragons Den star Dominic Killinger as
Chairman and announces the official launch of CYGLO Tyre.
NBT is currently introducing CYGLO to a number of global tyre and bike manufacturers as well as
distributors from across the world, planning the mass introduction of this giant leap forward in cycle
safety. At the same time, NBT has approached the EU Nocturnal Safety Department about how this
breakthrough can contribute towards the 2013 Euro NCAP safety standards for the need to feature
illuminated or reflective materials on vehicle sides, a requirement for all vehicles manufactured after 2013.
Additionally, Chairman Dominic Killinger said "it's possible that CYGLO Tyre could eventually
supersede the Road Vehicle Lighting Regulations need for reflectors on bicycles by massively
enhancing the visibility of cyclists on todays roads." He continued "for those thousands of people that
use a bike for work, like postal workers, police, paramedics and couriers, this is a breakthrough in road
cycle safety that hasn't been seen for decades, probably since the bell was introduced!"
NBT are now seeking a partner that can turn this invention into a mass produced commodity, adding
just pence to the cost of a tyre, there is nothing to stop every bike from having CYGLO, permanent
safety running lights like all other road going vehicles today.
CYGLO Tyres can use flashing blue or red lights for the emergency services using bicycles, simple
red for the rear and white for the front for everyday cyclist or a multitude of colours flashing or solidly
displayed for the millions of recreational bikers out there.
CYGLO Tyres are set to revolutionise cycling safety and aren't just limiting themselves to bikes, they
could even explore being used on motorcyles, cars and utility vehicles especially after the recent
announcement of Mini introducing illuminated tyres.