We use affiliate links. If you buy something through the links on this page, we may earn a commission at no cost to you. Learn more.

As I mentioned before, it is very interesting what you find at Google Labs. The latest gem is Gesture Search. Gesture Search is an Android application that allows you to write on the screen and have the application search in any, or all, of the following categories:
Contacts
Bookmarks
Application Names
Music
The process reminds me a lot of using Graffiti on my old Palm (*sigh* I actually miss Graffit). Anyone remember TealScript? The difference here is that you do not need to learn special stokes, you literally write the letters. The brilliance of this implementation is that the application does not need to determine if your scrawl was a "D" or an "O", it can just search based on it being either of those two letters. It's not trying to do OCR, it is trying to help you search.
After downloading, the settings are very straight-forward: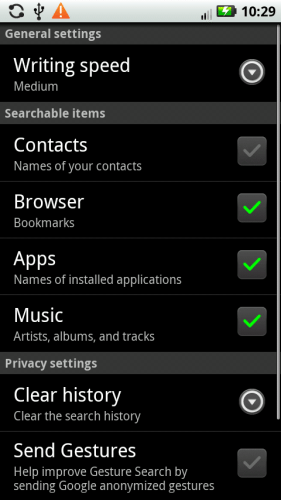 I find the fastest speed to be fine. It controls how soon the application decides you have finished with the letter. I tried to set it to slow to get screen captures of the on-screen writing, but that did not work. Thankfully they had examples in the online help, they follow:
From a blank screen you write the first letter.

The list contains matches to the first letter (notice it thinks "A" or "H"). Now you write the second.

Now it shows all the potential matches. It interpreted the second as "n". There is no "HN", so it shows all the matches to "AN".

Tap on the desired item.
It works quickly, and well. I wish that there was a way to make it pop up automatically. You can place the icon on your home screen for easy access. If you do a poor job tracing a letter, a simple right-to-left swipe deletes the last character.
It is a simple application, but has definitely earned a place on my Android.
Product Information
Price:
Free
Manufacturer:
Google Labs
Pros:

Free
Easy to configure
Good character recognition

Cons: