We use affiliate links. If you buy something through the links on this page, we may earn a commission at no cost to you. Learn more.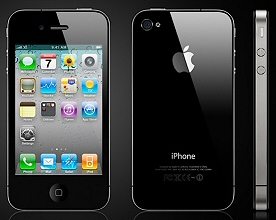 Just this afternoon, Apple CEO Steve Jobs unveiled the much-rumored newest generation Apple smartphone, now officially-named iPhone 4, during his keynote speech at WWDC 2010.  He began by stating, "There are over 100 new features, but I'm going to cover 8. The first one? An all new design."  I'm sure there will be more detail revealed about all of this over the next several weeks, but here's a rundown.
9.3 mm thick – 22% thinner than iPhone 3GS
Glass front and back
Stainless steel case perimeter which acts as part of the antenna system
Micro SIM card tray
Front-facing camera
LED flash on rear camera
"Retina Display" – same 3.5 inch size, but 960 x 640, 4x the pixel density of iPhone 3GS and 78% of the pixels on the iPad
Apple-designed A4 processor chip
Larger battery than iPhone 3GS for increased usage time
Quad band HSDPA, 7.2Mbps
Dual microphones
802.11n WiFi
New gyroscope linked to compass and accelerometer for "six-axis" input control
5 megapixel camera with backside illuminated sensor
Records 720p HD video at 30fps
iMovie for iPhone (in App Store for $4.99) to edit video right on the phone
iPhone OS 4 operating system–now re-named iOS 4–including previously unveiled features like app multi-tasking, folders for apps, unified email inbox with message threading
Micrsoft's Bing added alongside Yahoo! and Google search engines
iBooks for iPhone – wireless download, syncs to iPad or iPod Touch
iAd – "emotion + interactive" ads
FaceTime video calling – no setup, WiFi only, iPhone 4 to iPhone 4
Available in black and white
$199 for 16Gb, $299 for 32Gb
AT&T upgrade offer – if your contract expires anytime in 2010, you can upgrade to iPhone 4
On sale June 24 (pre-orders start June 15)
Accessories – a dock; a "bunker" case in various colors for $29.99
Also announced, iOS 4 free upgrade for iPhone 3GS and latest-gen iPod Touch available "soon" (possibly June 21).
And, only a few minutes ago, Apple updated its website to feature iPhone 4.
[Info above from engadget LiveBlog.]