We use affiliate links. If you buy something through the links on this page, we may earn a commission at no cost to you. Learn more.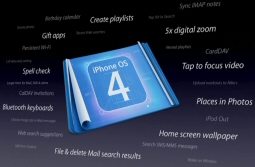 By now I'm sure most Apple/iPhone fans, or general gadgetophiles, are aware that last week Apple unveiled a sneak peak of the this summer's upcoming iPhone OS 4.  If you're curious but didn't feel like taking the time to watch the hour-long keynote, here is some addition info.
Apple iPhone OS 4 Event was held last Thursday (8 April 2010).  Per standard modus operandi, Apple CEO Steve Jobs was master of ceremonies for the event, which also included several additional speakers.  The bulk of the presentation was a sneak peak of the upcoming iPhone OS 4.  A video of the roughly hour-long keynote presentation can be viewed via the Apple website.  For anyone who is curious, many of the talking points from both the Apple website and the keynote presentation itself are below.  Please note that there is currently a lot of speculation and discussion on the web about iPhone OS 4, but this post only includes what was presented in the keynote presentation.
Developer Features
Over 1500 new APIs (Application Programming Interfaces) for application developers in the iPhone OS 4 SDK (Software Development Kit).   A sampling of what was presented: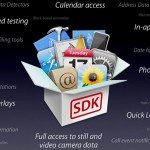 Calendar access
In-app SMS
Photo Library access
Quick Look
Full access to still and video camera data
Full map overlays
Accelerate
Automated testing
Power analysis tools
iPod remote control accessories
User Features
Over 100 new or updated user features in iPHone OS 4.   A sampling of what was presented: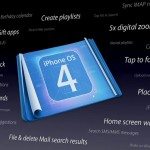 5x digital zoom for Camera app
Playlists on iPhone
Tap to focus on Video app
Added places in Photo app for geotagging
Change home AND lock screen wallpaper
Bluetooth keyboard use
Spellchecker
Gifting apps
Birthday calendar
File & Delete email search results
"Tentpole" Features
In addition to the above-mentioned new or updated features, the bulk of the presentation focused on seven so-called "Tentpole" features:

1. Multitasking
Developers will have access to seven multitasking services (listed below), which will allow tasks to be performed in the background while preserving performance of the foreground app and overall battery life.   So you'll be able to make a Voice over IP call while playing a game or checking email, find a restaurant on Urbanspoon while listening to Pandora, and more.  Per Steve Jobs, "We weren't the first to this party, but we're gonna be the best." It will work by double-clicking the Home button within a running app, which will bring up a bar at bottom (similar in appearance to the row of "dock" icons already at the bottom of the iPhone screen) that displays all apps currently running—scroll to the app you want and tap the icon to select.  Games will have a countdown to give you time to get ready to re-start where you left off.  The seven multitasking services are:
Background audio – Think Pandora.  Streaming audio in the background while continuing to perform other tasks.  We've always been able to do this with the iPod app and other Apple-native apps, but now we'll be able to do it with 3rd-party apps too.
VoIP – Think Skype.  Similar to the above, streaming Voice over IP in the background while continuing to perform other tasks.  Will also now be able to answer Skype calls when the iPhone is locked.
Background location – Two types, GPS for turn-by-turn directions (think TomTom) and cell tower for power preservation (think social networking like Loopt).  Also adding a location indicator to the upper right of the status bar, and users will have the ability to enable/disable location requesting by app, as well as an indicator icon displaying if an app has asked for the user's location in the last 24 hours.
Push notifications – Pushed through an Apple server to your iPhone
Local notifications – Sent to you from a local app
Task completion – Think flickr.  Say you're uploading a bunch of pics to flickr, but don't want to wait for it to finish.  It will continue the upload in the background even if you switch to a different app.
Fast app switching – The running foreground app stores its state and preserves it in background for when you return to the app.

2. Folders
Get faster access to your favorites by organizing apps into folders with drag-and-drop simplicity.  And browse and manage up to 2160 apps at once — many more than the current limit of 180 apps.
Drag and Drop UI – Touch and hold the icon, drag and drop it to another icon to create a folder.
Intelligent naming – OS 4 intelligently auto-names the folder based on the App Store category of the apps that you are grouping.  Folder names are editable.  Folders can be moved just like app icons.
180 –> 2160 apps – The upper limit of apps goes from the current 180 to 2160.

3. Mail
See messages from all your email accounts displayed together in a unified inbox, switch between inboxes more quickly, organize messages by threads, and open attachments in third-party apps.
Unified inbox – All of your email addresses come into one inbox
Multiple Exchange support – Now supporting more than one Microsoft Exchange email accounts
Fast inbox switching – Move quickly between inboxes with just a few taps
Threaded messages – A indicator will be displayed for emails that are part of a thread of related messages
Open attachments with apps – Open attachments from any App Store app.

4. iBooks
Easily flip through the pages of a book you've downloaded from the iBookstore while listening to your music collection. Browse tens of thousands of books — many of them free — by title, author, or genre. You can even check out reviews and read sample pages before you buy.
"Delightful" ebook reader – Steve Jobs' word, not mine!  😉
iBookstore – Same as for the iPad
Buy once, read anywhere – Buy once on any Apple device, transfer to any other Apple device for no additional charge
Sync page and bookmarks – Wirelessly sync your current page and bookmarks between Apple devices
Free Winnie the Pooh – Hey, who doesn't like Winnie the Pooh?

5. Enterprise
iPhone OS 4 offers more useful features for businesses. With enhancements to security, scalability, and compatibility, IT managers have even more reasons to deploy iPhone throughout their enterprises.
Even better email protection
Mobile Device Management
Wireless app distribution
Multiple Exchange accounts
Exchange Server 2010
SSL VPN support

6. Game Center
Later in 2010, Apple will be launching Game Center, with which it hopes to further cash in on the ever-increasing popularity of the online gaming community.
Social gaming network – Seems like an obvious combo
Invite friends – Challenge your friends to a game over your device

Matchmaking – Automatically searches for players of similar ability
Leaderboards – Compare your results with your friends
Achievements – See how you are progressing through a game and compare to your friends.


7. iAd
iAd is a "breakthrough" mobile advertising platform from Apple. With it, apps can feature rich media ads that combine the emotion of TV with the interactivity of the web. For developers, it means a new, easy-to-implement source of revenue. For advertisers, it creates a new media outlet that offers consumers highly targeted information.
Emotion + interactivity – Basically they are going for a combo of TV-quality ads and interactive web ads
Ads keep you in your app – Won't have to find your way back to where you started once you are done with the ad
Built into iPhone OS – Ad software is integral to the OS and therefore hopefully quicker and more stable
Apple sells & hosts adds – Centralization for simplification (and allows Apple to maintain control)
60% revenues – > developers – $$ in developer's pocket, $$ in Apple's pocket.  Pitched as a win-win.
Availability & Compatibility
iPhone OS 4 will begin shipping "this summer" for iPhone 3G and 3GS and iPod touch – 2nd gen and 3rd gen (32 & 64 Gb models).  However, iPhone 3G and iPod touch – 2nd gen hardware will not support Multitasking and possibly some other features.  OS 4 will begin shipping for iPad "this fall."
Commentary
As alluded to at the top of this post, I realize that there has been much speculation, excitement and criticism over the iPhone OS 4 announcement.  But as an iPhone 3GS owner, I for one am excited about the new features described above.  Hopefully The Gadgeteer will be able to give a detailed review of iPhone OS 4 this summer.