We use affiliate links. If you buy something through the links on this page, we may earn a commission at no cost to you. Learn more.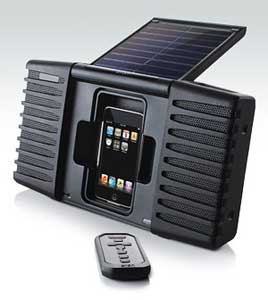 Two weeks ago Janet reviewed the Etón SolarLink FR360 Emergency Preparedness Digital Radio and today Etón has announced a new product for the iPhone / iPod touch. It's the Soulra Sound System, a splash proof speaker system with a flip up high efficiency solar panel and a rechargeable lithium-ion battery that delivers power to charge and play your iPod or iPhone. It also has a battery indicator that lets you know when it's time to charge via AC or sunlight. Available now in Black for retail $199. Full press release after the jump.
(Palo Alto, CA – June 2, 2010) – Etón, a leading emergency preparedness company and creator of green-powered electronics for everyday adventures, announces Soulra – the new portable, solar-powered sound system for iPod and iPhone. Featuring a large solar panel and a rubberized exterior, the Soulra provides a portable sound solution that you may never have to plug in – providing hours of sound powered by the sun.
POWER
As a new self-sustaining sound system on the market, the Soulra provides portability for an on-the-go lifestyle. The Soulra contains a large, high-efficiency solar panel and a rechargeable lithium-ion battery that delivers power to charge and play your iPod or iPhone. In addition, the battery charge indicator alerts you when you need to recharge the Soulra in direct sunlight or via an AC outlet.
PROTECT
To provide a solution for all-weather use outdoors, the Soulra has an aluminum and rubberized body providing ultimate durability, while maintaining a modern, sleek design.  Its rugged case is IPX-4 splash proof and the speakers are sealed on the inside – providing protection from sand, water and other outdoor elements.
PLAY
Soulra's full-range speaker drivers provide crisp highs, balanced mids and bass-boosted lows.  The Soulra also contains an audio line input for added flexibility.
"There has been a void in the consumer market for a quality, green-powered digital music player and we are excited to make this never-been-seen introduction with the Soulra," said Esmail Amid-Hozour, CEO of Etón Corporation. "Not only does Soulra offer an unmatched level of performance and technology, but it also comes to market with rugged good looks. Whether you are camping, spending a day at the beach or tailgating – the Soulra will be a mainstay at any outdoors event."
Available now in black for retail $199, Soulra comes packaged with an AC adapter, remote control and user manual. For more information or to purchase the system, visit www.etonsoulra.com.
About Etón Corporation
Headquartered in Palo Alto, CA, Etón Corporation is an established leader in providing trusted emergency preparedness and outdoor products for more than 25 years. A brand that is constantly evolving, Etón has a history in providing products that harness the power of the sun and provide people with essentials like Light, Information and Energy in times of emergency. Etón is a proud supporter of the American Red Cross and American Park Network, making annual donations to each organization, in part through the sale of its emergency preparedness and outdoor products. For more information on Etón Corporation, please visit www.etoncorp.com.