We use affiliate links. If you buy something through the links on this page, we may earn a commission at no cost to you. Learn more.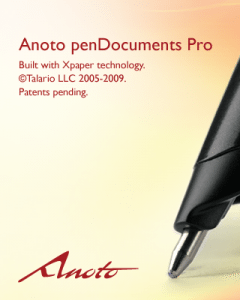 I received Anoto penDocuments Pro for review. This is a combination of a digital pen and software that allows you to:
Print a document with the printer driver
Write on the document with the digital pen
Sync with the application
Once synced, the written information is combined with the original document and can be shared via PDF. The included software allows you to manage the documents, and there is also the ability to interface with other systems.
Anoto is a Swedish company and developed the technology behind products like the Livescribe Pen and the Logitech Io2 pen. I am a big fan of my Livescribe pen so I was very interested in looking at this technology. Since my day job is writing training and reference materials I thought this would be a very interesting solution for document review. Little did I know how much more there is to this product.
This is not the typical Gadgeteer item. This product is geared more to vertical markets than something you would go down to your corner Best Buy to purchase. Out of the box, it does some impressive things, but as part of a system it really shines.
What's in the box
DP-201 Digital Pen
CB-201 stand
PC-201 adapter (fits in stand to complete sync cradle)
USB cord
2 Caps
3 refills
CD-ROM
Manual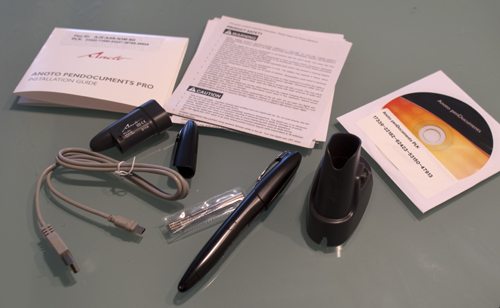 The Technology
The underlying technology is the same used for the Livescribe pen (and other tools). I have had a Livescribe for over a year (thanks to Julie's previous review) and have found it to be a great addition to my technology tool kit. The digital pen works by reading a unique dot pattern on the page. With this package, you create the document on your printer. Here is a close-up of the setup page you print when setting up the application: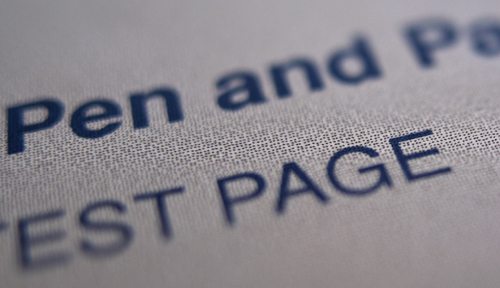 The pattern gives the printed document a light-gray background. Unless you look real close, you probably wouldn't even notice the pattern. The camera in the pen, however, uses this pattern to record your pen strokes and identify the unique document page you are working on.
The USB Dock
The included hardware is very modular. The adapter  has a mini-USB port to connect to your computer. The adapter slides into a stand to form a nice docking station. The pen slides easily into the adapter to dock the pen. In addition, the pen comes with 2 caps in case you lose one. Here is a picture of the bottom of the assembled dock: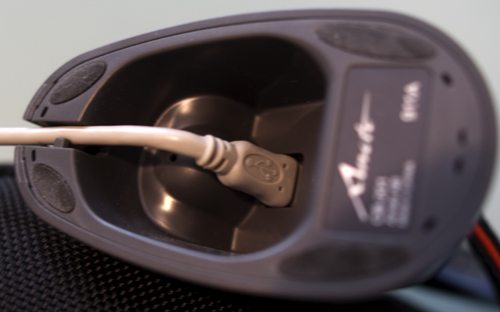 The Digital Pen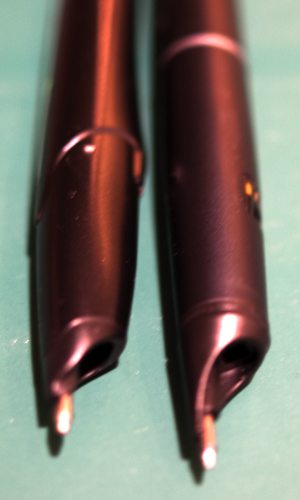 The pen is very similar to my Livescribe pen, with a number of notable improvements. Here is a shot of them side by side. The Livescribe is on the right.
Sometimes it's the little things that stand out in a gadget. The pen has an elliptical cross-section that prevents it from rolling off the table (unlike my beloved Livescribe). It also comes with two caps. Having a backup is helpful, because there is  no on and off switch. If the cap is off, the pen is automatically on. Given the vertical markets this pen is used for (medical and others) this is an excellent design. I have experienced frustration on multiple occasions when I discovered too late that I had forgotten to turn on my Livescribe.
You can see that the pen tips of both pens are similar. The design allows for the small camera used to record the pen strokes.
The Software
The penDocuments Pro package consists of two software components. The penDirector application manages the transfer of information to your computer and the penDocuments software manages the documents produced. Both applications are Windows-only and worked fine in Windows XP and Window 7.
penDirector

This application runs in your system tray. If your pen is docked, you can hover over the icon to see the status of your pen. This includes charge level as well as the estimated write and standby time.
When you dock your pen, the penDirector automatically downloads any information currently on the pen and clears the memory of the pen by default. You can change this, but there is really no reason to leave the data on the pen.
penDocuments
This application stores and manages your documents. Your first task when opening this application is to setup a printer. The preference is an Okidata color laser printer (the site lists multiple models), but the minimum requirements are:
Required:
600dpi output, or a multiple thereof (1200, 1800, 2400, …)
Carbon-containing black toner/ink and carbon-free color toners/inks (this is true of most printers)
Preferred:
Color printer
PostScript 3 (PS3) printer driver
Or, while not providing the best performance, still functional…
GDI (or host-based) printer driver
I have a Canon MX860. It is color, but is not a PostScript printer. I was able to set it up fine. However, if this was a solution I was going to implement, I would look into a PostScript color laser.
When you setup the printer, penDocuments generates a test page for you to fill out. After filling it out, you dock the pen to see the results: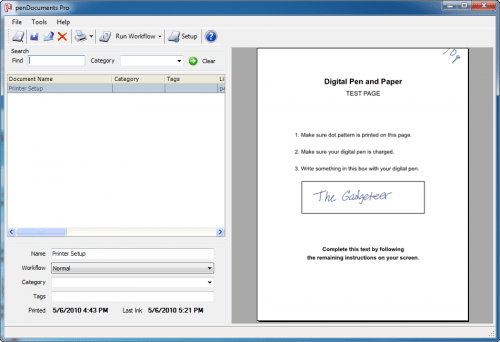 I intentionally printed off the edge of the dot pattern. You can see a picture of the top-right corner here: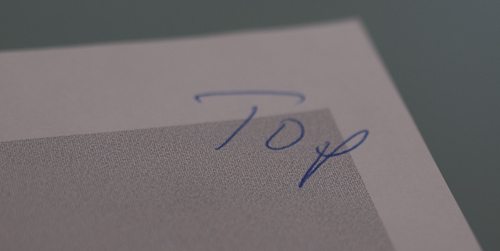 Printing
Once you have set up the application and a printer, you can create a new document by printing in Windows to the Anoto Print driver. This outputs the document with the required dot pattern and adds it to the penDocuments library.
You can also do a quick print of standard documents. Initially you have the option of a grid printout, lined page printout, or 20 page "notebook" of either. If you have common forms you use a lot, you can add them to your Quick Print list. For example, if you are a property management company, you can print the standard rental agreement, add it to your quick print list and now you can print it out with a few quick clicks.
Organization
Documents stored in the application have names as well as categories and tags you can assign to them. In addition, meta data is stored including date and time of last update as well as what pen updated the document.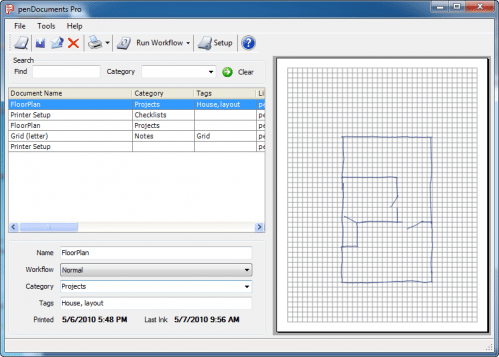 But this system goes way beyond simply recording your penstokes to one PC. It is designed to be scalable with the use of various connectors to other systems and the ability to define workflows.
Connectors
Connectors are add-ins that leverage the information you enter with the pen. These include connectors to multiple versions of Outlook, SharePoint, Nuance eCopy PaperWorks, Projectplace, as well as a generic HTTP connector. In addition there are tools and information to create custom connectors.
Workflow
You can define workflows for your documents that define what application is launched.
Bluetooth
The pen also supports bluetooth. You need to enable the mobile option when printing the document (it adds a checkbox). Once paired, you can submit your information by checking a printed box on the form.
More Information
Anoto has a number of helpful videos explaining their products, but they disable embedding, so I cannot provide them here. You can go to YouTube to view an 8 minute pitch on penDocuments as well as their intriguing product penPresenter, which uses the same technology to let you control and annotate a running PowerPoint presentation with a digital pen and slide print outs. To see an example of an implemented solution, I highly recommend the 2-minute look at Safelite.
Also, if this sounds like a good solution for you, Anoto has a number of other case studies on their site.
The package is $499 for the pen, software, and license. You can add additional pens to the setup, but that will require additional licenses. The pen is available through resellers, and there are opportunities for discounts for multiple purchases.
Is It Worth It?
I have worked on a number of projects involving collecting data in the field, and I can say this is a very competitive product. The interface is basically pen and paper (bad for folks like me who make a living training others) and the availability of connectors to popular systems as well as the ability to create your own makes this a very versatile product. If you need a system to collect and manage data, this is a great solution.
Bottom Line
With the proper work in setting up the software on a PC, Anoto penDocuments serves as a seamless interface to a potentially sophisticated system. All the user of the pen needs to know is how to write on the prepared paper. They don't even have to think about making sure the pen is on. Once they dock the pen (or check the transmit box if they are using bluetooth) they are done.
I really like the underlying technology. This is not a good solution for me (I am an independent instructional designer) but would be a worthwhile investment for a larger organization, especially if they needed to collaborate remotely with multiple people. I also imagine it works very well in large healthcare implementations (it is deployed in a number of them now) as well as other areas where you want to quickly share information. Essentially, the printed document can remain as a backup while the information is quickly shared electronically. It is an expensive solution, but for the right situation is a great value.
Product Information
Price:
$499.00
Manufacturer:
Anoto
Pros:

Quick and Easy Digital Capture of handwriting
Available add-ins to connect to popular systems
Ability to program your own solution

Cons:

Expensive for individual use
Windows-only