We use affiliate links. If you buy something through the links on this page, we may earn a commission at no cost to you. Learn more.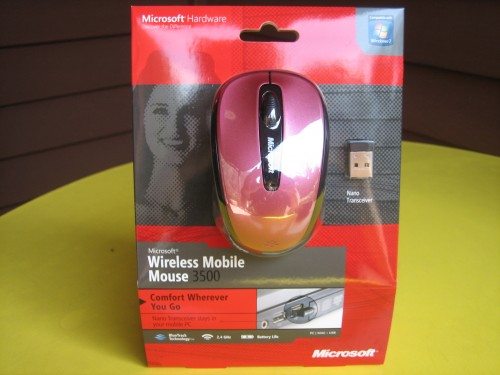 You're probably saying "do we really need another mouse?".  These were my sentiments before I received the Microsoft Wireless Mobile Mouse 3500 (it is a mouthful).  The device does have a hook that makes it a reasonable investment.
I spend a lot of time at the airport and get to see hundreds of business flyers every week passing through security.  It's not unusual to observe several of those flyers retrieve their laptops to put back in the bag and have them bemoan the fact that their mouse dongle was broken off during the process.  The Mobile Mouse 3500 attempts to address this problem.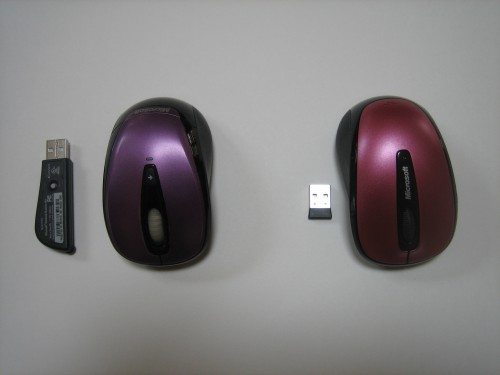 On the left is my previous version of the Microsoft mouse with the 3500 on the right.  Notice the different in the receivers.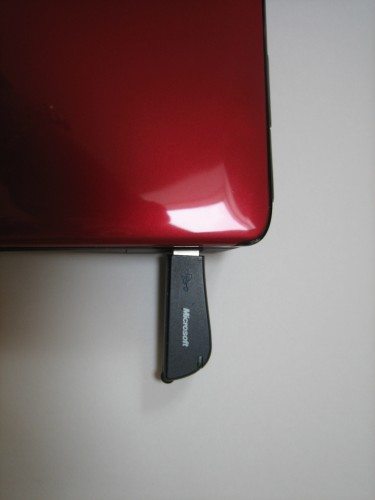 This photo and the next illustrate the contrast between the two devices as they are plugged into my laptops right side usb port..  You can see where the larger receiver would be prone to snagging on the laptop bag.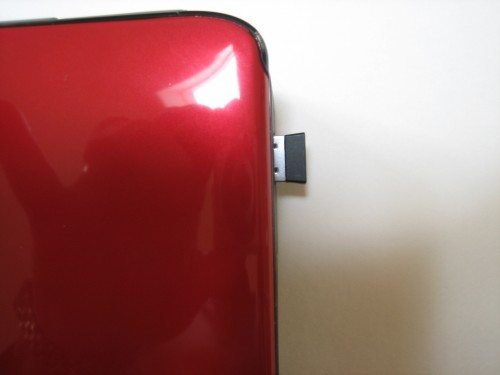 The 3500 receiver extends a modest amount, limiting the possibility of getting snagged.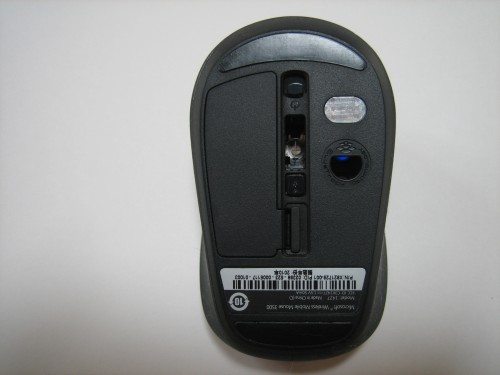 On the underside of the 3500 is a slot to insert the receiver if you need to take it out of your computer.  I have personal experience of the need for this slot.  While testing the mouse and while taking photos, I misplaced the receiver.  If it's not in the usb slot you may want to put it in the mouse.  Sticking it in the slot turns the mouse power off. ( I got my mice confused). Also there is an on/off switch, so when you don't use it for a while you can turn it off.
I had no problem using the mouse on my laptop.  I plugged it in and it was recognized immediately by Windows 7.  For greater control, I downloaded the Intellipoint software which allowed me to adjust several parameters including scroll speed, tracking speed and button configuration.
If you're in the market for a new mouse, the Mobile Mouse 3500 is a reasonable choice.  It comes with 1 AA battery which should last 8 months.  It's small enough to stuff in the laptop bag, but big enough to feel comfortable in my large size hands.  Its laser tracking is precise and works on most surfaces ( not glass or mirrors).  The 3 year warranty and modest price convinced me that this is a good buy.
Product Information
| | |
| --- | --- |
| Price: | $29.99 MSRP |
| Manufacturer: | Microsoft |
| Requirements: | |
| Pros: | Low price, easy install, receiver size |
| Cons: | |