We use affiliate links. If you buy something through the links on this page, we may earn a commission at no cost to you. Learn more.
Product Requirements:
Device:
Palm m100
Once again, PDA
Panache has made an excellent example of a replacement stylus. This time
around, it is for the Palm m100.
.

Similar to their other
replacement styli, the m100 stylus easily fits in the silo and quickly
"locks" in. It can be a little difficult to remove the stylus for the first couple
of days after you first begin using it; but eventually, it loosens up enough
that there is no problem getting it out easily.
Once inserted, the PDA
Panache stylus will sit almost flush with the top of your m100 – it should fit
with any case you put your PDA into, whether it be a book style or a flip-cover
type.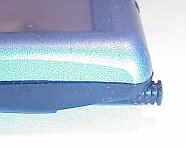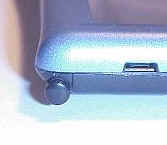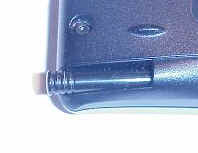 There is a slight nail-head
design to this stylus, which makes it easier to remove – especially during the
"breaking-in" period.
As with other PDA Panache
styli – the bright orange/red tip is smooth, and a pleasure to write with
whether you have affixed screen protection or not.
In case you haven't
noticed – it takes an extraordinarily long pin to reset the m100 – the PDA
Panache easily accomplishes this.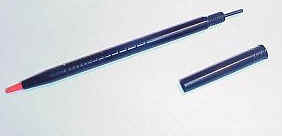 If you have an m100, and are
still using the stock stylus – you should treat yourself with one of the best
replacement styli available!
Price: $14.95  (available
in black or chrome)
Pros:
Great weight
Fabulous tip
Reset pin is correct length to work on m100
Cons:
Difficult to remove from m100 silo during "breaking-in" period
Product Information
Price:
$14.95
Manufacturer:
PDA Panache
Pros:

 
Great weight
Fabulous tip
Reset pin is correct length to work on m100

Cons:

 
Difficult to remove from m100 silo during "breaking-in" period