We use affiliate links. If you buy something through the links on this page, we may earn a commission at no cost to you. Learn more.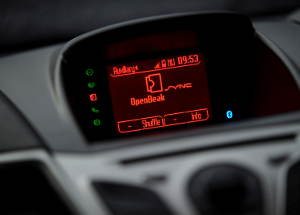 Today Ford is announcing an innovative new SYNC feature called AppLink, which will make Ford the first automaker to be able to voice control smartphone apps inside the car. The first application partners are Pandora internet radio, Stitcher "smart" radio, and OpenBeak which is a Twitter client. Ford is also announcing the first phase in the creation of an app developer community, which will allow Ford to work directly with application owners (such as Pandora), to "enable" their apps to work with SYNC. You can see AppLink in action by checking out these videos:
SYNC AppLink and the New 2011 Ford Fiesta (2:28)
Ford SYNC and Pandora (2:43)
Ford SYNC and Stitcher (5:48)
Ford SNYC and OpenBeak (1:35)
Press release after the jump.
SYNC AppLink to launch on 2011 fiesta, MAKING FORD FIRST TO DELIVER voice control of smartphone apps
Ford will first offer SYNC® AppLink, a downloadable software program, on the 2011 Fiesta, allowing owners to access and control AndroidTM and BlackBerry® smartphone apps with voice commands and vehicle controls
Pandora internet radio, Stitcher "smart radio" and Orangatame's OpenBeak are the first SYNC-enabled mobile applications
Ford to create SYNC developer community with launch of new "Mobile Application Developer Network" (www.syncmyride.com/developer),  giving developers a pathway to partner with Ford on SYNC-enabled applications
Ford's platform approach with SYNC is poised to harness smartphone app development and mobile web access; apps expected to be a $4 billion industry by 2012; analysts predict the mobile device to become the No. 1 source for Internet access by 2015
SAN FRANCISCO, April 20, 2010 – Customers have spoken — asking for safe, convenient access to their smartphone apps while in the vehicle – and Ford is responding by announcing the new SYNC AppLink software that will allow hands-free voice control of popular smartphone apps.
SYNC AppLink, a downloadable software upgrade, will be released for 2011 Ford Fiesta owners with the award-winning SYNC communications and infotainment system later this year, allowing drivers hands-free control of apps on their Android or BlackBerry smartphones via voice commands and vehicle controls. Ford will introduce AppLink on all SYNC-equipped vehicles next year, as well as provide interoperability with iPhone and other smartphones.
"The growth in smartphone mobile apps has been explosive, and Ford has worked hard to respond at the speed of the consumer electronics market," said Doug VanDagens, director of Ford's Connected Services Organization. "SYNC is the only connectivity system available that can extend that functionality into the car. AppLink will allow drivers to control some of the most popular apps through SYNC's voice commands and steering wheel buttons, helping drivers keep their hands on the wheel and eyes on the road."
The Android MarketTM and BlackBerry App World™ are among the leading growth markets for mobile apps. The new SYNC AppLink will seamlessly integrate apps using the vehicle's voice and user interface controls, including buttons on the steering wheel, increasing eyes-on-the-road and hands-on-the-wheel time.
The first SYNC-enabled apps available later this year include Pandora internet radio, Stitcher "smart radio" and Orangatame's OpenBeak app for Twitter, with additional apps on the way. Updated versions of each app, incorporating the SYNC application programming interface (API), will be available through Android Market and BlackBerry App World for customers to download.
Never miss one of our posts again. Sent MON, WED, and FRI with the latest gadget reviews and news!
Built-in, Beamed-in and Brought-in: The SYNC App Ecosystem
From its introduction, Ford has been building an ecosystem of available SYNC apps, continuously improving the consumer experience.
Built-in apps, including Vehicle Health Report and 911 Assist™, are downloaded and installed directly on the in-car SYNC operating system
SYNC apps like Traffic, Directions & Information rely on beamed-in, or "cloud-based," information. Drivers access the Ford Service Delivery Network, a network of data centers providing turn-by-turn directions, business searches, and on-demand news, sports and weather information, through a simple voice-connection using their cell phone.
SYNC AppLink represents the third category of the ecosystem, brought-in apps, leveraging apps installed on a user's smartphone, such as Pandora, Stitcher and OpenBeak
Studies show mobile app development – a niche market just three years ago – is expected to blossom into a $4 billion industry by 2012. Sites serving specific mobile operating systems, such as Android and BlackBerry OS, have experienced massive growth, with analysts predicting the mobile device will become the No. 1 source for Internet access by 2015, surpassing the home computer.
Ford and SYNC will answer the consumer demand by offering the only platform available for drivers to safely control their mobile devices and applications in the car. Leveraging SYNC's safer voice commands and steering wheel controls, drivers are able to keep their hands on the wheel and eyes on the road. "Brought-in" apps residing on a consumer's smartphone also eliminate the need for yet another piece of hardware to be installed in the car which only serves to add cost and complexity.
Customers will be able to download SYNC-enabled mobile apps through the same app store interfaces currently used. As SYNC-enabled versions of existing apps are released into the app stores, users will be prompted to download the latest version upon connection. Also, as developers grasp the notion that the vehicle interior has opened to them, a new dimension of apps designed from the outset to maximize the unique in-car environment will follow.
Opening the door to developers
To facilitate future SYNC-enabled app development, Ford has also activated a new developer network on its SYNCmyride Web site (www.syncmyride.com/developer). Interested developers can find a link to submit innovative ideas, and sign up for the latest information and news about the SYNC application programming interface (API) and software development kit (SDK). The package will allow developers to modify existing applications and create all-new apps that can successfully interface with SYNC.
Working with trusted partners, Ford is completing beta-testing on the SDK. Once beta-testing is complete, a broader release of the development tools is planned for later this year. Initial reports have been positive, with one of Ford's development partners creating a SYNC-enabled version of its app just three days after receiving the development tools.
"We're very pleased by the rapid development time and positive feedback we've seen from our first partners," said VanDagens. "We want to encourage all developers to visit our site and submit ideas, helping us tap into the global pool of innovation and creativity."
# # #
About Ford Motor Company
Ford Motor Company, a global automotive industry leader based in Dearborn, Mich., manufactures or distributes automobiles across six continents. With about 198,000 employees and about 90 plants worldwide, the company's automotive brands include Ford, Lincoln, Mercury and, until its sale, Volvo. The company provides financial services through Ford Motor Credit Company. For more information regarding Ford's products, please visit www.ford.com.
The BlackBerry and RIM families of related marks, images and symbols are the exclusive properties and trademarks of Research In Motion Limited.
Android and Android Market are trademarks of Google, Inc.