We use affiliate links. If you buy something through the links on this page, we may earn a commission at no cost to you. Learn more.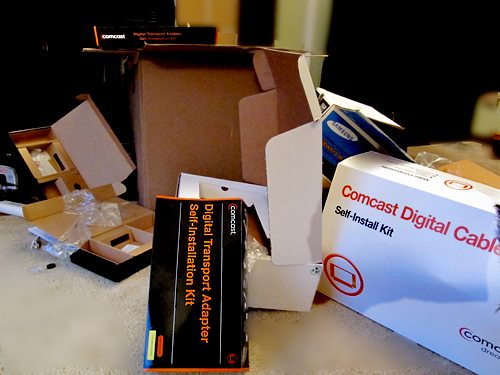 For those of you with Comcast Analog service, you probably are aware that Comcast will be dropping most of its analog signals and will move to an all-digital delivery in a few months.  Comcast has begun rolling out digital set-top boxes (aka Digital Control Transceiver, Digital Cable Box, etc.) to analog customers and I received mine last week.

Digital cable will offer some new amenities but, as you can tell from reading various on-line bulletin board forums, it will also remove at least two very important services for some existing Comcast analog customers: high-definition local broadcasts; and the ability to do time-shift programming with a VCR/DVR easily and without added monthly fees.
Not all analog customers will be adversely affected, but I think that there are enough out there who, like me, appreciate having cable but not enough to pay extra for local HD and certainly not for a DVR monthly service.  In that light, I offer to anyone interested my report for the previous week-end in setting up my new (old) Motorola 2000DCT digital cable box and trying to solve the second item above (time-shift recording).  And the fun times that ensued.  I will report back later on the high-definition problem.  Maybe.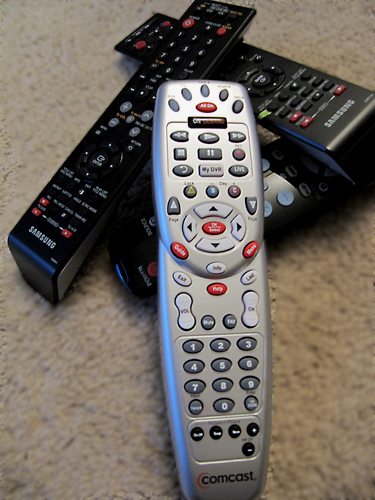 First I'm going to present some very high-level depictions of what is going on with the signal swap-over.  These diagrams are not to scale and are meant as a means to grok the basic idea.  They represent about 2% of what's going on, but hopefully kind of gives you the idea.
For starters, here is a key that shows the two basic signal types:  analog and digital.  Analog signals take up more room than digital, that is one of the reasons for the swap: you can actually cram more stuff into a digital signal.  In this figure, we are assuming there are three basic channels: FOX, CNN, and TLC.  For the remaining diagrams we are assuming that we want to tune in the TLC channel.

The two diagrams below show what most of us  analogger's have currently: the basic analog signal coming out of the wall and run into either a TV or VCR/DVR.  We ignore the digital signal in these illustrations.


So for the most part the above is how analoggers control their signals.  With the upcoming switch to "all digital" on the Comcast network, however, a new cable box enters the mix with conceptually a digital to analog (D/A) converter.  Again, a high-level concept:


So this last picture should highlight the trouble with the VCR issue: the VCR has to be set at channel 3 and only the cable box controls which channel is passed through.  The VCR no longer can be used to change channels (remember, it has to stay on channel 3) and you can no longer use the VCR to do automatic timed recordings to different channels, i.e. tape, for example, "The Simpsons" on FOX at 07:00 PM and then tape "Larry King" on CNN at 08:00.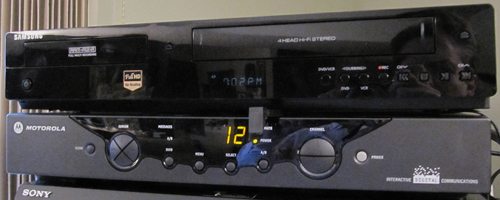 The channel changing has to be performed by the cable box which does not (or may not– depending on your box) have a means to do a timed automatic channel change.  So my VCR is practically useless except for manual recording of stuff.  And, as I mentioned, I don't want to be burdened with more monthly fees from services such as TiVo.  Also, I don't have super high-speed internet so watching and recording over the internet is not an option.
So what are the alternatives?
Tune the cable box to the channel that you want taped ahead of time and set the VCR to tape channel 3 as a regular timed recording.  Too limiting.  Too hard to remember to set the cable box ahead of time.
Get a Comcast-provided DVR machine and pay a monthly fee for time-shift recording.  ($16 a month).  Too expensive.
Get a Comcast-provided cable box that has time-shifted channel changing feature.  This allows you to program the cable box to change channels at the correct time.  You then have to also set up your VCR to time-shift record channel 3 at the right times.  This sounded promising.  But the cable box that Comcast provided to me did not have this feature.
Get a Comcast-provided cable box that has an IR blaster feature.  This allows you to program the cable box to do time-shift channel changes AND the cable box blasts the IR commands to the VCR that are needed to stop and start recording.  Very promising.  In fact it turns out that the cable box that Comcast sent to me does have an IR blaster port.  But the feature has been disabled by the Comcast firmware.  Strike four.
Request Comcast to swap out your cable box for one with the IR blaster feature that IS enabled.  And works.  How have your calls to your local Comcast office gone in the past?  My opinion here after on-line chatting with several tech reps is that few understand the problem and I didn't want to have to take off work, go swap out a box, re-connect everything, find out it doesn't do what I wanted and can't be enabled, yada yada yada . . .
Cobble up an old PC into a media center, install a TV tuner card, add an IR blaster, set up an internet connection to control it, . . . ok forget that one too
Get a VCR that has an IR blaster feature.  This allows you to program the VCR to do time-shift recording and the VCR blasts the IR commands to the cable box to change the channels at the time of recording.    Promising.  But where can I find a VCR with that feature?  It's not easy to find one on-line.   It is equally impossible too, once you find one on-line, to tell if it will be compatible with your cable box.
I finally went with option number 7: purchase a new VCR with an IR blaster.  I actually found one at Best Buy, the Samsung DVD-VR375 for $175.  If you opt for this type of approach, it is probably best to check out the in-stock devices for several reasons:  First just to confirm for yourself that the machine in question does in fact have an IR blaster (also called a Set Top Box Control port); and to allow yourself to return the device if it does not control your cable box properly.  Another tip for this option:  As it turns out, the Samsung model I purchased does not have an internal tuner, but given that tuning is now done a la the cable box I didn't consider that an issue for myself.  You might have different opinions on that, however.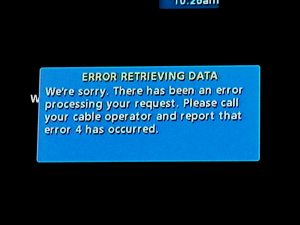 I was just glad to find a recorder IN TOWN and IN STOCK although, oddly, they were all open-box returns!  I think people had returned them because they may not have realized that the machines did not have an internal tuner.  One goofy point about this solution:  you have to leave the cable box left on so that the VCR can change the channels.  In the morning, you'll have forgotten all about it and as you fumble to the living room you will press the Comcast remote control's "ALL ON" button and voila — the TV turns on and the cable box turns off.  From thus experience came the title of this report.  Arggggh.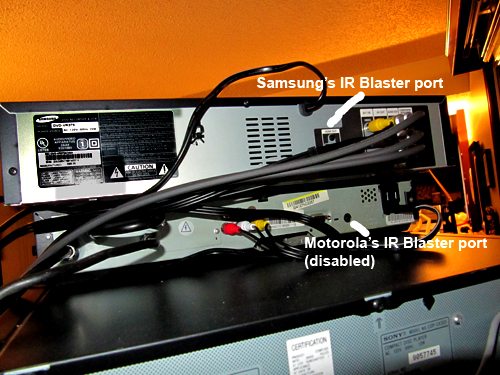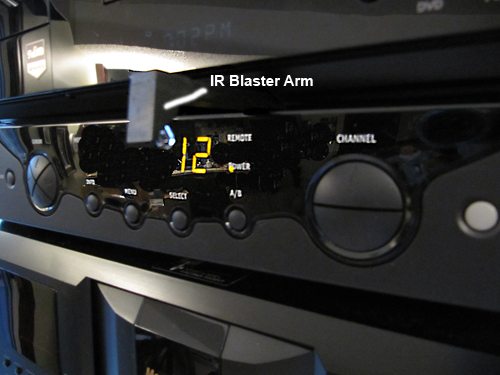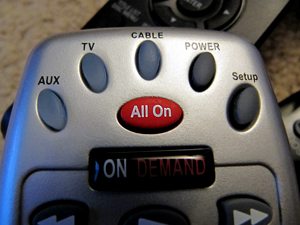 So I have a solution for recording multiple channels at different times.  It's not perfect, but isn't that was progress is for?  Er . . .   wait a minute .  . .
UPDATE